Who's in the Ahsoka cast? We're flying out into the galaxy again. This time, it's with Ahsoka Tano, the former Jedi knight and prominent Star Wars figure. The series is set in the New Republic era and takes place around five years after the events of The Return of the Jedi.
With so many faces in the Star Wars collective, it would take a while to get through a solo series for everyone. But Ahsoka is the latest to get an outing of their own, and we think it's one of the best Star Wars series yet. With Ahsoka being one of the best Star Wars characters, it has been a joy to watch her adventures unravel in the newest era of the galaxy far, far away.
Ahsoka is new on Disney Plus and follows new and old faces in the Star Wars cast in a battle against the threat of Grand Admiral Thrawn's return. But who's playing who, and what have you seen them in before? Well, read on to find out all you need to know about the Ahsoka cast.
Here's the main Ahsoka cast list:
Rosario Dawson as Ahsoka Tano
Natasha Liu Bordizzo as Sabine Wren
Mary Elizabeth Winstead as Hera Syndulla
Ray Stevenson as Baylan Skoll
Ivanna Sakhno as Shin Hati
Lars Mikkelsen as Grand Admiral Thrawn
David Tennant as Huyang
Diana Lee Inosanto as Morgan Elsbeth
Hayden Christensen as Anakin Skywalker
Eman Esfandi as Ezra Bridger
Wes Chatham as Captain Enoch
Genevieve O'Reilly as Mon Mothma
Rosario Dawson as Ahsoka Tano
Given that the show is named after her, you've probably already guessed that Ahsoka Tano is a pretty big deal. Ahsoka is a former Jedi Knight and was once the Padawan of Anakin Skywalker (more on him later). All this took place during the Clone Wars, and Ahsoka became a respected warrior who eventually walked away from the Jedi Order. Even still, she remained a fighter for justice and peace in the galaxy.
In the live-action series, she's played by Rosario Dawson. This isn't the first time Dawson has played the role; she also popped up in The Mandalorian. Her career began with some of the best 2000s movies, and she would eventually find roles on the Marvel series Jessica Jones, Gimme Shelter, and the action movie Eagle Eye. She also starred in one of the best Disney Plus shows, Dopesick, and Quentin Tarantino fans will also recognize her from Death Proof. Most recently, Dawson starred in the Haunted Mansion remake.
Natasha Liu Bordizzo as Sabine Wren
Sabine Wren is a Mandalorian who we have seen become a top-tier warrior and revolutionary leader against the Empire. Most notably, she showed artistic flair and was known for painting graffiti in support of the rebellion. She's even said to have created the famous symbol that represents the Alliance to Restore the Republic. She also has a claim to the ancient Mando weapon known as Darksaber. So… yeah, she's pretty cool.
She's played in the series by Natasha Liu Bordizzo. An Australian actress, Bordizzo has earned roles in some of the best musicals of the 21st century The Greatest Showman, Hotel Mumbai, and Guns Akimbo. As it stands, Ahsoka will be her biggest role to date. (It is Star Wars, after all.)
Mary Elizabeth Winstead as Hera Syndulla
Hera is one of the more recognizable characters from Star Wars lore. I mean, just look at her. Hera is a Twi'lek female revolutionary leader and became a very important figure in the fight against the Galactic Empire.
Hera has found herself too close to the devastating impact of the Clone Wars since she witnessed the takeover of her homeworld, Ryloth, by the Empire. In an attempt to contribute to the Rebellion, Hera trained as a pilot and became one of the best. She would eventually meet Kanan Jarrus, a Jedi, with whom she would have a son.
Hera is played by Mary Elizabeth Winstead, who hardly needs an introduction. She's been around since your childhood and had a supporting role in Sky High. Since then, she's been consistently starring in new movies, from some of the best horror movies with 10 Cloverfield Lane and Final Destination 3 to even joining the DCU in one of its best superhero movies, Birds of Prey. Oh, and she also starred in the favorite movie of teen boys everywhere and one of Edgar Wright's best action movies, Scott Pilgrim vs. the World.
Ray Stevenson as Baylan Skoll
Baylan Skoll is one of the (likely many) villains that Ahsoka faces throughout the series. Having been blessed with Force sensitivity, Skoll was brought into the Jedi Order and would go on to become a Jedi Knight. He then met Anakin, who told Skoll of his Padawan and spoke of her highly. Skoll would narrowly escape Order 66 by the end of the Clone Wars and left to become a mercenary.
In the series, Skoll is played by Ray Stevenson, a movie, TV, and stage actor, who sadly passed away earlier in 2023. Most will know him as the Punisher in the 2008 movie, but he's also known for appearing in Thor, RRR, and King Arthur. He's also appeared in one of the best thriller series, Dexter, and Vikings, as well as Star Wars: Rebels.
Ivanna Sakhno as Shin Hati
Just as Anakin had Ahsoka under his wing, Skoll has Shin Hati. As his apprentice, Hati aids him in his search for the missing Grand Admiral of the Imperial Navy. Shin Hati possesses a lightsaber with an orange-red blade and is very skilled with a lightsaber. She may be on the younger side, but her intensity is palpable and we personally would not want to run into her.
In the show, she's played by Ivanna Sakhno, a Ukrainian-American actress. Ahsoka will be Sakhno's biggest role to date, though she has appeared in a few movies, including Let it Snow and one of Kate McKinnon's best comedy movies, The Spy Who Dumped Me.
Lars Mikkelsen as Grand Admiral Thrawn
The biggest and the bluest of the best Star Wars villains is making his live-action debut in Ahsoka, having been a thorn in the side of the central team in Star Wars Rebels. A ruthless tactician and whispery appreciator of art, as well as being bluer than the Avatar 3 cast, Grand Admiral Thrawn is an intellectual cut above most Imperial baddies.
Lars Mikkelsen, who voiced Thrawn in Rebels, is stepping into the blue face paint to play him again, this time in live-action. Mikkelsen has had a few eye-catching roles in the past, including as villainous media mogul Charles Augustus Magnussen in Sherlock and the Russian president in House of Cards.
David Tennant as Huyang
Although you won't find Huyang on any list of the best Star Wars droids, he's worth knowing. Huyang was a droid professor on the Crucible vessel, where he taught Jedi younglings. (He also taught Grand Master Yoda and Mace Windu how to construct their lightsabers.) Huyang is pretty old, having been built around 25,020 BBY. A lightsaber architect who has knowledge that expands over a thousand generations, Huyang is a true asset to any mission, even if he is rather blunt in his communication style.
David Tennant is most well-known for his portrayal of the Tenth Doctor in Doctor Who. But he's also had plenty of turns in some of the best drama series, such as Broadchurch, Des, and Litvinenko. He's also starred in one of the best fantasy series out there, Good Omens, in which he plays the demon Crowley. He's a renowned actor in both the UK and US, and whether it's traveling through time and space or investigating a murder, he's always got you in the palm of his hand.
Diana Lee Inosanto as Morgan Elsbeth
Star Wars fans will have seen Elsbeth before, as she was introduced as 'The Magistrate' in the second season of The Mandalorian, which gave us our first live-action glimpse of Ahsoka. She's back for more in this series, serving as an ally and somewhat of a boss to lightsaber-wielding baddies Baylan Skoll and Shin Hati.
The actor behind Elsbeth, Diana Lee Inosanto, is a certified badass with a sophisticated martial arts background. She has done stunt work for the likes of Buffy the Vampire Slayer, Blade, and Face/Off, as well as her acting work in the likes of Ang Lee's Hulk and The Fast and the Furious: Tokyo Drift.
Hayden Christensen as Anakin Skywalker
Honestly, do we need to break this down for you? Ladies and gentlemen, it's the one, the only… Darth Vader. Okay, okay, before he was Darth, he was known as Anakin Skywalker. As the ultimate Sith (unless you count Palpatine), Anakin is responsible for the entire franchise if you think about it. Starting with his creation of the Death Star to his emotional reconciliation with his son Luke Skywalker, Anakin has been around the narrative block.
Christensen has seen a revival of his contribution to the franchise with a comeback starting in the Obi-Wan series. After his turn in the Star Wars prequel trilogy, Christensen had a little career lull, turning out some movies that weren't all well received, such as Jumper and Little Italy. But we're thrilled to see him in his comeback era and hope to see his filmography expand post-Ahsoka.
Eman Esfandi as Ezra Bridger
The cocky young hero of Star Wars Rebels, Ezra, sacrificed himself to the World Between Worlds to drive Thrawn and the Empire from Lothal at the end of that series. He's lost at the start of Ahsoka, and the search for him has formed a big part of the show.
This could be a breakout role for Eman Esfandi, who's in the early stages of his on-screen career. You might recognize him from his role in one of the best sports movies of recent years, King Richard.
Wes Chatham as Captain Enoch
Ahsoka episode 6 introduced the world to Captain Enoch, who's a unique stormtrooper leading an army of Night Troopers on behalf of Thrawn as his personal army. Enoch has parts of his armor replaced with golden panels, which only makes him look even more intimidating as the right-hand man to the series' main villain.
The man behind Enoch's intimidating voice is Wes Chatham, who is well known to fans of the best sci-fi series for being a part of The Expanse. He also appeared in the final two Hunger Games movies in order as Castor and played a role in Christopher Nolan's mind-bending Tenet in 2020.
Genevieve O'Reilly as Mon Mothma
She was once a defiant and innovative Rebel leader but, with the New Republic now in charge of everything, Mon Mothma is back at the heart of galactic bureaucracy. That means she has been at odds with Hera over the prospect of trying to find Thrawn and Ezra.
Genevieve O'Reilly has had ownership of Mon Mothma across the Star Wars universe ever since she first took over the character for Revenge of the Sith in 2005. That includes both Star Wars Rebels and her role in the Andor cast. She has also voiced characters in the Overwatch videogame.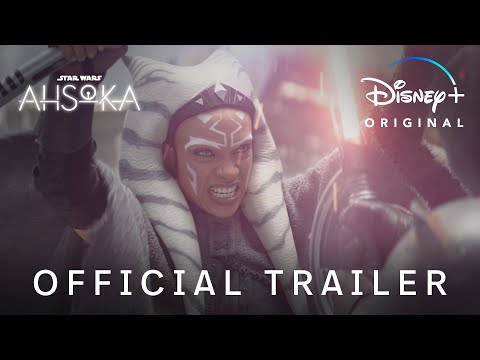 Everyone in the Ahsoka cast:
Rosario Dawson as Ahsoka Tano
Natasha Liu Bordizzo as Sabine Wren
Mary Elizabeth Winstead as Hera Syndulla
Ray Stevenson as Baylan Skoll
Ivanna Sakhno as Shin Hati
Diana Lee Inosanto as Morgan Elsbeth
David Tennant as Huyang
Lars Mikkelsen as Grand Admiral Thrawn
Eman Esfandi as Ezra Bridger
Hayden Christensen as Anakin Skywalker
Genevieve O'Reilly as Mon Mothma
Maurice Irvin as Senator Mawood
Jacqueline Antaramian as Senator Rodrigo
Nelson Lee as Senator Hamato Xiono
Erica Duke as Gran Senator
Paul Darnell as the Inquisitor Marrok
Evan Whitten as Jacen Syndulla
Paul Sun-Hyung Lee as Carson Teva
Ariana Greenblatt as Young Ahsoka
Temuera Morrison as Captain Rex
Wes Chatham as Captain Enoch
If you'd like to explore the galaxy further, check out our guide on how to watch the Star Wars movies in order. You can also check out all the new Star Wars movies soon to come, and take a look at the other best science fiction movies you should be watching. And once you've finished Ahsoka, you can look ahead to the Andor season 2 release date or the Skeleton Crew release date.
What's more, we've got all the best TV series and best movies picked out for you. If you'd like a deep dive, check out our features on why Rey deserves a new Star Wars movie and why The Last Jedi is (still) the best Star Wars movie.