When is the Andor season 2 release date? We're going to be riding the hype train for this for quite some time after the first season of Andor totally blew our minds and became one of the best things to ever come from a galaxy far, far away.
The Disney Plus show follows Cassian Andor – who you should remember from the Star Wars movie Rogue One – as he forges his path within the Rebellion and begins to fight back against the Galactic Empire. The TV series was a breath of fresh air, simply being an incredible thriller series on its own merits without relying on Star Wars nostalgia.
There is more to come from the sci-fi series, though, so we're looking ahead to the Andor season 2 release date and we've got all the details on the Star Wars series you need.
Andor season 2 release date speculation
Andor season 2 is set to release in August 2024, but we don't know an exact date yet.
That's because an exact Andor season 2 release date hasn't been announced just yet. This release window was revealed during Star Wars Celebration in April 2023 by the team behind the show, and an update on a precise release date should be coming within the next few months.
Andor season 2 began production in November 2022 and will continue through to the summer of 2023. Then, post-production will begin as visual effects, editing, and other behind-the-scenes work takes place.
The only foreseeable obstacle is the 2023 Writers Strike, which will prevent rewrites from taking place during the filming process. Showrunner Tony Gilroy confirmed he will cease all duties related to the show during the strike period, so it's entirely possible that we'll see a delay to the Andor season 2 release date in the future.
Andor season 2 cast
The Andor season 2 cast list will see the return of many actors from season 1, led by Diego Luna.
Stellan Skarsgård has been spotted filming on set, while Genevieve O'Reilly and Forest Whittaker will return as their fellow Rebellion leaders, Mon Mothma and Saw Gerrera, respectively. When it comes to Star Wars villains, Denise Gough and Kyle Soller are set to play a major role in the Andor season 2 cast as Dedra Meero and Syril Karn after their unexpected conclusion in Andor episode 12.
The confirmed Andor season 2 cast list includes:
Diego Luna as Cassian Andor
Genevieve O'Reilly as Mon Mothma
Stellan Skarsgård as Luthen Rael
Kyle Soller as Syril Karn
Denise Gough as Dedra Meero
Forest Whitaker as Saw Gerrera
Adria Arjona as Bix Caleen
Andy Serkis
Of course, there are sure to be plenty of surprises and new faces among the Andor cast, too. With this in mind, we suspect we'll see some exciting Star Wars cameos pop up along the course of Andor season 2. One such cameo we can expect is that K-2SO will be in Andor season 2, after Tony Gilroy confirmed the Star Wars droid will be brought into the story.
What will happen in Andor season 2?
Andor season 2 will lead directly to the moment Cassian joins the mission to retrieve the Death Star plans. The final three episodes will cover the three days leading up to the events of Rogue One.
The second season will cover the space of four years in Star Wars time, and we should expect time jumps every three episodes as the show builds to the Death Star mission. We can also expect to see Cassian work his way up within the Rebellion to become something of a leader.
We imagine there will be plenty of new faces and new planets in Andor, which means lots of cool new Andor filming locations, too. One of the triumphs of the first season was the fact Andor looks so good compared to other Star Wars series, and that's largely down to the real-world locations used. Hopefully, season 2 brings more of the same, but we'll be happy if Disney realises Andor season 2 needs to do these five things.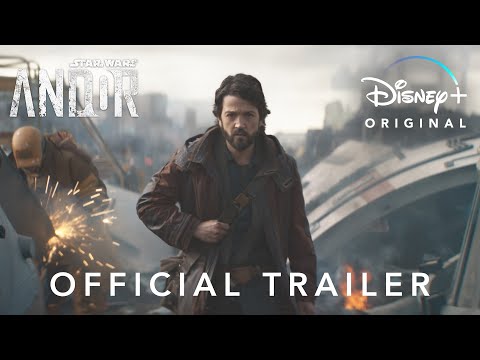 Andor season 2 trailer speculation
There is currently no Andor season 2 trailer. We'll probably have quite a wait on our hands for that as the show hasn't wrapped filming yet, so we estimate the first trailer will drop in early 2024.
Where can I watch Andor season 2?
You will be able to watch Andor season 2 on Disney Plus when the show airs. The series will be exclusive to the streaming service, and you can catch all of the first season on there now.
How many episodes will there be in Andor season 2?
There will be 12 episodes in Andor season 2, just like the first season. That will be the end of it, though, and there is no chance of Andor season 3 going into development.
That's all we know about the Andor season 2 release date for now, but we will be keeping our ears to the ground for more. Until then, why not check out our guide to the Ahsoka release date or the new Star Wars movie, or dive into our list of the best Star Wars scenes, the best Star Wars aliens, and the best Mandalorian characters. Alternatively, learn all about Mandalore or the High Republic era to broaden your knowledge of the galaxy.
If you're somehow bored with Star Wars now, you could take a look at our list of the best movies of all time, or plan ahead for all the new movies coming this year.