Who's in the Mission: Impossible cast? Since 1996, we've been witness to a string of impeccable action scenes and insane death-defying stunts, courtesy of Ethan Hunt and his team.
The Mission Impossible franchise has provided some of the best action movies known to man, thanks to Tom Cruise. The escapades of Ethan Hunt and his loyal band of teammates have become as constant as Cruise's commitment to throwing himself into the most unimaginable situations. And with the Mission Impossible 7 release date now here, there's only more to come.
While his enemies and superiors often change, there are a fair few faces that crop up amid the thriller movies time and time again. But who are the regulars you need to know about before watching the new movie? Well, we've got that all laid out for you with our guide on the Mission: Impossible cast.
Mission: Impossible cast and characters
Below we go over all the main players in the Mission Impossible franchise!
The main Mission Impossible cast list:
Tom Cruise as Ethan Hunt
Simon Pegg as Benji Dunn
Ving Rhames as Luther
Rebecca Ferguson as Ilsa Faust
Henry Czerny as Agent Kittridge
Jeremy Renner as Agent Brandt
Vanessa Kirby as The White Widow
Michelle Monaghan as Julia
Sean Harris as Solomon Lane
Alec Baldwin as Alan Hunley
Hayley Atwell as Grace
Esai Morales as Gabriel
Pom Klementieff as Paris
Tom Cruise as Ethan Hunt
We love a good spy, and around here, we're perhaps a little more inclined to favor Ethan Hunt over the likes of James Bond or Jason Bourne. Why? Because he's awesome, that's why. Ethan Hunt is the motorcycle-driving, plane-climbing, free-falling nutjob that leads this franchise of spy movies. As an agent of IMF (the Impossible Missions Force), Ethan Hunt can usually be found going rogue and ditching all rules for the greater good.
He's played by Tom Cruise…heard of him? He's only starred in some of the best movies of all time. Cruise took his first steps to mega-stardom in classic '80s movies such as Cocktail, Born on the Fourth of July, and, of course, Top Gun. Then, the '90s saw him step up to more renowned roles in drama movies, such as A Few Good Men, Jerry Maguire, and The Firm.
But the most recent steps of his career have been shaking us to our core with his ability to go fearlessly towards pushing the human body to its limit and becoming a stunt master in his own right. And when he's not throwing himself about the place in the Mission Impossible movies, he's rebooting vintage treasures into cinema-saving blockbusters with the likes of Top Gun: Maverick. What's next for Cruise? An as-of-yet untitled SpaceX project. …Okay!
Simon Pegg as Benji Dunn
Simon Pegg has become a staple of the Mission Impossible movies since his turn in MI:3 as Benji Dunn. As a lab technician turned field agent turned dear friend of Ethan Hunt, Benji has proved himself time and time again as a loyal and valuable member of Ethan's team. Though he doesn't always approve of Ethan's spontaneous approach (and makes it known as much), he's always there to provide the appropriate jab or quip.
Simon Pegg is most known for his collaboration with Edgar Wright in the director's comedy movies, specifically what is known as the Cornetto Trilogy. From Shaun of the Dead to The World's End, Pegg has cemented himself as one of the most beloved comedic actors in years, all starting with his role on the comedy series Spaced. But he's also appeared in another big blockbuster franchise as Scotty in the Star Trek movies. You can bet you'll be seeing him in Dead Reckoning Part Two, as well as the rumored Star Trek 4.
Ving Rhames as Luther
Aside from Ethan Hunt, Luther is the only character to appear in all six of the Mission Impossible movies. Canonically, he's an expert computer hacker for the IMF, and serves as one of Ethan's most trusted teammates. He was also integral in helping Ethan's wife Julia (we'll get to her) go ghost and disassociate herself from Ethan and the IMF.
If you're thinking you've seen Rhames outside of Mission Impossible, you'd be correct. He only had a role in one of the best Quentin Tarantino movies, Pulp Fiction, in which he played kingpin Marsellus Wallace. He also appeared in the mindbogglingly chaotic '90s action movie Con Air. And if his voice strikes you as familiar, then you're probably remembering him as Cobra Bubbles in the animated movie Lilo and Stitch. You'll next catch him in Dead Reckoning Part Two and voicing a role in the 2024 Garfield movie.
Rebecca Ferguson as Ilsa Faust
Ilsa Faust joined the MI team in Rogue Nation, where she played a British Intelligence operative that became entangled with Ethan's mission to uncover The Syndicate. Over the following years, she pops in and out of Ethan's affairs, never quite revealing herself as a friend or foe. Ultimately, the two end up on the same side, and she earns her place as a trusted ally of Hunt, as well as a potential romantic interest.
Ferguson has made a big name for herself on the big screen. Among musical fans, she's most well-known for her role as Jenny Lind in The Greatest Showman. Next on her slate, she'll be seen in the science fiction movie sequel Dune 2 later this year.
Henry Czerny as Agent Kittridge
Kittridge was Ethan Hunt's first real antagonist in the franchise. As a former director of the IMF, Kittridge turned against Hunt in the first movie and tried to arrest him on suspicion of being a mole in the agency. He also returns in Dead Reckoning Part One, where he is back in the position of power and enlists Ethan Hunt to go after one of his old teammates: Ilsa Faust.
Aside from his role in Mission: Impossible, Czerny has also starred in Clear and Present Danger with Harrison Ford, The Exorcism of Emily Rose, and The Pink Panther movie. He's also appeared on the small screen in Sharp Objects and Schitt's Creek, but you'll probably remember him most recently from his part in Scream 6 as Dr. Stone.
Jeremy Renner as Agent Brandt
MCU alumni Jeremy Renner made his first appearance as Agent Brandt in Ghost Protocol, where he played an ex-agent turned IMF analyst. He harbors a secret from Ethan since he believed that he was the reason for Julia's (fake) death. But Ethan sees through Brandt's ruse quickly, considering Brandt's extensive combat skills and abilities far beyond that of a humble analyst.
Ghost Protocol was intended to be the launching pad for Brandt's character as the 'new Ethan Hunt', though the powers at be decided to keep Cruise in the driver's seat. It's not all bad news though, since Renner did reprise the role briefly in Rogue Nation, as Ethan's inside man at IMF.
You know Jeremy Renner as Hawkeye from the MCU movies and his namesake Marvel series, no doubt, but you probably also recognize him from another spy series, The Bourne Legacy. He perhaps became most well-known when he starred in the Oscar-winning war movie The Hurt Locker. This, alongside his roles in Tag, The Town, and the neo-Western Wind River, has made him a household name over the years. Due to the fact that Renner suffered a horrific accident earlier this year, we can't say for certain when he'll be appearing on our screens again.
Vanessa Kirby as The White Widow
The White Widow is a semi-antagonist in both Fallout and Dead Reckoning Part One. An arms dealer and criminal mastermind parading as a philanthropist, The White Widow has many an international power wrapped around her little finger. She's usually followed loyally by her brother Zola for protection, though she hardly needs it since she's just as skilled and boasts terrific abilities with a butterfly knife. Manipulative and cunning, The White Widow isn't to be trusted.
Vanessa Kirby became a known actor from her portrayal of Princess Margaret in the hit Netflix series The Crown. Before this, she could be spotted in romantic movies such as About Time and Me Before You. Since then, she's appeared in Pieces of a Woman, The Son, and the Fast and Furious spin-off Hobbs and Shaw. Soon, you'll catch her alongside Joaquin Phoenix in Napoleon in November 2023.
Michelle Monaghan as Julia
Ethan has had a few women come in and out of his life, but Julia is perhaps his most beloved. In fact, the two were married and lived through a loving relationship until she was abducted. This led Ethan to quit the IMF in order to keep her safe, though their marriage suffered as a result of both their guilt towards him being unable to intervene in any crisis. Eventually, they separated, with Julia starting a new life and leaving everything, including Ethan, behind.
Michelle Monaghan has popped up over the years in a variety of movies. Most notably, she has a history with rom-coms and comedy movies alike, having starred in Due Date, Pixels, The Heartbreak Kid, and Made of Honor. You'll also probably remember her from Kiss Kiss Bang Bang and Gone Baby Gone. Oh, and she was also in one of the best TV series of all time: True Detective. Mission Impossible isn't her only foray into action since she's also appeared in Source Code, Eagle Eye, and Patriots Day.
She'll soon be starring in a comedy movie with Mark Wahlberg called The Family Plan and in the upcoming conclusion of the Pearl horror movie trilogy, MaXXXine.
Sean Harris as Solomon Lane
As far as movie villains go in the Mission: Impossible franchise, Solomon Lane is about as nasty as they come. A former British Intelligence operative, Lane went on to become a terrorist and the head of the criminal organization known as The Syndicate. Lane knows best how to torture Ethan and goes after him by targeting his team and loved ones. Last we saw him; he was being handed over to MI6 after being captured by IMF.
Aside from his work in the MI movies, Harris has also appeared in The Green Knight, The King, and Possum. He's also starred in the 2015 adaptation of Macbeth as Macduff and can also be seen in Prometheus and Harry Brown.
Alec Baldwin as Alan Hunley
Alan Hunley first made his way onto the scene in Rogue Nation, and would appear again in Fallout. As the Director of the CIA in his first movie, he's not exactly on Ethan's side at the beginning, actively disliking his methods and the general need for an IMF in the first place. However, he sees the light, and eventually backs Ethan in Fallout where he is now the IMF Secretary. This is where he sadly meets his end, after being shot while trying to outsmart John Lark.
Alec Baldwin's filmography is an extensive one, with roles spanning across countless genres. From his roles in Martin Scorsese's The Departed, It's Complicated, and Beetlejuice, to Glengarry Glen Ross, The Boss Baby, and The Cat in the Hat, there's a lot going on. However, most recently, he's been in the public eye for his upcoming movie Rust, in which cinematographer Halyna Hutchins was tragically shot on set when a live round was discharged.
Hayley Atwell as Grace
On paper, Grace sounds like the perfect person to assist Ethan Hunt in Dead Reckoning Part One. She's a master thief, covert criminal, and manages to get herself out of most trouble. That is, of course, until she meets Ethan. When she pickpockets from the wrong man, she finds herself caught up in Ethan's Mission to recover the key for The Entity. From there on in, she finds herself hounded by assassins and government agents alike.
Hayley Atwell doesn't need much of an introduction, since she's a familiar MCU face. From starring as Peggy Carter in Captain America, to gaining her own Marvel series, she's firmly been in the world of superhero movies for a while now. She's also appeared in Cinderella and Black Mirror. Oh, and she's also soon going to be voicing Lara Croft in the upcoming Tomb Raider anime series.
Esai Morales as Gabriel
Gabriel is so integral to the plot of Dead Reckoning Part One, that we even wrote a whole guide for him! A haunting figure from Ethan Hunt's past, Gabriel returns to essentially act on The Entity's behalf. He's trying to get the key back once Ethan manages to get his hands on it. Fortunately, he doesn't succeed, but he does manage to make a getaway, meaning he'll definitely be popping up in Part Two.
Gabriel was originally supposed to be played by Nicholas Hoult, but we're glad Morales ended up nabbing the role. He's got a villainous presence and definitely serves as a great counterpart to the heroic Ethan Hunt. In the past, Morales has appeared in Bad Boys (the Sean Penn drama movie, not the Will Smith franchise), Netflix's Ozark, and NYPD Blue.
Pom Klementieff as Paris
Paris is one of the coolest characters we've seen in Mission Impossible over the years. As Gabriel's henchman (or woman), she serves as a wordless brute who chases down Ethan throughout the entire movie. Skilled with a sword and unafraid to play dirty, she has plenty of action sequences and fight scenes throughout. But in the climax of Dead Reckoning Part One, she comes to blows with Gabriel, and her fate hangs in the balance.
You'll know Pom from her turn as Mantis in the Guardians of the Galaxy cast, and also from appearing throughout the MCU as a result. She also appeared in Westworld, Black Mirror, and Uncut Gems. Next, you'll see her return to the role in the Mission Impossible 8 release date.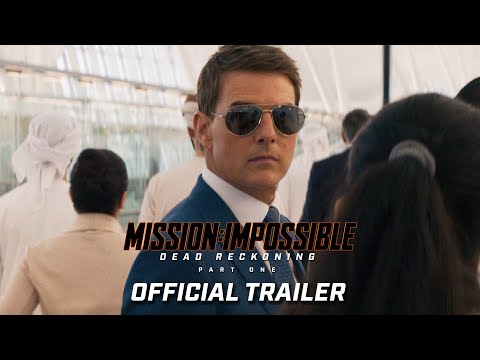 Everyone in the Mission Impossible cast
If you're looking to know the Mission Impossible cast beyond those who appear regularly, then check out the full list of players below!
Tom Cruise as Ethan Hunt
Jon Voight as Jim Phelps
Emmanuelle Béart as Claire Phelps
Ving Rhames as Luther Stickell
Vanessa Redgrave as Max Mitsopolis
Henry Czerny as Eugene Kittridge
Jean Reno as Franz Krieger
Emilio Estevez as Jack Harmon
Ingeborga Dapkūnaitė as Hannah Williams
Rolf Saxon as William Donloe
Marcel Iureş as Alexander Golitsyn
Morgan Deare as Donald Hunt
Dougray Scott as Sean Ambrose
Thandiwe Newton as Nyah Nordoff-Hall
Richard Roxburgh as Hugh Stamp
John Polson as Billy Baird
Brendan Gleeson as John C. McCloy
Rade Šerbedžija as Dr. Vladimir Nekhorvich
Philip Seymour Hoffman as Owen Davian
Michelle Monaghan as Julia Meade
Maggie Q as Zhen Lei
Jonathan Rhys Meyers as Declan Gormley
Billy Crudup as John Musgrave
Keri Russell as Lindsey Farris
Simon Pegg as Benjamin "Benji" Dunn
Laurence Fishburne as Theodore Brassel
Bahar Soomekh as Davian's translator
Jeff Chase as Davian's bodyguard
Michael Berry Jr. as Julia's kidnapper
Eddie Marsan as Brownway
Bellamy Young as Rachael
Carla Gallo as Beth
Greg Grunberg as Kevin
Rose Rollins as Ellie
Sasha Alexander as Melissa Meade
Aaron Paul as Rick Meade
Jeremy Renner as William Brandt
Paula Patton as Jane Carter
Michael Nyqvist as Kurt Hendricks
Vladimir Mashkov as Anatoly Sidorov
Léa Seydoux as Sabine Moreau
Josh Holloway as Trevor Hanaway
Anil Kapoor as Brij Nath
Samuli Edelmann as Marius Wistrom
Ivan Shvedoff as Leonid Lisenker
Miraj Grbić as Bogdan
Ilia Volok as The Fog
Andreas Wisniewski as The Fog's contact
Tom Wilkinson as the IMF Secretary
Rebecca Ferguson as Ilsa Faust
Sean Harris as Solomon Lane
Simon McBurney as Atlee
Zhang Jingchu as Lauren
Tom Hollander as the Prime Minister of the United Kingdom
Jens Hultén as Janik 'Bone Doctor' Vinter
Alec Baldwin as Alan Hunley
Hermione Corfield as IMF agent
Henry Cavill as August Walker / John Lark
Angela Bassett as Erika Sloane
Vanessa Kirby as Alanna Mitsopolis / White Widow
Wes Bentley as Erik
Frederick Schmidt as Zola Mitsopolis
Ross O'Hennessy as British agent
Liang Yang as John Lark decoy
Kristoffer Joner as Nils Delbruuk
Alix Bénézech as French policewoman
Caspar Phillipson as plutonium dealer
Wolf Blitzer as himself
Hayley Atwell as Grace
Esai Morales as Gabriel
Pom Klementieff as Paris
Cary Elwes as Delinger
Shea Whigham as Jasper Briggs
Greg Tarzan Davis as Degas
Mariela Garriga as Marie
Rob Delaney as JSOC
Indira Varma as DIA
Mark Gatiss as NSA
Charles Parnell as NRO
There you have it — the entire Mission Impossible cast! Don't miss our Mission Impossible 7 review. And for more spy movie action, check out how to watch the James Bond movies in order and find out why Matt Damon really doesn't like this Bourne movie. You can also see who we think will be the next James Bond!
For more new movies coming out this year, you can check out everything we know about the Barbie release date and Oppenheimer release date.