What are the best Westerns of all time? Over the years, the Western genre has given us thrilling soundtracks, beautiful landscapes, and some of the most striking antiheroes to ever grace the big screen. In short, despite going in and out of fashion, Westerns are a cinematic staple that have stood the test of time.
In fact, many of the best movies of all time are Westerns. Be they the spaghetti Westerns of the '60s or modern revisionist titles, there's something about the open plains and the hope of new beginnings that still attract us to these flicks today. But there are a lot of movies in the genre to navigate, from Clint Eastwood features to John Wayne classics.
Well, have no fear, partners, because The Digital Fix is here to help. From the golden age of the '50s to modern retellings of the final frontier, we've scoured far and wide for the best of the best. So, grab your spurs and get ready to buckle up, cowboys — here's our list of the best Westerns of all time.
30. Hell or High Water (2016)
Before Taylor Sheridan was producing the Yellowstone universe, he was writing some of the best Neo-Westerns of the past decade. One such example is Hell or High Water, the crime drama set in Texas that follows who brothers who attempt to save their family ranch by pulling of a string of bank robberies. They soon catch the attention of Texas Rangers and find themselves in a cat-and-mouse chase as they try to outrun the law.
At the time, it was credited with revitalizing the Western genre for modern audiences, and most certainly kick-started an old trend for the new age. It's built from perfect performances and well-crafted moments of tension that make this crime thriller a truly memorable take on the classic cinematic wave.
29. The Hateful Eight (2015)
The Hateful Eight is one of the least talked-about Quentin Tarantino movies, but is an honorable attempt at the director's whole-hearted take on a Western. A movie that feels like a stage play, The Hateful Eight takes a group of strangers and locks them up in a cabin while they take shelter from the harsh Wyoming winter conditions outside. Among them are a bounty hunter and his prisoner, and as the storm rages, tensions begin to rise.
We'll get it out of the way: this cast is incredible. Boasting performances from Samuel L. Jackson, Kurt Russell, and Jennifer Jason Leigh, we've never been happier to just sit and watch a near-three hour conversation between people. You know someone is going to crack under the claustrophobic conditions, but it's just a matter of who and when.
28. Brokeback Mountain (2005)
And now, something a little more off the beaten track. And something incredibly heartbreaking, mind you. One might be forgiven for forgetting Brokeback Mountain when considering the best Westerns, because it's not the first movie that comes to mind when thinking about the genre. But the story of two shepherds in Wyoming who fall in love amid an unforgiving and prejudice world is perhaps the most emotional movie you'll see on this list.
Featuring career best performances from Heath Ledger and Jake Gyllenhaal, Brokeback is a slow, meandering movie that sees the relationship between the two men develop, peaking and falling as their personal lives intervene in their secret romance. Desperately sad and crafted beautifully, Brokeback is a must-watch.
27. One-Eyed Jacks (1961)
Did you know that Marlon Brando directed a Western? That is right, Marlon Brando (aka one of the best actors of all time) helmed an underrated gem of a movie, One-Eyed Jacks. Originally set to be a retelling of Billy the Kid's life and death, One-Eyed Jacks is instead a wholly unique film that gives you an inside perspective into Brando's artistic mind.
The film tells the story of Rio, who is left for capture after his partner betrays him following a robbery of a Mexican Bank. Rio (played by Brando) manages to escape the law and sets out to find his double-crossing companion. The story is straightforward on paper, but Brando gives us one of his best performances ever and brings a new level of moral complexity to the central character. All the visuals are also stunning in One-Eyed Jacks; it's a Western that shows the beauty of the open plains and wilderness perfectly.
26. Dances with Wolves (1990)
Before Kevin Costner grabbed all our TV series hearts with Yellowstone, he directed and starred in one of the best '90s movies ever made, Dances with Wolves. In fact, this is the film that earned Costner an Academy Award for both the Best Director and Best Picture categories because it is just that good.
Set in 1863, Dances with Wolves is an adaptation of the 1988 novel of the same name, which tells the story of a Union Army Lieutenant who meets a group of Lakota while traveling to the American frontier. It is an epic with a touching yet sprawling story. Over its lengthy runtime, we see prejudice and loyalties shift, romance blossom, and juicy dramas a plenty. It is also refreshing to see a Western push the boundaries of the genre by telling a new story with Native Americans in the spotlight.
In short, Dances with Wolves is an important film in the genre and also one that showed us a new side of Westerns that put people at the heart of its story.
25. The Wild Bunch (1969)
The Wild Bunch is one of the best Revisionist Westerns ever made and is too often overlooked when it comes to shouting out flicks in this genre. Directed by Sam Peckinpah, the film centers around an aging gang of outlaws on the Mexican border, trying to come to terms with a modernizing world that is leaving them behind.
The Wild Bunch isn't a lighthearted affair, so be prepared to see some cruel men who are trigger-happy and violent when it comes to their survival. But if you can stomach blood and death, trust us, The Wild Bunch is a great pick come movie night. Not only is its script captivating, showing us a new kind of Western experience from seasoned gunslingers, but its use of quick-cut editing and slow motion was revolutionary back in the '60s, making it an important piece of cinematic history.
24. Pale Rider (1985)
Clint Eastwood and Westerns go hand in hand, so it shouldn't shock anyone to see the '80s movie Pale Rider here on our list. Produced, directed, and starring Eastwood in the leading role, Pale Rider was the highest-grossing Western of the '80s, and takes the typical 'nameless hero' motif we see in the genre to a whole new level.
The film tells the story of a greedy mining executive who is willing to do anything when it comes to furthering his own interests. However, his luck soon runs out when a mysterious character called The Preacher rides into town to protect the small mining community. Acting like the embodiment of Death, The Preacher is almost presented as a supernatural ghost or guardian. It's a film that unpacks Western love for mythical heroes in a very literal yet unique way. So, if you are after a semi-ghost movie set in the Old West, Pale Rider is the perfect pick.
23. The Ballad of Buster Scruggs (2018)
When you think of cowboys, gun-slinging and the open plains may be the first things that pop to mind. However, let's be honest; the genre would be a lot less fun without all the piano-playing salons or fireside hangouts that these outlaws enjoy. So, you have to respect a film that acts like a campfire storytime. The Ballad of Buster Scruggs is a Western anthology that gives us six different plots, all set in the Old West.
From singing cowboys to determined prospectors, every trope in the genre and time period is lovingly explored. And really, you get a little bit of everything all rolled into one. Directed by the Coen brothers, the film has earned three Academy Award nominations and has been praised by fans and critics alike. Definitely a modern standout, worthy of your time.
22. The Magnificent Seven (1960)
Directed by John Sturges, The Magnificent Seven is a must-see classic for any Western fan. A remake of Akira Kurosawa's 1954 Seven Samurai, it is a tense stand-off that celebrates heroism and protecting the weak.
Starring the likes of Steve McQueen and Charles Bronson, the movie tells the story of seven gunslingers who are hired to protect a small village in Mexico from a gang of bandits. There is nothing like seeing a battle between good versus evil play out, and with stylish shootouts and amazing performances all around, it's easy to see why The Magnificent Seven has stood the test of time.
21. Westworld (1973)
The Western genre is often pigeonholed as strictly historical, but let's be honest: cowboys are timeless. And the 1970s sci-fi android-filled film Westworld proves just how versatile this beloved genre really is. Directed by Michael Crichton, Westworld takes place in a theme park featuring three different 'worlds.' One of these said worlds is the American Old West; however, a day of fun turns into chaos once the park's technicians notice a virus spreading across all the androids.
As you can guess, robotic gunfights break out, and we get a Jurassic Park kind of situation, but with Gunslingers instead of dinosaurs. Westworld is a melting pot of genres and pushed the creative boundaries on Westerns in general, abandoning set tropes in favor of high thrills and adrenaline-filled fun.
20. Wind River (2017)
If you're particularly drawn to more Neo-Western movies, then you'll likely stumble across some of the best Taylor Sheridan TV series and movies on your way. Wind River is a bleak, icy drama that takes place on the Wind River Indian Reservation in Wyoming and becomes an investigative quest for justice as an FBI agent and Fish and Wildlife Service tracker work together to solve a murder.
The movie was written to raise awareness of the staggering number of Indigenous women across America who have been attacked and murdered over the years. Ultimately, it's not a thrilling, sweeping adventure movie, but it's completely memorable for its exploration of the darker side of humanity.
19. Tombstone (1993)
Some may not consider any great Westerns to have come out of the best '90s movies, but Tombstone definitely delivers. With a stacked cast that includes Kurt Russell, Val Kilmer, Sam Elliott, and Bill Paxton, Tombstone is an assembly of some of the biggest stars of the period. The movie is inspired by the gunfight at the O.K Corrall in 1881.
Over time, it's become something of a cult classic. Part of this can be attributed to the fact that Tombstone lets history do the talking rather than manipulate an already cinematic story into something more spectacle-led, but also because the attention to detail and craft make this modern Western feel undeniably authentic.
18. 3:10 to Yuma (2007)
Christian Bale and Russell Crowe starring in an action Western? Sign us up yesterday, please. 3:10 to Yuma is directed by James Mangold, the man behind Logan and Walk the Line, and is one of the greatest cat-and-mouse games you'll see in the genre.
When a small-time rancher agrees to hold an imprisoned outlaw until a train can take him to court, it results in a competition of brains and brawn as the convicted man tries to escape. It's an astonishing feat when two of our most beloved modern actors can convince us that they belong in a genre from a time gone by.
17. Shane (1953)
Shane is the Western that'll leave you emotionally battered by its ending. In perhaps the most famous scene of this classic, Shane ends with a young boy crying Shane's name into the abyss of the sprawling vistas as the titular anti-hero rides away into the morning. It's famous for a reason, but you ought to watch the entire thing to truly appreciate why this ending works so well. Shane explores the story of a mysterious man who befriends a rural community but showcases skills that clearly hint to a more violent backstory.
When the town is terrorized by your usual group of baddies, Shane must revisit his past in order to protect his present friends. Mostly, the film is seen through the eyes of a young boy who comes to idolize Shane, which is one of the more unique narrative perspectives than the rest of those on this list.
16. Red River (1948)
You're bound to have a John Wayne feature on your list if you're discussing the topic of best Westerns. The man has become synonymous with the genre over the course of many movies and, as a result, became one of the most iconic names in cinematic history. What's more, Red River was directed by the legendary Howard Hawks, who knows a thing or two about movies.
In the Old West, cattle drives were integral journeys made across hundreds of miles to transport cattle. Cowboys were born from cattle drives, so it makes sense that one of the greatest Westerns would be a fictional telling of the first cattle drive from Texas to Kansas. It's a journey fraught with danger, distrust, and, eventually, mutiny. If you want to see Wayne in one of his best movies, this isn't one to miss.
15. Johnny Guitar (1954)
There is no denying that Johnny Guitar was ahead of its time and is one of the few Westerns that has a strong female character front and center. Set on the outskirts of a cattle town in Arizona, a saloonkeeper called Vienna, played by Joan Crawford, is a domineering go-getter who isn't afraid to host the rough and tough of the West.
But thanks to this forwardness and success, she soon becomes a victim of jealousy and a plot to try and run her business out of town. Luckily, her ex-lover, the mysterious reformed gunslinger Johnny Guitar (Sterling Hayden), comes a-knocking to help, and a whirlwind love/hate relationship ensues.
Johnny Guitar is an explosion of frontier tropes fun and is full of spicy relationship plotlines to keep you on your toes. If you are looking for a Western that plays with gender dynamics and features some popping sexual chemistry, then Johnny Guitar will be right up your street.
14. High Noon (1952)
Directed by Fred Zinnemann, the acclaimed film High Noon is a dramatic triumph that is often remembered for its stellar performances and clever writing.
Marshal Wil Kane (Garry Cooper) is the best sheriff that Hadleywille has ever had. However, just as he is about to depart with his new wife (Grace Kelly) to raise a family, Kane receives word that an outlaw he arrested has been released from prison and is on his way for revenge. Soon, Kane is abandoned by the town that once respected him as fear grips hold of the community.
High Noon may shock many as it is a Western where pacifism over violence is valued and where the settlers are shown to hold cowardice instead of grit. But it is this new worldview that makes the movie so memorable and why it stands as one of the most human and captivating films in the genre, period.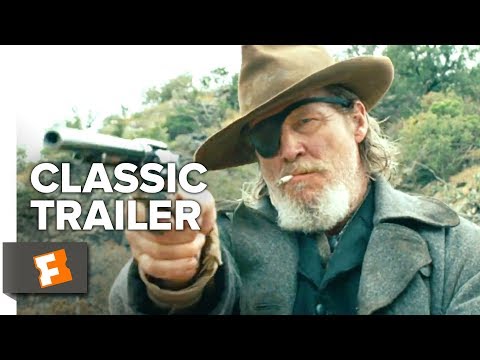 13. True Grit (2010)
Directed by the Coen Brothers, True Grit is a standout modern Western that is full of atmosphere and moody shots. Adapted from Charles Portis's 1968 novel of the same name, it follows the young Mattie Ross (Hailee Steinfeld), who hires Deputy U.S. Marshall Rooster Cogburn (Jeff Bridges) to capture her father's killer.
However, it turns out that revenge isn't going to be easy, as the wanted criminal has fled with a crew, with Texas Ranger LaBoeuf (Matt Damon) also hot on his heels and gunning for his capture. Mattie must hold her own, brave through her companion's pessimism and the unforgiving wilderness to achieve her goal.
True Grit is a harsh movie that showcases determination, survival, and perseverance in a way that captures attention. So, although trying to understand what Jeff Bridges is saying half the time can be a nightmare, True Grit has rightfully earned its spot on this list.
12. Stagecoach (1939)
Today, the Western genre is tied to multiple stars. However, Stagecoach was the breakthrough role for one of the main faces in the genre – John Wayne. Directed by John Ford, Stagecoach is one of the most important pieces of cinema, period. Until Stagecoach, Westerns were seen more as B-movie kind of flicks, but this film made everyone realize that this genre has a ton to offer and shouldn't be underestimated.
In fact, philosopher Robert B. Pippin has even commented that the characters in this film are a "mythic representation of the American aspiration" towards political equality. So yeah, be sure to add this one to your watch list. The film tells the story of a gang of strangers who travel through dangerous Apache territory. It's a straightforward concept but packed with good writing, thrills, and heart-racing tension.
11. The Assassination of Jesse James by the Coward Robert Ford (2007)
Directed by Andrew Dominik, The Assassination of Jesse James by the Coward Robert Ford tells you all you need to know from its long-winded title. Based on the 1983 novel of the same name, it follows the dramatized relationship between the iconic outlaw Jesse James and his biggest fan-turned-murderer, Robert Ford.
If you are a fan of American History, chances are you know about Jesse James – the infamous real-life criminal and leader of the James – Younger Gang. In this film, we get a unique view of the outlaw in his later life. The Brad Pitt movie sees the actor take on the titular role, and he is outstanding, but it's Casey Affleck as his awkward hero-worshipping killer who steals the show.
Paired with the strong performances, few Westerns are as existential as this title. With its plot that revolves around the build-up to death, The Assassination of Jesse James shows how your myth can live on even once your time runs out.
10. Bone Tomahawk (2015)
Not only is Bone Tomahawk one of the best westerns of all time, but it is one of the best horror movies in the genre. It all begins with the desecration of a Native American burial site, which, if you have seen any spooky film before, you know is a massive mistake to make. However, instead of dealing with straight paranormal forces, Bone Tomahawk's characters must face a shunned and cannibalistic Native American tribe.
With Kurt Russel playing the role of Sheriff Franklin Hunt, our heroes have to conduct a rescue mission after the cannibalistic Troglodytes tribe kidnaps a number of innocent townsfolk. The film is one of those fantastic creative risks where genres are blended to form a captivating story. It takes cues from Western classics and pairs them with psychological unease and gory violence. Truly an unmissable experience that is too often overlooked.
9. Rango (2011)
Ok, yes, when you think of the best Westerns, a family movie about a little animated lizard may not be the first thing to jump into your mind, but trust us, Rango is one of the most unsung masterpieces in the genre today. After falling out of his owner's car, the pet chameleon Rango finds himself stranded in the Mojave Desert of Nevada. To survive, Rango finds himself thrust into the role of sheriff for a small town after a misunderstanding and has to uncover a conspiracy revolving around the vital water supply.
Rango is one of the most unique Western heroes around, showing us a new kind of hero that isn't led by the normal brand of revenge or righteousness. Instead, he is a loveable and anxious fella who must grow and face his fears in order to save the day. Full of whimsy and stunning animation, Rango has earned our attention and respect.
8. My Darling Clementine (1946)
Based on the fictionalized biography Wyatt Earp: Frontier Marshal by Stuart Lake, here is another John Ford entry on our list. My Darling Clementine is set during one of the most famous moments of Western history, telling the story of the time period leading up to the iconic gunfight at the O.K. Corral. If you didn't know already, this fight was between lawmen led by Virgil Earp and a group of outlaws called the Cowboys in Tombstone, Arizona.
Henry Ford plays the role of Wyatt Earp, who not only has to help deal with the outlaws but must navigate his feelings for Clementine Carter – the lover of the hot-tempered Doc Holiday. It is all pretty scandalous dramatic, and makes for one heck of an entertaining movie night. If you love good acting, writing and fancy yourself a bit of a history buff, My Darling Clementine will be right up your street.
7. Blazing Saddles (1974)
The Western spoof to end all spoofs, Mel Brook's Blazing Saddles isn't just one of the best comedy movies ever made, but it's also the funniest deconstruction of the genre. Blazing Saddles is pure ridiculousness on a silver platter, complete with over-the-top gags, slapstick, and cowboy farting bean jokes… I mean, what more can you ask for?
The film follows a gang of greedy railroad businessmen who want to cut through a small town in the West. However, their plans soon backfire when their appointed sheriff shows Moxie. Putting aside all of the goofball antics, the film also holds powerful social commentary about Westerns in general, never shying away from racist and sexist struggles – which are issues still closely linked to the genre today.
It is a movie that makes you laugh while confronting the reality of the heroic myth through nonstop outlandish jokes where no one is spared.
6. No Country for Old Men (2007)
When it comes to Modern neo-Westerns, No Country for Old Men has to be in the conversation because, yes, it is just that good. Directed by the Coen brothers, the film is one of the only four Westerns to ever win an Academy Award for Best Picture, and it has become recognized as one of the best drama movies of the 21st century ever since its release.
Set in West Texas during the 1980s, No Country for Old Men is a brutal commentary on fate and conscience. It follows the story of a war veteran who stumbles on a large sum of hidden money in the desert and the hitman who is sent after him to recover it. With an already tense cat-and-mouse dynamic, the law gets involved, too, resulting in a fast-moving and downright thrilling story that you can't help but get invested in.
It is moody, dark, and full of unwavering determination as characters fight for wealth and their survival. Honestly, we can't recommend No Country for Old Men enough.
5. Unforgiven (1992)
If you haven't noticed already, Westerns have a particular fondness for some good old-fashioned frontier justice. Directed by and starring the Western icon Clint Eastwood, Unforgiven tells the story of your classic good vs. evil tropes turned on their heads.
After a bandit disfigures a prostitute, the ladies of the night band together and place a bounty on the perpetrator's head. Plagued with financial worries, a retired gunman takes the job. As we see the gunslinger's journey unfold, the romantic notion of the Wild West is shattered. Heroes don't win here, and in reality, morals are grey.
Besides having a gripping narrative, Unforgiven is also one of the only four Westerns ever to win an Academy Award. It's also the film that holds one of Eastwood's most powerful performances, making it, in our opinion, the best Clint Eastwood movie ever made and a must-watch.
4. Butch Cassidy and the Sundance Kid (1969)
Like mustached sheriffs, action-packed heists, and spitting tobacco, what would the Western genre be without its outlaws? Loosely based on real-life legends of the Wild West, Butch Cassidy and the Sundance Kid sees two criminals come under fire in a modernizing world.
The end of an era is coming, and the leader of a criminal gang, Butch Cassidy, can see the old ways of the untameable West dying in front of his eyes. Butch and his trusty companion, the Sundance Kid, flee the law and head to Bolivia to continue their crime spree as a result.
The film is a high-stakes, fun adventure that truly captures the thrills that we all love to see in this genre. From complicated shootouts, cliff jumps to hitchhiking on a moving steam train, it is impossible not to be delighted and feel like an excitable child again while watching Butch Cassidy and the Sundance Kid.
3. The Good, the Bad and the Ugly (1966)
We can't have a 'best Western' list without mentioning the film that catapulted Clint Eastwood into stardom. Probably the most recognizable title in our choices, The Good, the Bad and the Ugly, is one of the most iconic Spaghetti Westerns ever to grace the big screen.
Despite most Westerns taking place during the American Civil War, we rarely see the setting in full action. However, The Good, the Bad, and the Ugly embraces the violent time period by showing three morally questionable men pursuing a buried fortune in a cache of Confederate gold.
The film is bloodthirsty, stylish, and, despite its lengthy runtime, is enthralling from beginning to end. It should also be noted that the film's score by Ennio Morricone contains what is hands down the most famous Western theme in history. Even if you've never seen The Good, the Bad and the Ugly, you've definitely heard its music. Check out our The Good, the Bad, and the Ugly review for more on this bonafide classic.
2. Once Upon a Time in the West (1968)
Do you like harmonicas and revenge? If the answer is yes, then you are going to love Sergio Leone's masterpiece, Once Upon a Time in the West.
In this Spaghetti Western, we see Henry Fonda as the cutthroat movie villain, Frank, who is after a piece of land that is needed for a railway advancement into the West. Killing everyone who gets in his way, his actions soon lead the widowed Jill McBain to align herself with a mysterious gunslinger who has a history with the merciless outlaw.
The tone in Once Upon a Time in the West is starkly bleaker to Leone's past flicks, such as Fistful of Dollars. It is a slow burn that takes its time unpacking grief and setting up one of the most satisfying standoffs in cinema. From its gorgeous cinematography, action, and somber score – here is a Western that truly has it all.
1. The Searchers (1956)
Named the greatest American Western by the American Film Institute, if you fancy yourself a fan of the cinematic frontier, The Searchers is an unmissable classic. Directed by John Ford, the film stars John Wayne playing against type as a nasty anti-hero who loses his humanity in the pursuit of revenge.
Ethan (Wayne) is your standard Texan war hero looking to start a regular life after his time in service. However, when his brother's family is killed and his niece is captured by a Native American war chief named Scar, the man once again must leave home and turns into a relentless bloodhound as a result.
Searching for his niece and Scar for five long years, we see the Wild West change Ethan to the point of no return. Full of action and sharp character journeys, The Searchers demonstrates the brutality of the West on the human soul like never before.
If you are after more cinematic genre winners, take a look at our list of the best war movies or best movies based on a true story. You can also see what Western adventures lay ahead with our guides to the 1923 season 2 release date and Lawmen: Bass Reeves release date.
You can also get to know the Yellowstone cast or the Yellowstone timeline. There's also plenty of new movies to take note of, too. Or, for a deep dive into the genre, check out our feature on why the Western has always been a genre for women, too.