When is the Star Trek 4 release date? It's been over half a decade since the crew of the Kelvin timeline USS Enterprise last boldly went where no one has gone before in Star Trek: Beyond.
Set in an alternate timeline to the rest of the Star Trek franchise (including the many Star Trek series and previous Star Trek movies) the reboot films follows the adventures of Chris Pine as one of the best Star Trek captains, James T. Kirk, as he explores the vastness of space with his trusted crew. So far, they've fought time-traveling Romulans, one of the best Star Trek characters in Khan, corruption in the Federation, and a very angry Idris Elba.
But since then, it's been far from smooth sailing, and new movies like Star Trek 4 have been stuck in the mirror universe (production hell). So what does the future hold for the best of Starfleet? We've scoured the Federation archive to find out all we can. Here's everything we know about the Star Trek 4 release date and much more as we look ahead to the continuation of the best science fiction movie series.
When is the Star Trek 4 release date?
After being scheduled for release on Friday, December 22, 2023, Star Trek 4 has been indefinitely delayed and removed from Paramount's upcoming slate of movies.
Realistically, even though it hasn't been officially canceled, the indefinite delay means Star Trek 4 might never see the light of day. The news comes after years of behind-the-scenes difficulties. The director who had previously been attached to the movie, Matt Shakman, left the project to helm the MCU's Fantastic Four. And the main cast for the new science fiction movie still has not signed on to the project, and it doesn't even look like the script's been finalized.
Spock actor Zachary Quinto provided more bad news about Star Trek 4 in August 2023, explaining that "creative things" and "a lot of other stuff" are keeping the project blocked.
With the cast aging and continuing their careers away from the franchise, the chance that there will ever be a Star Trek 4 is shrinking every day.
Who's in the Star Trek 4 cast?
If Star Trek 4 were ever to make it to screens, you'd have to bring back the entire Kelvin timeline crew. That means you need Chris Pine, Zachary Quinto, Zoe Saldaña, Simon Pegg, John Cho, and Karl Urban.
Paramount previously announced that the whole reboot cast would be returning for Star Trek 4, which made it sounds as though Chris Pine, Zachary Quinto, Simon Pegg, Karl Urban, Zoe Saldaña, and John Cho would all be back aboard the Enterprise. However, Paramount's announcement was disputed by several of the cast's agents, who explained nothing had been agreed and that negotiations were ongoing.
Since then, things have gotten even more complicated. Pine was said to have eventually reached an agreement, but then production hit significant blocks elsewhere. Whether the cast's agreements still stand now, over a year later, is uncertain.
Who would be in the Star Trek 4 cast list?
Chris Pine as Captain James T. Kirk
Zachary Quinto as Spock
Zoe Saldaña as Nyota Uhura
Simon Pegg as Montgomery Scott
John Cho as Hikaru Sulu
Karl Urban as Doctor Leonard McCoy
In addition, Sofia Boutella has also said she'd be interested in reprising the role of Jaylah, who we met in Beyond, while Star Trek 4 would no doubt address the absence of Chekov, who was played by the late Anton Yelchin.
What will Star Trek 4 be about?
The plot of Star Trek 4 is anyone's guess right now, as we know that many different scripts have progressed into various stages of production before being scrapped.
Because this is Star Trek, it could literally be about anything. Time travel, old villains returning, disputes over territory… you get the picture.
That said, Pine has been open in that he'd like to see the film have a smaller budget and really focus on making the fans happy. "Let's make the movie for the people that love this group of people, that love this story, that love Star Trek," he told Deadline. "Let's make it for them, and then, if people want to come to the party, great. But make it for a price and make it so that if it makes a half-billion dollars, that's really good."
That certainly seems like a good way to go and may help to rein in some of the worst excesses of the Kelvin Star Trek timeline movies, which tend to be about world-ending stakes and massive action. That's fun and all, but many Star Trek fans (yes, including us) would be up for something far more lowkey which makes use of the franchise's sci-fi setting.
Is there a trailer for Star Trek 4?
There's no trailer for Star Trek 4 yet since the film hasn't even officially begun production.
But if you're looking for something to satisfy those space-explorer needs, you can watch one of the best scenes from Star Trek Beyond below: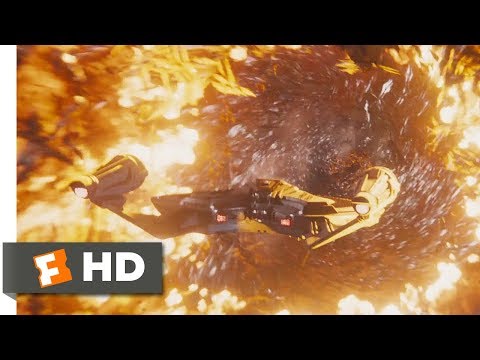 Is Quentin Tarantino making Star Trek 4?
No, Quentin Tarantino isn't making Star Trek 4. However, it's true that Tarantino did express interest in making a Star Trek movie. Allegedly, he wanted to make a big screen adaptation of A Piece of the Action – an episode set on a gangster planet – and the film was surprisingly far in development.
A script was written, but Tarantino walked away from the film in late 2019, forcing Paramount to rethink its next Trek movie.
Tarantino is now hard at work on his final film as we move towards The Movie Critic release date. We don't think it's a secret Star Trek sequel, though that would be a very fun surprise indeed.
Where can I watch Star Trek 4?
If Star Trek 4 does ever come out, the movie will be a theatrical exclusive. In the meantime, a new Star Trek movie with Michelle Yeoh in the lead is heading straight to Paramount Plus. You can read more about that with our guide to the Section 31 release date.
That's it on Star Trek 4 for now until we get another update. For more on Star Trek, you can check out which Star Trek captains we think would survive in a zombie apocalypse, as well as our interview with Anson Mount and Rebecca Romijn. You can also find out more about George Takei's first meeting with the Star Trek creator and why Leonard Nimoy was ready to quit Star Trek.
Or, find out how we celebrated Captain Picard Day before learning all about our hopes for a Star Trek Legacy release date and taking a look at our picks for the best movies of all time. If that's not enough Starfleet, find out about the Strange New Worlds season 3 release date and the Lower Decks season 4 release date.