Who's in the Yellowstone cast? In 2018, Paramount released the hit series Yellowstone, and fans have been hooked on the drama surrounding the Dutton family and their historical cattle ranch ever since.
With five seasons of Yellowstone been and gone, we feel we know the Duttons like old friends. But it's time to learn more about the stars of one of the best TV series around. There are Duttons, ranch hands, and enemies of the Yellowstone property alike, meaning there's lots of faces to know in this era of the Yellowstone timeline. Let's face it — the stars of the flagship Yellowstone series are a talented bunch.
The main Yellowstone cast and characters:
The Duttons
Kevin Costner as John Dutton
What would Yellowstone be without the owner of the big ranch himself? (We may be about to find out, since Costner is leaving Yellowstone after season 5.) Kevin Costner is John Dutton, one of the most important Yellowstone characters, who helms one of the largest cattle ranches in the US.
From business to politics, John has done it all, and Costner is just as impressive as his character is. Besides Yellowstone, the award-winning actor has two Oscars, two Golden Globes, and an Emmy. Fans may remember seeing him in drama movies like The Postman, Dances with Wolves, and The Bodyguard.
Besides acting, Costner directs and produces too. His new Western, Horizon (if you want to know about the Horizon release date, we've got you covered), is currently in production. After Yellowstone season 5 part 2 is done, Costner fans still have plenty to look forward to!
Luke Grimes as Kayce Dutton
Kayce Dutton is John's youngest son, who used to work as a ranch hand before following in his dad's footsteps to work as a Livestock Agent for the Montana Livestock Association. Luke Grimes plays the character, but like many of his co-stars, Yellowstone isn't his first showbiz rodeo.
Before joining Yellowstone, Grimes appeared in multiple well-known movies such as The Magnificent Seven, The Fifty Shades of Grey series, and the war movie American Sniper. He also had a role in the Liam Neeson film Taken 2 and appeared in six episodes of the fantasy series True Blood.
Grimes's newest project is the comedy movie Happiness for Beginners, where he starred opposite Ellie Kemper of Unbreakable Kimmy Schmidt, which came out in July on Netflix. Oh, and he's also a country singer, like many of the faces you'll see pop up on Yellowstone. (His music is fine, but we'll save you the trouble of listening to every song and tell you to skip straight to 'No Horse to Ride'.)
Kelly Reilly as Beth Dutton
Kelly Reilly is Beth Dutton, the only daughter of John. She's money savvy and, let's be honest, is also the dictionary definition of a 'daddy's girl': following her father through thick and thin. Without her, there probably wouldn't be any drama in the best drama series on TV.
Reilly has put together an impressive career over the years, holding over 50 credits to her name across TV and film. A few standout performances include her work on the thriller series True Detective, the romance movie Pride and Prejudice, and the series Britannia.
She's also experienced on stage, with a nomination for a Laurence Olivier Award for Best Actress in 2003. So, Reilly — much like Beth — is a woman of many talents. Most recently, she starred in the 2023 movie A Haunting in Venice (the best Poirot movie to date, we think), where she played a grieving mother, and recently joined Succession's Brian Cox in the new coming-of-age movie Little Wings.
Wes Bentley as Jamie Dutton
There is always one black sheep in any family, and for the Duttons, that role falls to their adoptive son, Jamie. Played by award-winning actor Wes Bentley, Jamie tends to be his own worst enemy and has a rough time getting his dad's approval. We've said it time and time again: Jamie sucks. He gets himself stuck in ridiculous situations (like leaking family secrets and, oh yeah, killing people), and then cries about it.
Besides doing an excellent job playing one of the most infuriating Yellowstone characters, Bentley is an established Hollywood star. Appearing in some of the best action movies such as The Hunger Games and Mission Impossible: Fallout, he has a wide range. Bentley has also worked in TV before his time on the ranch, with the horror series American Horror Story: Hotel.
Currently, the actor has no new movies or shows lined up, meaning that he is hyper-focused on Yellowstone while it's still airing (lucky us).
Kelsey Asbille as Monica Long-Dutton
Kelsey Asbille plays the role of Monica Long-Dutton on Yellowstone — the granddaughter of the elder Felix Long and wife to Kayce Dutton. But family life hasn't always been peaceful for Monica; with family feuds, murder, and accidents, her life isn't the easiest to say the least.
Asbille previously worked with Sheridan on the thriller movie Wind River, one of our favorites, and one of the projects that put him on the map in Hollywood. When it comes to TV series, Asbille knows her stuff. She previously worked on the hit thriller series Fargo, appeared on the beloved 2000s show One Tree Hill, and worked on the werewolf series Teen Wolf, too. Besides acting on TV, Asbille is also a producer.
Brecken Merrill as Tate Dutton
Tate Dutton is John Dutton's only biological grandchild and the son of Kayce and Monica. Essentially, he's the most important person in the Dutton family tree right now. Like the rest of his family, Tate's got a taste of the old ways and aspires to be a cowboy like his grandfather. That said, the ranch life isn't always for him, since over the course of the series he nearly drowns, gets kidnapped, and gets into a car accident. Yeah…not looking good for Tate, we reckon.
Tate's played by Brecken Merrill, and he's been a member of the cast since Yellowstone season 1. Merrill is also known for his role in the TV series This Is Us. He may not have been in much so far, but we anticipate that following the end of Yellowstone, he'll have a healthy career on screen ahead of him.
The Ranch Hands
Cole Hauser as Rip Wheeler
Cole Hauser is Rip Wheeler, Beth's husband and the former ranch hand of the Dutton family. These days, he's the ranch foreman. With a meaty backstory and a calm demeanor, Rip is a fan favorite, and luckily, Hauser has the acting experience to deliver quality performances every episode.
The great-grandson of Harry Warner, who co-founded Warner Bros, and son of actor Wings Hauser, the star has appeared in a number of films over the years. He was in the second Fast and Furious movie, had a role in the hit Robin Williams movie Good Will Hunting, and appeared in Dazed and Confused. Recently, he was in the 2023 thriller movie The Ritual Killer, where he starred alongside Morgan Freeman.
Jefferson White as Jimmy Hurdstrom
An unlucky ranch hand, Jimmy Hurdstrom was a troubled soul until he was conscripted to help out on the Dutton's ranch and started to mature. Despite some setbacks, including a near-death experience at a rodeo, Jimmy's grown from an out of his depth low-man to an experienced rancher who found love with Emily.
John eventually sent Jimmy to the 6666 Ranch, where he's learning to become a real cowboy. We'll likely see more from him when the Yellowstone 6666 release date arrives. Jimmy's played by Jefferson White, who you may recognize from Chicago P.D., Invasion, and the rebooted Twilight Zone series.
Forrie J. Smith as Lloyd Pierce
The oldest of the Yellowstone ranch hands and a leader to the branded men, Lloyd is extremely loyal to the Duttons and John in particular. In the past, he helped poor Rip cope with hazing at the ranch, and he commands a huge amount of respect despite his advancing years. If you're like us, then you'll see Lloyd as a fan-favorite, often able to switch between rallying with the younger ranch hands, and telling them what's what.
Lloyd's played by Forrie J. Smith who's also appeared in Rambo 3, Better Call Saul, and the previously mentioned Taylor Sheridan Western, Hell or High Water. His resume is overflowing with other Westerns, too, so we're pretty sure that if something has cowboy hats in it, he can sense it's going on.
Denim Richards as Colby Mayfield
One of Yellowstone's veteran ranchers, Colby, forms something of a double act with his best friend, Ryan, and he's been romantically involved with the only female cow hand, Teeter. He can usually be seen playing poker in the bunkhouse or watching rodeo on the TV.
Denim Richards plays Colby, and the actor's probably best known, outside of the Yellowstone fandom, for playing Jack Brown in the Netflix movie The Chickasaw Rancher. He seems to be at home with Westerns, also having starred in two County Line movies.
Ian Bohen as Ryan
The yin to Colby's yang, Ryan is a ranch hand and Yellowstone's Livestock Agent. Basically, he's the guy who sells the beef. A former criminal, Ryan's found a new family with the Duttons, even if he's occasionally tempted to go back to his old habits.
Veteran actor Ian Bohen plays Ryan. Bohen started acting in the early '90s and has appeared in TV series like Walker, Texas Ranger, Hercules: The Legendary Journeys, and Dawson's Creek. He's probably best known, though, for playing Peter Hale in MTV's Teen Wolf and Roy Hazelitt in Mad Men.
Ryan Bingham as Walker
A reluctant ranch hand, Walker had big dreams of becoming a country music star. Unfortunately, his criminal past got in the way of his dreams, and he ended up at Yellowstone Ranch, where he immediately started butting heads with Rip. Eventually, it all got too much for Walker, and he fled the ranch but later returned and recommitted himself to the Duttons.
Walker's played by real-life musician Ryan Bingham. Bingham's enjoyed wild musical success releasing six albums and winning a Best Original Song Oscar for The Weary Kind, which you may have heard in the Western movie Crazy Heart.
Jennifer Landon as Teeter
Teeter's a hard one to work out. Literally — you can't understand a word she's saying. This tough, foul-mouthed rancher is the only female worker on the Yellowstone ranch for most of the time, but you wouldn't even know it. If she's not scaling barns and wrestling down baby cows, she's spending her time flirting outrageously with Colby to try and embarrass him. The two do eventually get together, though.
Jennifer Landon's career is mostly built upon roles in TV shows like Chicago Med, the sci-fi series The Orville, and Animal Kingdom. She also played Gwen on the soap opera As the World Turns, for which she won three Daytime Emmy Awards for Outstanding Younger Actress in a Drama series.
Gabriel 'Gator' Guilbeau as Gator
If you're like us and completely fascinated with the bizarre dynamics of the Dutton family dinnertime, then you'll be familiar with Gator. The family chef who caters to both the Duttons and the ranch hands, Gator spends his life cooking meals the wealthy family never seems to eat. We can only imagine it: Gator slaving away for hours over a sizzling brisket only for Beth Dutton to leave the table the moment she gets offended.
The best part about Gator is that he's played by Gabriel 'Gator' Guilbeau, who's actually the Head of Craft Services on the set of Yellowstone. Yeah, that's right — the cook on the Dutton ranch is actually the cook for the show itself. On any given day, Gator can be making meals for up to 300 people in the toughest conditions possible, making him one of the hardest working members of the Yellowstone cast and crew.
Fun fact: he's actually written a Yellowstone cookbook, which you can buy to recreate some of the (uneaten) meals from the show!
Finn Little as Carter
We have to admit, we turned around on this little foul-mouthed brat pretty quickly once he found his footing. Carter finds his way into the series when Beth meets him sitting outside on a hospital bench, while his father is dying inside. Beth accompanies him to say goodbye, and after his dad dies, he finds his way back to her by telling police he's her son. Beth, taking pity, invites him to live on the ranch. Of course, Rip is pretty quick to shove him in the shed and gives him the worst job on the ranch.
Yellowstone is easily the biggest role for Finn Little to date, but that doesn't mean he hasn't done stuff. He's earned roles in a variety of smaller TV shows and movies, and we fully expect he'll continue to show up on the ranch until Yellowstone eventually comes to a close.
Hassie Harrison as Laramie
Okay, Laramie isn't technically an official ranch hand, but she hangs around there enough. Laramie is a barrel racer, who gets pulled into the wild ways of the Dutton hands when her friend Mia falls for Jimmy. From then on, she and Mia spend most of their time at the ranch, even sleeping in the bunkhouse. Laramie initially flirts with Lloyd, but quickly turns her attention to Walker, which creates a jealousy so intense that Walker ends up with a knife in his chest. (Don't worry — he lives.)
Harrison has spent her time on-screen appearing in several TV shows and short films. Namely, she's had roles in shows like L.A Rangers, Hart of Dixie, and The Astronaut Wives Club. Aside from Laramie, her most notable role to date has been as Lucy in Tacoma FD, where she plays a young firefighter.
Friends and Foes
Gil Birmingham as Thomas Rainwater
Thomas Rainwater is the chief of the Broken Rock Reservation and a very wealthy casino mogul. Rainwater is portrayed by Gil Birmingham and has been eyeing the Yellowstone Dutton Ranch's land since his introduction into the series.
Thomas in Yellowstone is highly successful, and so is Birmingham when it comes to his acting career. He has collaborated with Yellowstone creator Sheridan on hit movies Wind River and Hell or High Water and also appeared in the Twilight movies as Billy Black. He has also done some voice-over work, working on the animated movie Rango and the animated series The Wild Thornberrys, too.
Birmingham's most recent project is The Marsh King's Daughter, which was helmed by the director of the fantasy movie The Illusionist.
Danny Huston as Dan Jenkins
Dan Jenkins was the big bad of the first two seasons and a wealthy land developer who had his sights set on the land around Yellowstone Ranch. Unfortunately, Dan's ambitions made him many enemies, and the Beck brothers eventually had him assassinated.
Dan was played by Danny Huston, and he's an accomplished actor and director who has appeared in Martin Scorsese's Aviator, Patty Jenkins' Wonder Woman, and Tim Burton's Big Eyes. You'll also recognize him from Succession, where he played Jamie Laird.
Wendy Moniz as Lynelle Perry
Lynelle Perry is a Montana Governor turned Senator who also happens to be John Dutton's love interest. While she may have left for Washington thanks to her position, we're sure that the two will continue their 'friendly' relationship as season 5 continues in some way.
Moniz is another TV veteran on the Yellowstone cast. Over the years, she has starred in shows such as The Guardian, Nash Bridges, Damages, and The Guiding Light. Fans may also recognize her from her appearances in the Marvel series Daredevil and on the hit Netflix series House of Cards.
Mo Brings Plenty as Mo
Wherever you see Thomas Rainwater, you'll catch Mo not far behind him. Mo is Rainwater's right hand man, and he's always nearby whether he's driving him around or advising him on political matters. There's an impression that these two are old friends, and they both respect each other. What little we know of Mo is tragic, since his mother was killed by two white men when he was strapped in a car seat as a toddler, where he waited for three days for someone to find him.
Mo Brings Plenty is an enrolled Lakota, and his on-screen expertise doesn't stop at Yellowstone. He's had roles in Cowboys and Aliens, House of Cards, Jurassic World Dominion, and you'll also be able to see him when the Lawmen: Bass Reeves release date rolls around.
Taylor Sheridan as Travis Wheatley
Yes, the creator of Yellowstone does, in fact, star in Yellowstone. Taylor Sheridan was an actor before he was a writer, director, and television powerhouse. Naturally, he couldn't resist creating a role for himself in the show that made him a household name. (They use his horses, so it only seems fair.) Travis is a horseman and rodeo expert, who appears throughout the show, usually for the purpose of selling horses to the Duttons for an eye-watering price.
Taylor Sheridan's TV resume is a little thicker than his one for film, though he did have a cameo in Hell or High Water, and 1883. On the small screen, he's appeared in Walker, Texas Ranger, Party of Five, NYPD Blue, and CSI. Oh, and he also appeared in Star Trek.
He also starred in Sons of Anarchy as David Hale for 21 episodes, no less. If he keeps his cameos up, expect to see him appear in the 1923 cast sometime soon.
Piper Perabo as Summer Higgins
John Dutton's a man of the land, but he's also a ladies man. Aside from his ongoing fling with Governor Perry, he winds up getting close with Summer Higgins during season 5 — a free-thinking, opinionated environmental activist. Oh, and she's vegan.
Doesn't exactly sound like John's type, right? Well, obviously John ends up canceling veganism and teaches Summer the ways of the land. And when he saves her from prison and she's granted house arrest at the Dutton ranch, the two get pretty intimate, much to the disgust of Beth.
Piper Perabo is one of the more recognizable guest stars in Yellowstone, on account of you definitely having seen one of these two things: Coyote Ugly, or Cheaper by the Dozen. Coyote Ugly was one of her first roles, and saw her play Violet, an aspiring singer who gets a job at a bar in which the girls dance for money. After this, she appeared in both Steve Martin Cheaper By the Dozen movies, as well as appearing in The Prestige, Beverly Hills Chihuahua, and Looper.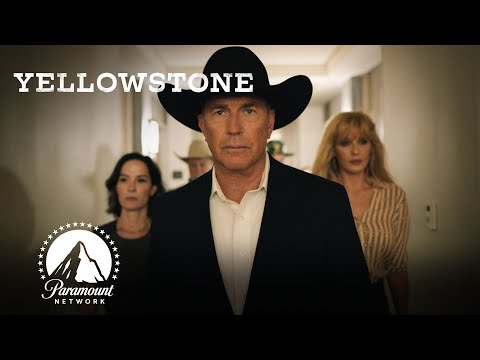 Everyone in the season 1 Yellowstone cast:
Kevin Costner as John Dutton (9 Episodes)
Kelly Reilly as Beth Dutton (9 Episodes)
Luke Grimes as Kayce Dutton (9 Episodes)
Wes Bentley as Jamie Dutton (9 Episodes)
Kelsey Asbille as Monica Dutton (9 Episodes)
Brecken Merrill as Tate Dutton (9 Episodes)
Cole Hauser as Rip Wheeler (9 Episodes)
Gil Birmingham as Thomas Rainwater (9 Episodes)
Danny Huston as Dan Jenkins (9 Episodes)
Jefferson White as Jimmy Hurdstrom (9 Episodes)
Mo Brings Plenty as Rainwater's Driver (9 Episodes)
Wendy Moniz as Governor Perry (7 Episodes)
Rudy Ramos as Felix Long (6 Episodes)
Timothy Carhart as A.G. Stewart (6 Episodes)
Atticus Todd as Ben Waters (5 Episodes)
Robert Mirabal as Principal Littlefield (3 Episodes)
Tokala Black Elk as Sam Stands Alone (4 Episodes)
Michaela Conlin as Sarah Nguyen (4 Episodes)
Sol Xavier May-Kennedy as Robert Long Son 1 (3 Episodes)
Wolford Reed May-Kennedy as Robert Long Son 2 (3
Episodes)Mosiah Aaron Crowfoot as Robert Long Son 3 (3 Episodes)
Luke Peckinpah as Fred Myers (3 Episodes)
Walter C. Taylor III as Emmett Walsh (3 Episodes)
Fredric Lehne as Carl Reynolds (3 Episodes)
Heather Hemmens as Melody Prescott (3 Episodes)
Savonna Spracklin as Alice Wahl (3 Episodes)
Makayah Starley Crowfoot as Stands Alone Daughter (3 Episodes)
Isaiah Samuel Crowfoot as Stands Alone Son (3 Episodes)
Josh Lucas as Young John Dutton (3 Episodes)
David Cleveland Brown as Jason (2 Episodes)
Katherine Cunningham as Christina (3 Episodes)
MorningStar Angeline as Samantha Long (2 Episodes)
Bill Tangradi as Alan Keene (2 Episodes)
John Aylward as Father Bob (2 Episodes)
Gretchen Mol as Evelyn Dutton (2 Episodes)
Noah D. Spears as Nathan (2 Episodes)
Barret Swatek as Victoria Jenkins (2 Episodes)
Tom Foran as Ranch Hand (1 Episode)
Rhys Alterman as Young Kayce (2 Episodes)
Kylie Rogers as Young Beth (2 Episodes)
Michael Nouri as Bob Schwartz (2 Episodes)
Hugh Dillon as Sheriff Donnie Haskell (2 Episodes)
Jake Ream as Jake (2 Episodes)
Jill Hennessy as Senator Huntington (1 Episode)
Jeremiah Bitsui as Robert Long (1 Episode)
J.R. Cacia as Ted at the Bar (1 Episode)
Stanley J. Peternal as Dirk Herstrom (1 Episode)
Morgan Lund as Trent Willet (1 Episode)
Jeremy Hoop as State PD Officer (1 Episode)
David H. Stevens as Petroleum Engineer (1 Episode)
Joshua Michael French as Oil Worker (1 Episode)
Christopher May as Craig Martin (1 Episode)
Martin Southern as Auctioneer (1 Episode)
Kenneth Ruthardt as Big Belly (1 Episode)
Alina Posacki as Young Vocalist (1 Episode)
Gabe Casdorph as Ron Wright (1 Episode)
Crystle Lightning as Verda Stands Alone (1 Episode)
Mason D. Davis as Viggo (1 Episode)
Rebecca Cade as Reporter (1 Episode)
Geno Segers as Danny Trudeau (1 Episode)
Rusty Tinderas Rusty Tinder (1 Episode)
Dakota Love as Daisy Trudeau (1 Episode)
Wally Welch as Mickey Creagan (1 Episode)
Dylan Kenin as Cowboy (1 Episode)
Howard Ferguson Jr. as Rough Cowboy (1 Episode)
Braden Lynch as Dr. Patrick Monteith (1 Episode)
Walter Mecham as George Washington (1 Episode)
Trenton James as Andrew Jackson (1 Episode)
Austin R. Grant as Aaron McReary (1 Episode)
Cornelius T. O'Connor as Cremator (1 Episode)
Kellie Cockrell as Governor's Aide (1 Episode)
Casey Pieretti as Dying Man (1 Episode)
Andrea Fappani as Andrea Fappani (1 Episode)
Tim McQuay as Martin (1 Episode)
Mike Faiola as Dr. Fielding (1 Episode)
Aria Song as Translator (1 Episode)
Jim Lau as Tourist (1 Episode)
Nathaniel Edwards as Male Nurse (1 Episode)
Valerie Yu as Kim (1 Episode)
Isaac Cheung as Kim's Boyfriend (1 Episode)
Bear Menor as Fighting Boy (1 Episode)
Kat Smith as Nurse (1 Episode)
Heidi Sulzman as Officer Charlotte Skyles (1 Episode)
Darin Southam as Stan (1 Episode)
Angie Winegar as Physical Therapist (1 Episode)
Brett Pendleton as Deputy (1 Episode)
Ambyr M. Reyes as Paige Nutter (1 Episode)
Patrick Bogdanich as Wild Eyes (1 Episode)
James Pickens Jr. as Old Cowboy (1 Episode)
DeJean Brown as Officer Mike Sullivan (1 Episode)
Aimee-Lynn Chadwick as Waitress (1 Episode)
Steve Coulter as Mel Thompson (1 Episode)
Tinsel Korey as Emily Sessions (1 Episode)
Taylor Sheridan as Travis Wheatley (1 Episode)
Michael Todd Behrens as Doug (1 Episode)
Dalton Baker as Young Jamie (1 Episode)
Kyle Red Silverstein as Young Rip (1 Episode)
Brian Unger as Dr. Stafford (1 Episode)
Tanaya Beatty as Avery (1 Episode)
That's everything on the Yellowstone cast! If you'd like to sign up for Paramount Plus to stream the show, sign up using the link above. And once you're in, you can take a look at our list of everything new on Paramount Plus this month. If you're looking for something else to watch, check out the 6 best Taylor Sheridan TV series and movies.
For more, check out our guide to the Yellowstone 1923 season 2 release date, or find out if there'll be a Yellowstone season 6. We also have a feature about what to do now that Yellowstone is breaking up with you. Oh, and we also have our predictions for the 5 Yellowstone characters most likely to die, so you can see who we think's on the chopping block.