"I think Jaime Reyes speaks to a lot of people," Angel Manuel Soto, director of Blue Beetle explained to The Digital Fix. "Perhaps more people than we thought." As the first Latinx superhero to get their own solo movie, Blue Beetle, the latest outing by DC, is poised to make history.
Arguably, the odds have been stacked against Blue Beetle from the start. It's one of the last superhero movies in the now-defunct DCEU, was originally relegated to a streaming service-only release, and promotion for the new movie is vastly stripped back as workers across the entertainment industry continue to fight for fair treatment in the 2023 Writers Strike and Actors Strike.
But despite every setback and roadblock, Blue Beetle is already flying. Certified 'fresh' on Rotten Tomatoes, the critical consensus is that it's one of the best movies to come out of DC in years. And what makes it even more special is how it inspired a committed online fandom, dubbing themselves the #BlueBeetleBattallion, to lead the charge in ensuring Jaime's story is seen.
"The fact that they're driving this excitement, they're taking into their own hands, they're being creative, they're being absurd, they're being funny… it just speaks to the impact that this character has to a lot of people beyond ethnic backgrounds," Soto noted. "I'm humbled by it."
As well as leading a social media marketing campaign for Blue Beetle, members of the #Battallion have gone viral for creations such as the 'Blue Beetle Burger' — a parody of Burger King's Barbie burger — and a crowdfunded campaign to provide free tickets for those who can't afford to see the action movie in theaters.
"People want to see this character; people want to see what can happen in the future. And for us, we did it with our intention," Soto added. "We want to make people happy."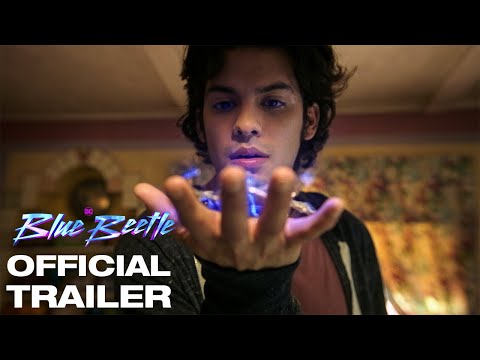 But who exactly is this character? Played by Cobra Kai star Xolo Maridueña, Jaime Reyes is the third person to take on the mantle of Blue Beetle after being 'chosen' by an otherworldly piece of biotechnology known as the Scarab.
Set in the fictional Palmera City, Blue Beetle explores Jaime's adjustment to his new-found powers as he grows into the crime fighter we know and love from the DC comics. Naturally, this has led to similarities being drawn between Jaime and Spider-Man, and Soto couldn't be happier with the comparison.
"I take great honor in that comparison because I'm a huge fan of both!" he exclaimed. "I think it's very human to draw connections to stuff in order to find ways to relate to them. So, after witnessing, in my opinion, Miles Morales, for example, it made even more sense to make those comparisons because Miles Morales is Afro Latnix and Jaime is Mexican-American."
"And I think the charisma of both characters and how they relate to and deal with conflict, they're not that far apart," he added.
Jaime isn't dissimilar from Peter Parker, either — both have a deeply close bond with their family. For Jaime, his abuela, played by Adriana Barraza, is an especially important character in the film, with Soto telling us how Jaime has a lot to learn from Nana Reyes. "She's a hero," he points out. "Her revolutionary past is definitely worth exploring. Especially coming from Mexico, what that entails, what that would look like, and how that informs her."
"And not just that — there's the legacy to all of this that's been passed on to Jaime," he added. "You can learn a lot from the matriarch of the family. And I think getting some wisdom from Nana will be really interesting."
Ultimately, it's obvious that for all its action sequences and crime-fighting, Blue Beetle is a movie full of love. That much became clear when Soto shared his favorite on-set memory: shooting the Reyes' big group hug that happens towards the end of the film.
"That part was very special," he smiled. "Because for us, we didn't shoot that at the end, even though it's at the end of the movie. But we kind of realized that, you know, this will eventually end. We'll part our ways and the movie will end. So I think, for me, I was channeling the fact that I was gonna stop working with them eventually in the movie, and I was gonna have to say goodbye. It was very moving for me."
With the Blue Beetle release date now upon us, you can watch the 2023 movie for yourself in theaters. But before you go, be sure to check out our Blue Beetle review and guide breaking down whether there's a Blue Beetle post-credits scene. And if you find yourself wanting more afterward, then jump right into our deep dive of the Blue Beetle ending and guide to a potential Blue Beetle 2 release date.
For more on DC, check out our article on how to watch the DC movies in order, or if you want to stay ahead, read our guides detailing Chapter 1 Gods and Monsters, including breakdowns on the Superman Legacy release date, Creature Commandos release date, Waller release date, and Swamp Thing release date.