What is the Swamp Thing release date? Big changes are coming over to DC following the announcement of the new studio co-heads, James Gunn and Peter Safran. The DCEU is officially on its way out (sorry, Zack Snyder fans), and instead, the future is bright with a slate of new films ready to usher in a fresh approach to the franchise.
As part of Gunn and Safran's Chapter 1 – Gods and Monsters plan, one of these aforementioned new movies is none other than Swamp Thing. For any DC fans unaware of the titular hero in the upcoming superhero movie, Swamp Thing is a humanoid/plant elemental creature who was first introduced to the world in the '70s. Throughout the years, the character has had his own TV series and films – but fans are keen to hear about this anthropomorphic plant's latest outing.
From the Swamp Thing release date, cast, plot and more, here is everything that you need to know about the future monster movie. So, what are you waiting for? It is time to check in on DC's favourite environmentally-friendly hero.
Swamp Thing release date speculation
As of May 2023, we don't know the Swamp Thing release date. However, considering how Gunn's new Superman movie – Superman: Legacy – is locked in for July 2025, we expect that Swamp Thing will release sometime in 2024 or 2026.
While this two-year gap may seem massive, it makes sense as we are sure DC won't want to clash with its releases. Superhero movie fatigue has been a big problem in 2023 with both DC movies and Marvel movies, so fingers crossed that Swamp Thing breaks the pattern.
2024 is the most likely bet since James Mangold has officially been signed on to direct and write the film. So if production kicks off in late 2023, we will all see Swamp Thing sooner rather than later.
Swamp Thing cast speculation
As Swamp Thing is still in its early stages of development, no Swamp Thing cast list has been confirmed just yet.
However, that hasn't stopped fans from taking a crack and guessing who will be starring in the film. Here are some of their guesses of who might take on the leading role:
Joel Edgerton as Swamp Thing (fan cast)
Sam Richardson as Swamp Thing (fan cast)
Derek Mears as Swamp Thing (fan cast)
We will keep you posted as more casting news heads our way.
Swamp Thing plot speculation
While there is no Swamp Thing plot synopsis just yet, we do know that the upcoming movie will be taking a look at the character's origins and follow a dark tone. The film is being marketed as DC's horror movie of its Chapter 1 release slate – so don't expect any sunshine or rainbows, friends.
For those unfamiliar with DC lore, Swamp Thing is a plant-based entity that acquired the memories and personality of Alec Holland after Alec died in a swamp. Prior to dying, Alec was developing the Bio-Restorative Formula in order to solve world hunger. But before he could share his discovery with the world, thugs stormed and blew up his lab, killing his wife and ending Alec's human-based life.
As Swamp Thing, Alec destroys those who harm the environment and every bad guy who crosses his path. Since this is an origin story, we expect less of a focus on Swamp Thing's heroic deeds and more on Alec's transformation. So, figures crossed for some body horror movie action as Alec morphs into the sentient mould of plant matter.
Along with a (hopefully) gnarly monster creation scene, we hope to see a good old revenge plotline play out as Alec goes after those who killed him and his family. Fans can also expect Swamp Thing's plot to tie into the larger DC Universe. As part of Chapter One, we know that Swamp Thing will play a part in providing the building blocks to Gunn's interconnected superhero franchise, which will likely try to model itself similarly to the MCU.
Is there a Swamp Thing trailer?
There isn't a Swamp Thing movie trailer just yet.
The latest live-action adaptation of Swamp Thing is the CW's 2019 trailer, so take a look at that below while you wait.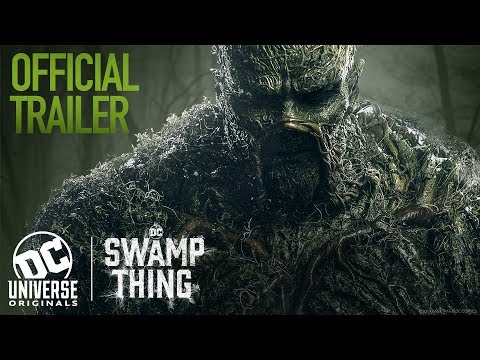 Where will I be able to watch Swamp Thing?
Swamp Thing will have a theatrical release before heading over to the Warner Bros streaming service Max.
James Gunn's finally giving Swampy his due and putting the muck-encrusted mockery of a man in cinemas. That means if you want to watch Swamp Thing, you'll have to jump on your pontoon and sail on over to your local cinema. A few months after its cinema release, we imagine Swamp Thing will stomp on over to Max.
If you live outside the US, and Max isn't available in your country, you should be able to buy or rent a digital copy of the Swamp Thing movie when it comes out via streamers like Amazon Prime Video and Apple TV Plus.
Keep your eye on this guide as more updates head our way. While we wait on more Swamp Thing news, you can now look over our guides to everything we know about the Joker 2 release date and The Batman 2 release date. Or, for more top picks, here is our list of the best movies of all time.