When is the Blue Beetle release date? Directed by Angel Manuel Soto, Blue Beetle is not only the fourteenth film in the DC Extended Universe but the first DC movie starring a Latinx lead.
Known for his work in the Netflix series Cobra Kai, Xolo Maridueña was announced as the actor playing Jaime Reyes back in 2021. Although the DCEU as we know it is currently in flux, DC Studios has new leaders in James Gunn and Peter Safran who are spearheading a rebooted DC Universe. We have been assured that Jaime Reyes' big-screen debut will not be in vain. As the film is "totally disconnected" from other DC movies, it "can be a part of the DCU" and join other new movies coming from DC's Chapter One: Gods and Monsters.
There is lots to know about this new hero, settle down and immerse yourself with everything we know about the Blue Beetle release date.
Blue Beetle release date
Blue Beetle will be released on Friday, August 18, 2023. The superhero movie was initially planned to be released on the streaming service HBO Max but will now have a full theatrical run.
Blue Beetle cast
Xolo Maridueña leads the Blue Beetle cast as Jaime Reyes. The rest of the cast includes Bruna Marquezine, George Lopez, and Raoul Trujillo.
The Blue Beetle cast list:
Xolo Maridueña as Jaime Reyes/Blue Beetle
Bruna Marquezine as Penny
Belissa Escobedo as Milagros Reyes
George Lopez as Rudy
Adriana Barraza as Nana
Elpidia Carrillo as Rocio
Damián Alcázar as Alberto
Raoul Trujillo as Carapax the Indestructible Man
Susan Sarandon as Victoria Kord
Harvey Guillén in an undisclosed role
What is Blue Beetle about?
The movie will be an origin story for Jaime Reyes, loosely based on the Infinite Crisis comic book storyline.
We know, courtesy of the official plot synopsis, that Jaime will be a college graduate who returns home and discovers that things aren't always so easy when you're out of school. However, Jaime's life gets even more complicated when he finds himself the unwilling host of a symbiotic alien weapon known as The Scarab.
The Scarab gives Jaime incredible powers, but it seems to have a mind all of its own, and to make matters worse, its original owner Victoria Kord wants it back. Jaime will have to master his new abilities and become the new Blue Beetle if he hopes to stop Victoria and Carapax, the Indestructible Man.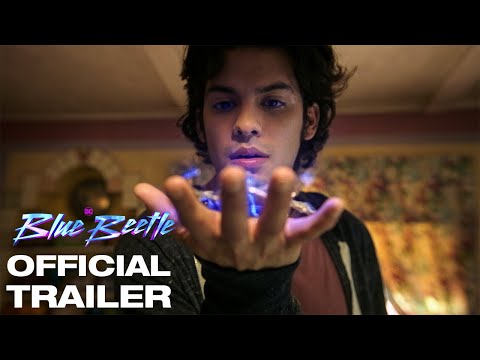 Is there a Blue Beetle trailer?
The first Blue Beetle trailer was released on April 3, 2023. The short teaser introduces Xolo Maridueña in character as Jaime Reyes after encountering the Scarab for the first time.
We see the Scarab attach itself to Jaime and him trying to get to grips with his new powers, which really freaks out his family. We also get a glimpse of the movie villains, Victoria Kord and Carapax the Indestructible Man. Some footage was shown at CinemaCon 2023 but nothing particularly noteworthy.
Where can I watch Blue Beetle?
Blue Beetle is heading to theatres in August, after which it should eventually land on HBO Max.
If you want to know more about upcoming DC movies, check out our guides on The Flash release date, Aquaman 2 release date, and the Superman Legacy release date. We've also got a full rundown (No pun intended) of The Flash cast.
If you want to move away from the DCU, here's a guide to the best movies of all time.