What is the Blue Beetle 2 release date? Things are looking good for Angel Manuel Soto's Blue Beetle. It's the first DC movie to be certified 'fresh' on Rotten Tomatoes since Suicide Squad 2, with a 79% overall rating on the review aggregator.
Critical consensus suggests it's the best superhero movie DC has produced in years, meaning that the chances of Jaime Reyes returning to the DC Universe are looking a lot more hopeful now. So, with that in mind, what is the Blue Beetle 2 release date?
There's plenty of scope for a new movie about Jaime Reyes, the Scarab, and more — so allow us to break down the details for you.
Blue Beetle 2 release date
Blue Beetle 2 hasn't been announced yet — director Angel Manuel Soto said it depends on the box office performance of the first one. But if a sequel was commissioned, we don't see it coming until late 2025 at the earliest.
We know the Superman Legacy release date is July 2025, and The Batman 2 release date is October 2025. No other movies from Chapter 1 Gods and Monsters have a release date announced yet, so the earliest feasible release window for a Blue Beetle 2 would be December 2025.
However, a 2026 release is probably more realistic because the Actors Strike and 2023 Writers Strike means production on any potential sequel wouldn't be starting anytime soon.
What we do know for certain is that DC is working on a superhero drama series based on Booster Gold — Blue Beetle's best friend in the comics. So, it remains to be seen whether this series would arrive before or after a Blue Beetle sequel.
Blue Beetle 2 cast
If we get a Blue Beetle 2, we can expect Jaime, his family, and Jenny Kord to all return.
We'll likely also get to meet Ted Kord too — and the Blue Beetle director already has an idea of who he'd want to play him.
Here's the full speculative cast:
Xolo Maridueña as Jaime Reyes/Blue Beetle
Bruna Marquezine as Jenny Kord
Belissa Escobedo as Milagros Reyes
George Lopez as Rudy Reyes
Adriana Barraza as Nana Reyes
Elpidia Carrillo as Rocio Reyes
Jason Sudeikis as Ted Kord
Undisclosed actor as Booster Gold
What would Blue Beetle 2 be about?
Blue Beetle 2 would probably pick up from the cliffhanger introduced in the first movie's post-credit scene.
The Blue Beetle ending and post-credit scene revealed that Ted Kord, the previous Blue Beetle before Jaime, was, in fact alive. During the movie's events, he'd been missing and presumed dead for years, but the post-credit scene showed Ted Kord intercepting the computers on his now-abandoned Beetle Nest in an attempt to make contact with his daughter, Jenny.
So, we can see Blue Beetle 2 attempting to unravel the mystery of Ted as Jaime, the Reyes, and Jenny all team up to track him down and bring him home.
With a Booster Gold series on the way, we can also see the character making an appearance in the film — although it remains to be seen if the series would come before or after the Blue Beetle sequel. Either way, Booster Gold would no doubt form an important part of this film, as he's best friends with Ted and acts as a mentor for Jaime in the comics.
And the good news is, Gunn has confirmed that he is already talking to an actor about the role. It just remains to be seen who that actor actually is.
Is there a Blue Beetle 2 trailer?
It's a bit early in the day for a Blue Beetle 2 trailer — we probably won't get one until 2025 at the earliest.
In the meantime, enjoy Jaime's origin story with the OG Blue Beetle trailer.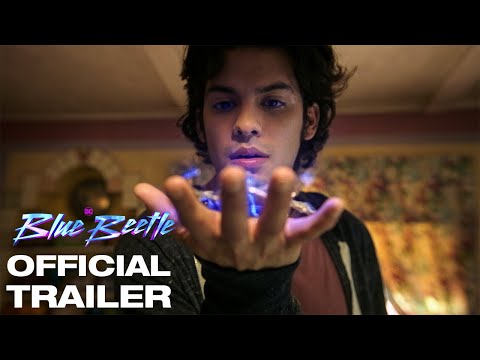 Where can I watch Blue Beetle 2?
If a Blue Beetle 2 happens, it will probably follow its predecessor in having a theatrical release.
Then, for US fans, it's just a matter of waiting 45 days for the movie to come on HBO Max. Things might be a little trickier for UK fans, as HBO Max isn't here (yet).
They'd probably have to wait a couple months post-theatrical-release for the movie to be released digitally on platforms like Amazon Prime Video and Apple TV Plus.
For more on Blue Beetle, check out our Blue Beetle review and guides on how to watch Blue Beetle and the Blue Beetle post-credits scene. Or, go back to the start of the DCEU with our guide on how to watch all the DC movies in order.
If you're anxious to hear where the DC Universe will go next, you'll probably appreciate our articles breaking down the Creature Commandos release date, Waller release date, Swamp Thing release date, Aquaman 2 release date, and Joker 2 release date.