Blue Beetle isn't the most well-known DCU hero, but if the MCU showed us anything, even an obscure hero can sparkle under the right directorship. This is largely the case with Blue Beetle, directed with care and charisma by Angel Manuel Soto.
One of Blue Beetle's greatest strengths is its seamless, more PG-13 humor which, unlike Marvel, seems aimed at a more mature audience. Blue Beetle doesn't try to be Marvel, and it doesn't try to be the DCEU either (thank God). Although it's not short on the typical tropes and conventions of this type of movie genre, the writing and direction of the film help it stand out.
Sure, there's a lot of emphasis on the importance of family (I'll never forgive the Fast and Furious cast for what they've done to the cinema), and the zero-to-reluctant-hero arc is a path well-trodden — but Soto adds extra layers to the genre by rooting it all in Latinx culture, and providing timely commentary on issues like race, class, and gentrification.
Most of the comic relief comes from Jaime's close-knit and unapologetic family, with Rudy (George Lopez) and Nana (Adriana Barraza) especially shining. As a unit, seeing a superhero's non-powered family take everything in their stride and be in the know for once instead of reverting to the usual 'secret identity' trope was also refreshing.
It's clear that Soto did his homework for Blue Beetle, as the legacies of Dan Garret and Ted Kord hang heavy over this film — while Victoria Kord (Susan Sarandon), Ted's sister, was a bit of a generic movie villain, Raoul Trujillo did a great job of providing depth and intrigue as secondary villain Carapax.
As Jaime Reyes, Xolo Maridueña is a unique kind of endearing, balancing emotional and action-packed scenes with the ease you'd expect from a Hollywood veteran instead of someone making their big-screen debut.
The romance between his character and Jenny Kord (Bruna Marquezine) feels a bit like a forced box-ticking exercise, so it's just as well that the best relationship in the film ends up being between Jaime and the Scarab (Khaji Da). His relationship with the otherworldly being, which attaches itself to him and allows him to harness its power via shapeshifting armor, is a cross between that of Tony Stark and J.A.R.V.I.S and Eddie Brock and Venom.
It's a fascinating dynamic, the slow development of which acts as a driving force for the film, and it just goes to show that sometimes the more niche superhero comics are worth exploring. We don't need a million Supermans when there are all these untold stories to explore.
While the action and fight sequences aren't remarkably different from any other superhero movie, the CGI, for the most part, feels a lot more grounded and solid than what we've seen in recent entries in both the MCU and DCEU. They're entertaining to watch, but nothing to write home about — although Jaime's rapport with Khaji Da helps add another layer to these sequences and prevents your attention from wandering.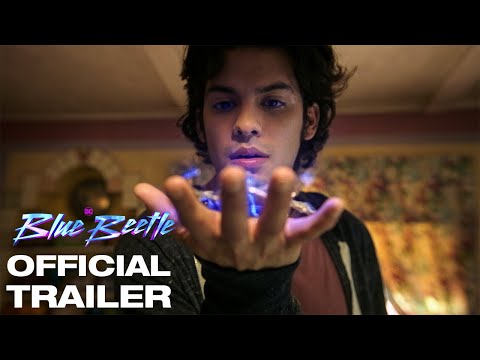 And I, for one, hope that Blue Beetle's story will continue in the new DC universe.
For more on the DCU, here's what you need to know about Chapter 1 Gods and Monsters. We also have guides on each new movie and upcoming release, including the Superman Legacy release date, Creature Commandos release date, Swamp Thing release date, and Waller release date. Or, if you want to look back at the classics, here's our guide to all the DC movies in order.
Blue Beetle review
An exciting, solid introduction to a new DC hero that does the job and then some.