What happens in the Blue Beetle ending? DC's answer to Spider-Man has finally hit our screens, with Cobra Kai's Xolo Maridueña introducing the world to Jaime Reyes. Whether he likes it or not, the Scarab chose him, and now the unlikely hero is taking on the mantle of Blue Beetle.
Mercifully, there isn't a multiverse in sight in this DC Universe feature, as this new movie occupies a unique spot between the now-defunct DCEU and Chapter 1 Gods and Monsters. But let's not get ahead of ourselves. The Blue Beetle release date only just came to pass. So what happens in the Blue Beetle ending? Here's what you need to know.
How does Blue Beetle end?
After Victoria Kord takes Jaime, he is rescued by his family and defeats Carapax in a final showdown.
Victoria Kord mobilizes Kord Industries to destroy Jaime's family home and to kidnap the young hero to extract the Scarab. In the commotion, Jaime's father dies, and Kord Industries swoop down to take Jaime while the rest of the family becomes consumed with grief.
Victoria wants to harness the power of the Scarab to make human weapons, starting off with Carapax — a former soldier who she has basically turned into a cyborg with various torturous surgeries where he implants Kord Industries weaponry and machinery into him.
The first step to this is extracting the Scarab from Jaime and implanting it into Carapax. This process will kill Jaime, but that doesn't seem like something Victoria is particularly concerned with.
Meanwhile, Jenny Kord takes Jaime's family to her father's secret base, and everyone is armed up with weapons as they prepare to track down Jamie and take down Victoria. Cue some incredible fight scenes, including Nana gunning down some Kord Industries heavies as she gets back in touch with her revolutionary past.
Jaime ends up close to death, but after a touching reunion with his father beyond the grave, he synthesizes with the Scarab fully and can regain his strength. Dr. Sanchez, who works for Victoria, suddenly develops a backbone and helps Jaime escape but pays the ultimate price after being swiftly killed by Carapax.
Consumed with rage and grief, Jaime and Carapax have a final showdown, but the Scarab stops Jaime from dealing the final deadly blow that would kill Carapax by showing him that he's as much of a victim of Victoria Kord as the rest of them. Moved by Jaime's mercy, Carapax decides to end Victoria's reign of terror for good as he self-destructs and kills his former ally.
With the Big Bad defeated, the Reyes finally grieve the loss of the family patriarch. Their home might be destroyed, but the community rallies to help them while Jenny Kord pays off the family's debts and gets Rudy a new truck.
So, Jaime finally embraces his status as Blue Beetle, and uses his new-found powers to give Jenny a trip in the sky, Peter Parker and MJ-style.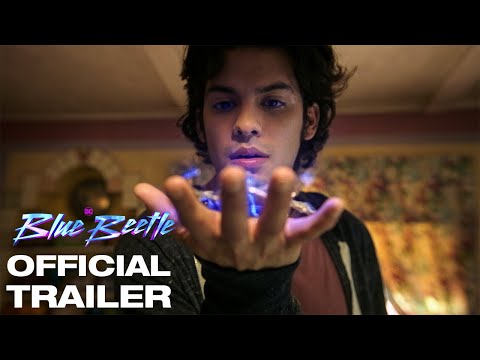 What happens in the Blue Beetle post-credit scene?
While the first post-credit sting is a gag based on a fictional TV show mentioned in the movie, the second post-credit scene sets up a new Blue Beetle mystery.
After the credits have rolled, audiences return to Ted Kord's underground base that houses all his Blue Beetle-related technology and research. It's established during the film that Kord went missing a number of years before the events of Blue Beetle.
He's presumed dead, but suddenly, all the computer monitors in the empty base light up as a male voice intercepts the servers. The voice says that he is Ted Kord, he is alive, and if anyone hears this, to contact his daughter, Victoria. Ted's face and location aren't seen in this post-credit scene, but it can be presumed that he's lost in another dimension and that the mission to track down Ted will shape Jamie's next adventure…
If you're wondering how to watch Blue Beetle, the superhero movie is in cinemas now. You can also check out our Blue Beetle review and guide to Blue Beetle post-credit scenes before looking ahead to other upcoming DC projects like the Aquaman 2 release date, Joker 2 release date, The Batman 2 release date, and the Superman Legacy release date.
Or, watch the DCEU from start to finish with our guide on how to watch all the DC movies in order.