The last few DC movies haven't been all that special, and the slate is being wiped clean now that James Gunn has taken control. But the Aquaman 2 release date just kept swimming, because despite the troubled SnyderVerse, one thing was clear: people loved Jason Momoa's Aquaman.
In fact, they loved him and his DCU underwater world so much that his solo adventure racked up $1.1 billion at the box office. If you're watching the DC movies in order you can't skip this one, because it floats among the best movies in the series, drumming octopus and all. Fast-forward to the present, and Aquaman and The Lost Kingdom is on the way, with James Wan back at the helm. So, grab your scuba gear as we dive into one of 2023's new movies.
When is the Aquaman 2 release date?
Aquaman 2 will be released on Friday, December 22, 2023. So we don't have too long to return to Atlantis!
The newest DC movie was originally set to be released in December 2022, but it was pushed back a year to avoid battling it out with the similarly water-based James Cameron movie Avatar 2 as well as some reported issues with nailing down the story.
I think we can all agree that was a good decision. We're excited about upcoming DC movies, but they can't match up to the Na'vi.
And, to be honest, the year's delay could be worse. Aquaman 2 is one of the only films that hasn't moved from its current 2023 date after the 2023 Writers Strike and actors strike – silver linings, eh? – though it has shuffled around the December schedule a little.
Who's in the Aquaman 2 cast?
Jason Momoa is back as the titular aquatic hero, Arthur Curry, to lead the cast of Aquaman 2.
He'll don a new costume this time around, too. Sure, the orange and green look is iconic, but you can check out the new, sleek dark blue and silver outfit above and see for yourself how cool it is.
It remains to be seen whether this will be Jason Momoa's last turn as Aquaman. With James Gunn and Peter Safran taking over at DC Films and launching their new slate titled Chapter 1: Gods and Monsters, it's unclear whether Momoa fits into these plans, and there are rumors swirling around him potentially playing a different DC Comics character in the future instead, but he isn't playing Lobo for now.
Boba Fett himself, Temuera Morrison, is coming back to play Arthur's father, Tom, while Dolph Lundgren is returning to play Mera's father, King Nereus of Xebel. Yahya Abdul-Mateen II and Patrick Wilson will also return as their respective DC villains, Black Manta and Ocean Master.
Hopefully, they both offer Aquaman more than just another bad guy to punch, with Wilson's Orm on the side of the good guys (sort of) this time.
Randall Park is also batting for the dark side since he was last seen teaming up with Black Manta at the end of the first film. The sequel will introduce new figures on its journey to The Lost Kingdom, like Jani Zhao's Stingray, and Indya Moore's Karshon, a giant tiger shark.
Here's the Aquaman 2 cast list:
Jason Momoa as Aquaman
Patrick Wilson as Orm
Ben Affleck as Bruce Wayne/Batman
Yahya Abdul-Mateen II as Black Manta
Amber Heard as Mera
Dolph Lundgren as King Nereus
Temeura Morrison as Tom Curry
Nicole Kidman as Atlanna
Randall Park as Dr Stephen Shin
Jani Zhao as Stingray
Indya Moore as Karshon
Vincent Regan as Atlan
Pilou Asbæk
What is Aquaman 2 about?
Aquaman 2 follows Arthur and his brother Orm as they try to find the titular Lost Kingdom before Black Manta.
This was revealed at CinemaCon 2023, giving us a better idea of what the Aquaman 2 plot will be. The villain will be trying to locate a powerful weapon called the Black Trident, which, legend says, was created by a missing civilization.
Can Aquaman and Ocean Master get along and stop the deep-sea deviant before he gets his flippers on the weapon? We'll have to watch to find out what happens to our favorite DC characters and see whether these two can actually work together.
James Wan has compared Aquaman 2 to some of the most famous buddy movies ever, including Men In Black and Tango & Cash. So we're in for more of the comedy that made the first movie so enjoyable.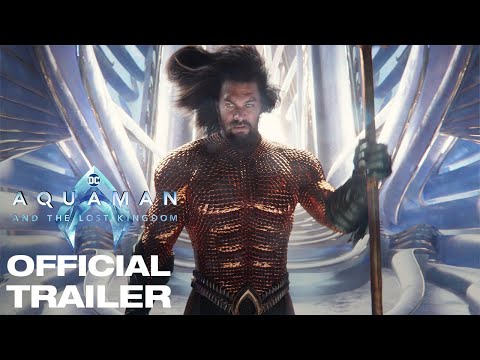 Is there an Aquaman 2 trailer?
The first full trailer for Aquaman 2 was released on September 14, 2023, and it's full of vibrant action.
All the main players are there, and it looks to be even zanier and more colorful than the first movie. Check out the full-length trailer above to whet your appetite!
The below teaser titled 'The Key' followed in November, which showed Black Manta messing around with a gnarly green weapon.
Where can I watch Aquaman 2?
Aquaman 2 will head straight to theaters on Friday, December 22, 2023, and will hit Max a few months later.
So it's a multiplex trip before you'll have a chance to watch Aquaman 2 from the comfort of your own couch. You can check out what else is new on Max in the meantime, though.
That's all we know about the Aquaman 2 release date for now. In the meantime, check out our guides to the Joker 2 release date and learn how Superman Legacy will hit the reset button on DC. We've also revealed five things we want to see from James Gunn's new DCU.
Elsewhere, delve even deeper into Aquaman's history as we explain how Black Manta ruined Aquaman's life in this horrific story. Finally, find out about how Leonardo DiCaprio almost beat Momoa to making Aquaman.