Who is Kayce Dutton in Yellowstone? Finally, a Dutton for the girlies. Kayce has golden hair, a brooding aura, and a troubled personality that we could definitely fix. Being the youngest and quietest Dutton, you may want to know a little more about him.
In Yellowstone, Kayce is the most removed member of John Dutton's family. He's played in the Yellowstone cast by Luke Grimes, an actor and country singer (surprise, surprise). He can usually be found doing his father's bidding, and getting blood on his hands in the process.
If you're looking for a little more intel on this particular cowboy, we've got you covered. Here's Kayce Dutton explained, with everything you need to know about the drama series character.
Who is Kayce Dutton?
Kayce Dutton is the youngest member of the original Dutton family, and is the only remaining true-born son of John Dutton.
Kayce Dutton is a soulful, brooding boy. He's a little rough around the edges, and isn't afraid to get down and dirty. When the series begins, he lives on the Broken Rock reservation with his wife Monica and son Tate, since he's estranged from John Dutton and the rest of his family.
Over time, Kayce is slowly pulled back into the fold, and learns to overcome his past and forgive his father for old grievances. He's a dedicated father and husband, always striving to put his new family first. Essentially, of all the Dutton clan, Kayce seems to give the least amount of f*cks.
He cares about the ranch because it's due to be passed down to Tate. He respects the land, but doesn't seem particularly interested in money or legacy aside from this.
Kayce and the Dutton family explained
Kayce has an incredibly turbulent relationship with his father, John, and doesn't really speak to him after being ousted from the Yellowstone property when he was younger.
This is because he got Monica pregnant and refused to ask her for an abortion (under John's request). John also branded Kayce when he was younger to remind him of the loyalty he should always have. Over time, old wounds heal, and Kayce finds himself becoming softer towards his father. Part of this is because John genuinely loves Tate, and wants to form a relationship with him. Because Tate adores his grandfather, Kayce sees that there must be peace found between them.
With his siblings, Kayce doesn't spend too much time ruminating on their relationships. He gets along just fine with Beth Dutton, but often comes to blows with her husband, Rip Wheeler, because Rip deems him to be dangerous to the family's longevity. He's seen to be somewhat close with Jamie Dutton — they spend a lot of time just calling each other "brother", really — but his strongest relationship appeared to be with Lee, who was killed in the first episode.
It's clear that Lee's death (which came at the hand of Monica's brother, Kayce's brother-in-law, Robert) rattled Kayce, and he still feels guilty about it to this day.
Kayce's job explained
Throughout the series, Kayce goes from breaking horses, to working on the Dutton ranch, to being Livestock Commissioner.
Honestly? Kayce spends half his time running around acting like a professional hitman. He's killed, just, so many people. Kayce is an agent of chaos, and has a habit of stumbling into some truly unexpected situations, like coming across dinosaur remains, or a intercepting a kidnapping in progress.
On paper, Kayce has had a long and illustrious career of killing. Prior to the series, he was in the U.S Navy Seals, and served in Pakistan. When he returned to Broken Rock, he became a horseman and began taming and breaking in wild horses. When he eventually returned to the Yellowstone ranch, he started in the bunkhouse before being appointed the new foreman. (All the more reason for Rip to hate him.)
Later on, Kayce would work as a Livestock Agent, and would come to supersede John as Livestock Commissioner. Let's be real — the job is kind of perfect for him. His somewhat rogue idea of justice means that he fits right in.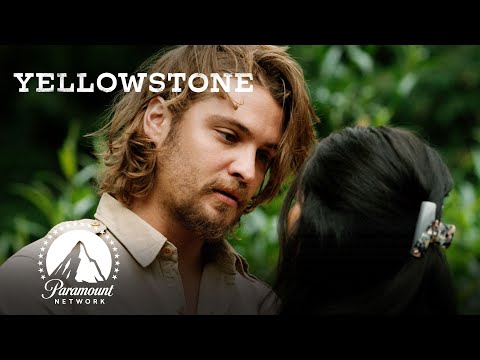 Kayce's relationships explained
Kayce is in a long and loving relationship with his wife Monica. They met when they were young, and eventually she fell pregnant with Tate.
Kayce and Monica love each other, but Kayce often struggles to be truthful with her, and is usually keeping some sort of secret. At times, Monica is disgusted by the Dutton family's history, and hates the way that Kayce acts when around them.
Monica finds herself getting jealous of Kayce's working relationship with Avery, a rare female ranch hand that lives in the bunkhouse for a short while. It's shown that Avery has feelings for Kayce, but he turns her down, telling her that he loves his wife.
The biggest hit to their family dynamic is when Monica gets into an accident and sustains a brain injury. She later leaves Kayce for a short while, taking Tate with her, because she believes that the Dutton lifestyle is simply too dangerous for them both. But, consumed by her love for him, they reunite.
Sadly, when Monica falls pregnant with a second child, she gets into a car accident and loses the baby. The two appear to drift apart in their grief, but find each other again and end up burying their unborn child on the grounds of Yellowstone.
Kayce's vision quest explained
During season 4, Kayce undergoes a vision quest in order to be fully accepted into Monica's tribe.
It's called a Hanbleceya ritual, and is a sacred rite of passage for the Lakota people. It literally means "crying for a vision", and sees Kayce crossing over into the spirit world to understand his purpose and future. Kayce must remain alone in the wilderness for several days until he completes his quest. As Mo tells him, "You must stand on the cliff of death to understand your purpose in life. It's the only place where you can see it."
During his visions, Kayce sees an owl, his dead brother Lee's visage, flashbacks of his time in the army, and a mysterious girl in white. The girl is a visual representation of Kayce's spirit animal, the wolf, which he sees several times over throughout the series. By the end of his quest, Kayce sees two paths that lay ahead of him. When Monica later asks him what he saw, he tells her: "the end of us."
Whether this means that something dark is on the horizon for Kayce and Monica's family, or whether it means that Kayce will have to abandon them altogether in the name of the Dutton ranch (or the other way around), remains to be seen.
How old is Kayce Dutton?
According to fan sources, by season 5, Kayce Dutton is thirty-two years old.
That's Kayce Dutton. Face of an angel, soul of a devil. Whether you love him or loathe him, he's there. For more on the Duttons, check out everything you need to know about the Yellowstone timeline, 1883 cast, and 1923 cast. You can also check out our list of the best Westerns, best TV series of all time, and the 10 shows like Yellowstone to watch next.
You can also get to know the 6666 release date, Lawmen: Bass Reeves release date, and 1923 season 2 release date. After this, check out what's new on Paramount Plus, and take a look at our feature on why the Western has always been a genre for women, too.