Who is Beth Dutton? The Dutton daughter has become one of the most well-known characters of the Taylor Sheridan series, capturing the audience's attention with her sharp tongue and unapologetic nature. At times she can be a little much, but for Beth, her father always comes first.
But with five seasons worth of characterization and history for Beth in Yellowstone, it may be tricky for some to fully understand who she is and what drives her. Although she and her Yellowstone cast member Kelly Reilly have been on screen since the first Yellowstone series began, there's plenty to unpack when it comes to the best TV series' most vicious player.
Here, we break down everything you need to know about the Dutton child, from her personality to her job and relationships. So make like Beth and settle back, grab a whiskey, and light a cigarette, because here's Beth Dutton explained.
Who is Beth Dutton?
Beth Dutton is the only daughter of Yellowstone patriarch John Dutton, and acts as his right-hand man throughout the series.
Beth Dutton, of all the Dutton children, strives the most to win her father's affection. She doesn't need to prove that she's the most powerful of all her siblings — she already knows she is.
Beth can often be found wandering around the ranch (often not fully dressed), with a drink in hand and a cigarette dangling from her lips. She's foul-mouthed, opinionated, and generally pretty cynical and obscene.
Although Beth doesn't always seem to appreciate the land at its full beauty (it takes her a few seasons to grow fond of the glorious nature of it all), she is willing to do anything to help her father maintain their family legacy.
Beth and the Dutton family
After the eldest Dutton son, Lee, was killed early in season one, Beth becomes a consigliere to John Dutton and acts as his most trusted advisor. Though at times, she allows her anger issues and firm opinions to get the better of her, and she and John have had to hash it out several times.
In childhood, Beth was changed forever when she witnessed her mother, Evelyn, dying after being crushed by her horse. Because Beth's own horse was spooked, her mother would declare that it was "[Beth's] own doing", leaving Beth riddled with guilt and trauma for the rest of her adult life.
When Beth was in her teens, she grew up rebellious. She used her developing femininity to get what she wanted and even flirted with the ranch hands. When a young orphaned Rip Wheeler would arrive on their ranch, the two would be drawn to each other and begin a sexual relationship.
When Beth became pregnant at a young age, she asked her older brother Jamie to help her secure an abortion. Jamie drove her out to the Indian Health Services clinic on the Broken Rock reservation in order to prevent the secret from leaking and drawing attention to their family.
However, when he was told that one of the conditions for abortion on the reservation was sterilization, he elected to keep that information from her. It was only later on that Beth would find out, and she lives the rest of her life with a vicious rage for Jamie.
Over time, Beth would grow to hate Jamie even more and would do everything in her power to ruin his life, including threatening him with death. Elsewhere, Beth seems to have a pleasant enough relationship with her younger brother Kayce and is shown to share moments of kindness and support with his wife, Monica. (Or at least, her version of those things, anyway.)
Beth loves her father deeply and is shown to be highly emotional when John faces danger or illness. She also encourages his political campaign, and genuinely believes that both the Duttons and Montana would be better off with him in charge.
Beth's job explained
Beth left Montana to go work at Schwartz & Meyer in Salt Lake City, a Mergers and Acquisitions firm. It's clear she was excellent at her job, and we see her several times taking down fully grown men in the boardroom. She's unafraid to put all her cards on the table, and is confident that only the most formidable of foes could get the best of her.
When the series begins, Beth returns to her home to work from the ranch in order to support her father when landowners attempt to develop plots on the Yellowstone property. After Lee dies, she stays behind to utilize her knowledge of the law for her family's benefit.
Beth, ever the cunning snake she is, would go on to work for Market Equities. The CEO, Caroline Warner, is one of the many Yellowstone enemies that her family faces, so this was a tactical move for sure. When her former Schwartz & Meyer boss, Bob Schwartz (whom Beth ended her employment with on bad terms), sold his company to Market Equities, Beth drove down to Salt Lake City and fired him immediately, and moved all operations to Montana.
Beth and Rip's relationship explained
Beth and Rip's relationship began when they were both teenagers, and Rip had just arrived on the Dutton's ranch. Although Beth often treated Rip badly, she came to understand her actions later and started softening towards him. The two went on a date as teens, but Rip ditched her when she openly flirted with other men around him. As they grew older, the pair began to understand each other a little more.
Although they couldn't be more different, Beth and Rip are meant to be together. He brings her down to earth, while she keeps him on his toes. During the early times of the series, their relationship isn't strictly out in the open. Though, over time, the two would become public, and would eventually get married on the grounds of the ranch.
Rip doesn't yet know about Beth's abortion when she was younger, but he does know that she's unable to have children. Rip, however, doesn't mind this, and is happy for it to just be the two of them. When Beth comes across a young, orphaned troublemaker, Carter, she invites him to come and live on the ranch. Eventually, Carter takes the place that younger Rip once served, becoming the youngest ranch hand.
Beth seems to think of him as a pseudo child, but eventually learns to keep him at arm's length. When he calls her 'mama', she tells him off, thinking that motherhood will always be unreachable for her.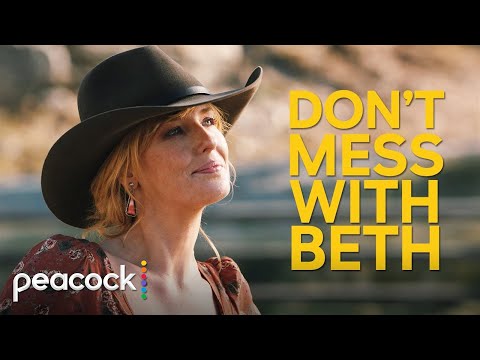 How old is Beth Dutton?
Various fan sources say that Beth Dutton's birthday is July 18, 1984, meaning that she would be 39 years old at the time of writing.
That would make her the second youngest child of the Duttons, older than Kayce by six years.
That's everything you need to know about Beth Dutton. For more Yellowstone intel, take a look at our guides to the Yellowstone season 5 part 2 release date, 6666 release date, and Lawmen: Bass Reeves release date. We've also got a breakdown of the Yellowstone timeline, and a list of 10 shows like Yellowstone to watch if you love the Duttons. You can also find out the 6 best Taylor Sheridan TV series and movies to watch.
We've also got some Dutton-based long reads for you. Why not take a look at our features on why Dallas ran so Yellowstone could fly, or what you can do now that Yellowstone is breaking up with you? Plus, see what's new on Paramount Plus this month.