Who is Rip Wheeler? If you have a ranch that needs running or a problem that needs solving (legally or otherwise), Rip Wheeler is your man. Tough, strong, and unwavering in the face of trouble, there are few people you'd rather have on your side than him.
Rip Wheeler is a long-standing Yellowstone character and is played in the Yellowstone cast by Cole Hauser. He's lived on the ranch for a long time and has become an integral part of the main Yellowstone series. As far as the best TV series sidekicks go, they don't get much better than Rip.
But what exactly does Rip do, and how did he find himself in the company of the Dutton family? Well, find out everything you need to know with our Rip explained guide below.
Who is Rip Wheeler?
Rip Wheeler is the ranch foreman on the Dutton ranch throughout the series and also serves as John Dutton's right-hand man.
Rip ended up on the ranch as a child after a troubling childhood trauma and worked his way up from shoveling shit to becoming one of the most trusted and experienced workers on the Dutton Property.
He's also Beth's love interest and later becomes her husband. He's strong-willed and quietly fierce. When it comes to protecting the Duttons and their legacy, he's not above killing a man. But he'll do it so well, you'll barely notice anything has changed. He's like a bear — large and temping to cuddle, but he'll also rip your face off if John asks him to.
Rip and the Dutton family explained
Rip first landed up in the custody of John Dutton after he suffered a terrible loss. His abusive father murdered his mother and brother, and Rip killed him in a rage. He ran away, knowing what would happen to him as a result. When a younger John Dutton comes across the orphaned boy, he takes him under his wing and gives him a job at the ranch.
Because of this, Rip would grow up seeing John as a father figure and would do anything to protect him. He does anything John asks of him, including killing and disposing of bodies.
Rip would fall for Beth Dutton when they were both teens, and it's shown through flashbacks that the two developed a relationship. When they're adults, their relationship becomes public, and Rip and Beth would get married on the property of the Dutton ranch in a shotgun-style wedding.
Rip doesn't seem to care much for the other Duttons, Kayce and Jamie, mostly because they always seem to be causing trouble for the others. While Rip eventually learns to work with Kayce, he still detests Jamie because of all he has done to his father and the rest of the Dutton family.
Rip's job explained
As previously mentioned, Rip is the foreman of the Yellowstone ranch. He worked his way up from being a humble ranch hand. There aren't many actual benefits to this job, but he does have his own small property on the ranch which he lives in with Beth for a time. His job means that he's responsible for all that goes on in the Dutton kingdom.
Mostly, this involves keeping the other ranch hands in check, which isn't always easy. They're a tricky bunch, which means that Rip is often left to play the disciplinarian. That's not to say that he doesn't care for the hands in his own special way — it's clear he has an attachment to many of them, particularly Lloyd and Jimmy.
He's also shown to be standing up for a lot of the younger ranch hands. His rule of thumb is that if you want to fight someone, you fight him. Basically, if you get on his good side, you're in. If you get on his bad side… watch your back.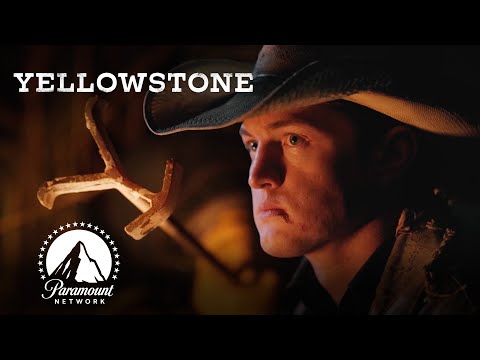 But Rip isn't just an ex-hand, he's also a branded ex-hand. This is because, when Rip was younger, he got into a fight with another hand, Rowdy, because the latter spoke badly about Beth. Rowdy fell and hit his head, which killed him in a few hours. After this, Rip was given the choice to be branded, meaning that he'd be in debt to the ranch forever.
Clearly, this stuck, since Rip's 'other' job is also to be John's right-hand man. This means that he often ends up traveling around and rough-housing various enemies and people getting in John's way. Often, he's left to dispose of those who crossed him at the 'train station'. Rip does a lot of the dirty work, mostly because he's one of the few that can be trusted to get it done right.
Rip and Beth's relationship explained
On paper, Rip and Beth seem like entirely opposite personalities. He's quiet, brutish, and (when it comes to her) a little more sentimental. She says whatever is on her mind, and isn't afraid to flaunt all the wildest parts of her persona. But when the two come together, they balance each other out and make quite the pairing.
Rip was quick to accept Beth into his life and has spent each day worshipping the ground she walks on. But he still knows when to take her down a peg or two, and doesn't hesitate to call her out when she's gone one step too far.
It's with Beth that Rip is able to let his guard down and show his emotions a little more, as evidenced in moments that include him being described as a son in a note from John, or when he retrieves his mother's wedding ring to give to Beth.
Why did Rip leave the ranch?
Rip, along with a handful of the other ranch hands, ended season 5 part 1 by getting ready to leave for Texas so they could ensure that some of the cattle make it through winter.
John and Rip were worried about the state of their cattle. Knowing that the ranch wouldn't be able to withstand the financial loss that would occur if the cattle didn't survive the winter, John asked Rip to take some of the cattle and hands to Texas, where it would be warmer.
Beth wasn't best pleased about this situation but vowed that she would go with Rip and stay near their campsite so she could be near him.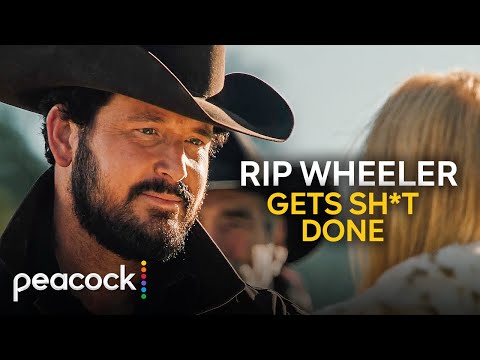 How old is Rip?
It's thought that Rip is 39 years old by season 5 of Yellowstone.
That said, it's not confirmed for certain, since when Rip decided to leave behind his old life, he even ditched his birthday.
That's all you need to know about Rip Wheeler. To see when you will come across him again, check out our guide to the Yellowstone season 5 part 2 release date. We've also got guides to the 6666 release date and 1923 season 2 release date. If that's not enough, check out the best Westerns and the 10 shows like Yellowstone to watch next.
You can also check out our features on why the Western has always been a genre for women too, and why James Osborne hated the Yellowstone movie at first, but changed his mind. Don't miss all the best drama series and everything new on Paramount Plus, too.