Is The Meg 2 streaming? Way back in 2018, Jason Statham took on one of the most fearsome predators to ever live when he went hand-to-fin with The Meg. We'd be more scared if we were the fish. To be honest with you, they had us at "prehistoric monster shark".
The Meg immediately staked its claim to be one of the best shark movies in years, along with the formidable endurance tale in one of Blake Lively's best thriller movies: The Shallows. A few years later, Jason Statham got back in his wetsuit to take on more prehistoric fish in one of the soggiest new movies of 2023, now directed by British indie darling Ben Wheatley. It's an unlikely match and ended up with mixed results, as Emma-Jane Betts wrote in our Meg 2 review.
With The Meg 2 release date now in our rear-view mirror, we're here to explain how to watch The Meg 2 and tell you whether you can get hold of the movie on any of the best streaming services yet. It's safe to go back in the water, as long as The Meg 2 cast is with you.
Where can I watch The Meg 2?
The Meg 2 is available to buy or rent on the biggest digital platforms right now, so you can experience the shark-based anarchy from your couch.
If you want the chance to experience Statham punching an unspecified number of really big sharks, there are plenty of options, including Amazon Prime Video, Apple TV, Google Play, and YouTube. Most of these services have Meg 2 available for $19.99 as a rental and $24.99 if you want to own a digital copy.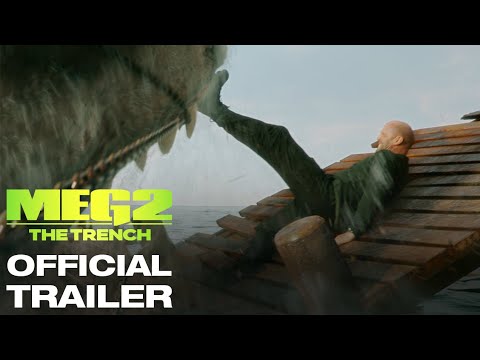 Is The Meg 2 streaming?
The Meg 2 is available as a digital download now, but we don't know for sure when it will be available to streaming subscribers. Warner Bros-owned Max is the most likely destination, though.
The good news, though, is that you can stream the first movie in this oceanic franchise right now on Max (formerly HBO Max). You can also check out what else is new on Max this month to make the most of that subscription.
Is The Meg 2 on Netflix?
The Meg 2 isn't on Netflix yet, but we'll be keeping an eye out.
We expect Max to be The Meg 2's primary streaming destination, but it's worth watching the Netflix catalog in the coming months just to be sure. We've also got a list of everything new on Netflix this month, just to keep you busy.
Is The Meg 2 on Disney Plus?
The Meg 2 isn't on Disney Plus, and we'd say the chances are near zero.
Warner Bros. has its own streamer and Disney doesn't tend to include movies and TV it hasn't had a hand in making. Fortunately, Disney Plus has loads of shark documentaries thanks to its acquisition of National Geographic. You can also dip your toes into the best Disney Plus shows and Disney Plus movies, if you wish.
Is The Meg 2 on Prime Video?
The Meg 2 is available as a premium rental/digital purchase via Prime Video, though it's not available for free to Prime subscribers yet.
Meg 2 costs $19.99 to rent and $24.99 to buy via the Amazon platform, in shimmering 4K quality no less. If you're not ready to part with your hard-earned cash just yet, check out everything new on Amazon Prime for subscribers.
Is The Meg 2 on Blu-ray?
The Meg 2 will arrive on Blu-ray from Tuesday October 24, 2023. You can pre-order your copy right now. That's right; you'll be able to put The Meg 2 next to its predecessor on your shelf very soon.
We all know that shark movies are a nightmare to get right, so Meg 2 had a tough act to follow. We also found time to look into The Meg true story, which is terrifying, and we've explained how The Meg broke an incredible shark movie record. Once you're done with all that, look ahead to The Meg 3 release date.
Of course, we've also got plenty of information on the best movies still to come in the next few months. So look ahead to the Saw X release date, the Five Nights at Freddy's movie release date, and the Dune 2 release date. And if that's not enough, check out our lists of the best monster movies to see what else lurks in the depths.