What is the Meg 3 release date? Based on Steve Alten's novels of the same name, The Meg is one of the most beloved popcorn movie franchises in Hollywood. And since 2018, after we first saw Jason Statham fight a giant shark, film fans have been hooked by Warner Bros' cinematic fishing line.
The Meg is one of the best shark movies of all time, and with the new movie, The Meg 2, now out in cinemas, fans are wondering if a new aquatic monster universe is on the horizon. While Meg 2: The Trench wasn't as fun as its predecessor (read our Meg 2 review for more details on that), it did remind us about one thing: giant monsters are cool, and the more of them, the better.
So like any good film fan, The Digital Fix has braved the deep waters to give you all the information you need on a potential sequel. From The Meg 3 release date, cast, plot, and more, we've mapped out all the details.
The Meg 3 release date speculation
Currently, there is no release date for a potential Meg 3, but we expect that the Shark franchise will return to the big screen in 2026.
The first movie, The Meg, came out in 2018, while Meg 2: The Trench was released in 2023. It may seem like these films take a while and that another sequel will be a long wait, but without Covid-19 slowing things down, we doubt that the break between entries will be as massive this time around.
And, although no sequel has been announced, Ben Wheatley, the director of Meg 2: The Trench, has revealed that he'd love to continue the franchise. "There's a lot more to explore in that world. It's very rich," he told TotalFilm Magazine. "The international-ness of it is very interesting."
We also have to remember that there are still plenty of Meg books in Alten's franchise to explore. There are eight books in his series, so this franchise has plenty to work with. Similarly, if Meg 2 makes a killing at the box office like the first 2018 film, we know that Warner Bros will be anxious to greenlight another sequel as soon as possible.
So keep your eyes on this guide as we track all the big shark news.
Who will be in the Meg 3 cast?
It is safe to say that if a Meg 3 is announced, Jason Statham will be back as Jonas Taylor, along with his mates from the first two movies Page Kennedy as DJ and Cliff Curtis as James "Mac" Mackreides.
We also suspect that Sophia Cai will return as Meiying Zhang and that Meg 2 cast newcomer Wu Jing will be back as her Uncle Jiuming. And finally, we can't forget about the most important Meg character who has shown up in every movie thus far, Kelly as Pippin, the dog.
Here is the expected Meg 3 cast list:
Jason Statham as Jonas Taylor
Wu Jing as Jiuming
Sophia Cai as Meiying Zhang
Page Kennedy as DJ
Cliff Curtis as James "Mac" Mackreides
Kelly the dog as Pippin
In terms of villains, none of the new faces with nefarious plans managed to survive in Meg 2, so we are pretty sure new faces with pop up to replace them as shark bait in the future. Keep an eye on this guide as the list above continues to grow.
What will the Meg 3 be about?
Since both The Meg and Meg 2 were loosely based on Steve Alten's books, we expect that The Meg 3 will follow a similar story to the 2004 novel Primal Waters.
So with that in mind, we'll see an older Jonas 18 years after the events of Meg 2. However, his days as a diver are done as he instead decides to enter the world of showbiz as an expert commentator on a reality TV show called "Daredevils." However, as he boards a boat for the new show, he enters the latest feeding grounds of Megs. Yep, there are more Megs again, folks.
Since the Meg movies differ from the books (which showed Jonas being married to a version of Li Bingbing's character Suyin Zhang, with kids), we can expect that the Meg 3 will alter a few things from the book. Firstly, at the beginning of Meg 2, it is revealed that Suyin Zhang is dead, and with no romantic prospects of his own, the only daughter figure Jonas has is Meiying Zhang, Suyin's kid.
Alten's novels are also a lot darker than the Meg movies dealing with PTSD, psychological torture, and some gore. Obviously, changes on that front will need to be made to match the franchise's 12A age rating. All of this plot speculation isn't confirmed yet. We may see a film that strays completely away from Alten's novels. Stay tuned for updates.
Is there a Meg 3 trailer?
Sorry giant shark fans, but there is no trailer for the Meg 3 just yet, and it won't be for a while since a new movie hasn't been announced, let alone finished production yet.
We also have to remember that movies like The Meg are packed with special effects and require more time in the post-production phase. So even if we get a release date soon, we know that the first bit of footage we'll see for the sequel will likely pop up a few months before it hits the big screen.
While we wait for a teaser, here is the trailer for Meg 2: The Trench to satisfy all your ancient monster needs.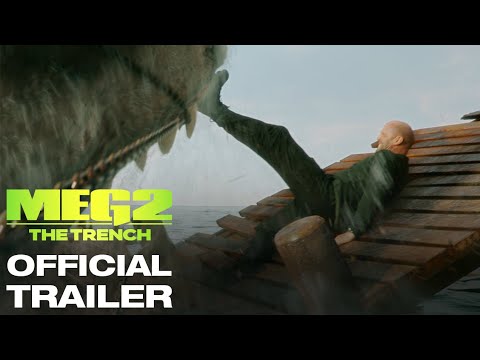 Where can I watch The Meg?
You can now watch The Meg on Amazon Prime and Apple TV. The Meg 2: The Trench is currently in cinemas right now, and fans can expect that the Meg 3 will follow in its predecessor's footsteps and have a theatrical release.
After a standard exclusivity window, Meg 3 will probably head to streaming and physical media. However, it needs to be confirmed as happening first, so let's not get ahead of ourselves just yet!
While we wait for more Meg news, you can check our guides on how to watch the Meg 2, and find out if the Meg 2 has a post-credit scene. We also have an article breaking down the scary true story behind The Meg that is a must-read for shark fans!
And finally, why not check out our lists of the best monster movies and the best movies of all time?