When is the Five Nights at Freddy's movie release date? It's been rumored for a long time, but after years of fan-casting and speculation, a FNAF movie is actually coming! With Blumhouse at the helm, we have no doubt the film will be as every bit terrifying as it is mind-boggling.
Five Nights at Freddy's started as an underdog indie game with the pretty straightforward premise of pitting a new security guard against the evil animatronics at Freddy Fazbear's Pizza. But slow drip-feeding of lore and Easter eggs across various sequel games and mini-games turned Five Nights at Freddy's into a phenomenon. Soon, we'll be set to get an adaptation that could become one of the best horror movies in years.
The hype for the video game movie couldn't be higher, and we're just a few weeks away from the release, but can it stand up against all the other exciting new movies to come? What can we expect when the Five Nights at Freddy's movie release date rolls around? Read on for all you need to know.
What's the Five Nights at Freddy's movie release date?
Five Nights at Freddy's will be released on Friday, October 27, 2023, in theaters and on Peacock in the US. In the UK, meanwhile, the film will open on Wednesday, October 25, 2023.
It's been rumored the film is almost three hours long! That's still nowhere near enough time to get through all the lore, in our opinion, but it's a start. We also know it'll be rated PG-13. But you can relax because PG-13 horror can be great.
Who's in the Five Nights at Freddy's movie cast?
Josh Hutcherson, Matthew Lillard, and Piper Rubio are set to lead the Five Nights at Freddy's cast.
You'll, of course, recognize Lillard from the Scream cast, where he played everyone's favorite serial killer, Stu (When's he coming back?) while Hutcherson was a member of The Hunger Games cast, he played Katniss's lovesick friend, Peeta.
The Five Nights at Freddy's cast list:
Josh Hutcherson as Mike Schmidt
Matthew Lillard as Steve Raglan
Piper Rubio as Abby Schmidt
Mary Stuart Masterson as Aunt Jane
Kat Conner Sterling as Max
Elizabeth Lail as Vanessa
Lucas Grant as Garrett
Kevin Foster as Freddy Fazbear
Jess Weiss as Chica
Jade Kindar-Martin as Bonnie
Wyatt Parker as Young Mike
Christian Stokes as Hank
Jessica Blackmore as Mike's Mom
Ryan Reinike as Freddy's Security Guard
Emma Tammi, who made The Wind, will be directing using a script she co-wrote with Scott Cawthon and Seth Cuddeback. Check out our detailed guide to the Five Nights at Freddy's cast for more on the characters these actors are bringing to life!
Is Markiplier in the Five Nights At Freddy's movie?
There's a lot of speculation online that Markiplier will appear in the film, but he hasn't confirmed or denied if he makes an appearance.
In an interview with Variety, the YouTuber who helped to popularise the FNAF games basically admitted he'd been asked to be in the film.
"Everyone wants to know," he explained. "There was a lot of confusion. Yeah, I can't say anything particular about that. There was a lot of scheduling conflict. And I can't say anything."
The fact he's using words like "scheduling conflict" suggests that he was asked but potentially couldn't make it work. Or maybe he doesn't want to spoil the surprise? Guess we'll have to watch the film to find out!
What's the Five Nights At Freddy's movie about?
The FNAF movie will adapt the events of the first game, following security guard Mike Schmidt (Hutcherson), who takes a job working overnight at Freddy Fazbear's Pizza, a 'Chuck-E-Cheese-esque' kiddie restaurant.
As the night wears on, animatronics of the restaurant's mascots begin to move and shift before making an effort to corner and kill Schmidt. It's a pretty simple story, but it only goes on to get more convoluted.
Later games go into detail about the events that led to the closure of the restaurant that was teased in the first game, commonly known as "the bite of '87" — an incident that saw one animatronic bite down on someone's head, entirely severing their frontal lobe.
We don't currently know who's responsible for the bite — although fans believe either Foxy or Bonnie is to blame — so it's possible we'll finally get some clarity on that traumatic event. Finally, it's likely the film will explore the mysterious "purple guy," aka William Afton, who may or may not be responsible for the animatronics going haywire.
Interestingly, the trailer also includes the Security Breach character Vanessa. This means it's possible elements of Security Breach, which includes characters like Gregory, Vanny, and Glamrock Freddy, may form part of the story.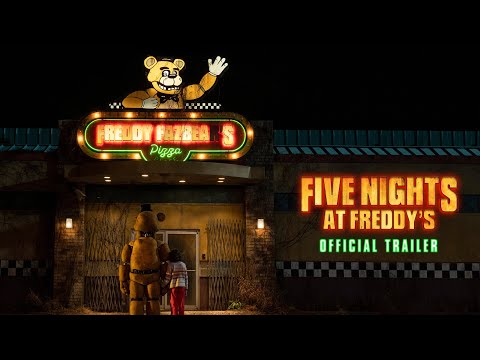 Is there a Five Nights at Freddy's movie trailer?
The Five Nights at Freddy's trailer was released on June 27, 2023. In it, we see Mike trying to get to grips with his new job at the pizzeria before slowly uncovering the truth about the possessed animatronics.
We also get a closer look at Abby (Circus Baby?), Vanessa (one for Security Breach fans), and best of all, Springtrap Bonnie is back!
The most recent trailer for FNAF dropped on August 31 and gave us an extended look at the violent animatronics and Chica's cupcake, which, to be frank, looks terrifying. You can watch it for yourself below: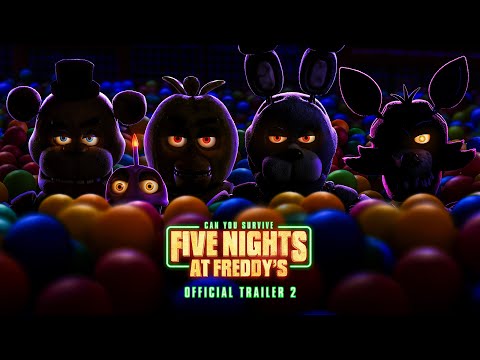 Who's making the Five Nights at Freddy's movie?
Luckily, FNAF's production company is Blumhouse Productions, which is known for making some of the best horror movies of all time.
If you didn't know, Blumhouse Productions are the producers behind the likes of Get Out, Happy Death Day, and The Black Phone. The studio has always had a deep love and affection for horror, and it seems as though the man at the top, Jason Blum, has a lot of faith in their adaptation.
Jason announced a swathe of info about the film in one tweet, which gave fans all the information they could need for months.
"[Jim Henson Creature Shop] is working on our animatronics," he says. "Emma Tammi is our director. Filming on FNAF begins in February 2023. Boom." Boom indeed.
There's a lot to unpack here, so let's start with the big one: the Jim Henson Creature Shop, the special and visual effects team founded by the legendary puppeteer of The Muppets Jim Henson, will be the team behind bringing Freddy and his freaky pals to life. This is remarkable news, as anyone who has seen The Muppets will know the Creature Shop knows what they're doing. Five Nights at Freddy's is little without its animatronics, so it's good to know that it's in safe hands.
It's a lot, for sure, and there's a lot to dig up and uncover for long-term fans. It remains to be seen if the film will give fans the answers they so crave or go for a hard reset to effectively reboot the franchise in a cinematic setting. But, damn, is it going to be exciting to watch the fallout regardless.
Where can I watch the FNAF movie?
The FNAF movie is being released in theaters and on the streaming service Peacock on October 27, 2023.
This means that you have the choice to watch it at home or in the movie theater. Talk about exciting! Personally, we're movie theater fans, so hopefully, we'll see you all at the first screenings for some fun times and plenty of screams.
And that's everything we know about the FNAF movie. If you love a good scare, see our guides to The Exorcist: Believer release date, Saw 10 release date, and The Conjuring 4 release date. We've also got a guide to all of the best movies ever made for you to check out, as well as guides on how to watch the Evil Dead movies in order.
For more on FNAF, be sure also to check out our sister site, Pocket Tactics, for everything you need to know about the games, including all the FNAF games in order and FNAF characters. And if it's a long read you're after, check out our feature on how to be a final girl in 2023.