Meet the Meg 2 cast and characters. Since the days of Jaws, there has been a public fascination with the top predators of the sea. For years we have marveled at the speed and deadly skill of sharks. However, in 2018, true terror rose from the deep when The Meg hit the big screen.
The Meg is hands down one of the best shark movies of all time (or at least one of the silliest), telling the story of a 75-foot-long megalodon encountering humans during one unlucky rescue mission. Grossing over $530 million worldwide, we knew it was only a matter of time until a sequel came our way, and now fans can rejoice since The Meg 2 release date is here. Directed by Ben Wheatley, Meg 2: The Trench sees some hungry megalodons reach the surface with their eyes set on humans for snack time. It's bigger, gorier, and is (in our minds) one of the most exciting new movies of 2023.
You may be wondering who's shark bait in this new film. So, The Digital Fix has done some research to answer all your burning questions. Below we go over everyone in the Meg 2 cast and break down their careers and prospects of survival in one of the wackiest franchises to come from the seas.
The main Meg 2 cast and characters list:
Jason Statham as Jonas Taylor
Sophia Cai as Meiying Zhang
Page Kennedy as DJ
Cliff Curtis as James "Mac" Mackreides
Wu Jing as Jiuming
Sienna Guillory as Driscoli
Skyler Samuels as Jess
Sergio Peris-Mencheta as Montes
Jason Statham as Jonas Taylor
Jason Statham is back as everyone's favorite rescue diver and shark killer Jonas Taylor in Meg 2: The Trench. This isn't Statham's first time facing a megalodon, since the actor reprises the role from the first Meg movie that hit theaters back in 2018. We're sure that if anyone can face off against the monsters of the deep, it's this action hero!
Besides The Meg, Statham has starred in some of the best action movies of all time, such as Crank and the Fast and the Furious franchise. And besides his deep-sea shark diving, the actor is keeping plenty busy too. Fans can look forward to more Statham fun as he is set to appear on the big screen once again with The Expendables 4 and Fast 11.
Sophia Cai as Meiying Zhang
Returning to the deadly waves after appearing in the 2018 movie, The Meg, Shuya Sophia Cai reprises the role of Meiying for Meg 2: The Trench. If you need a quick refresher on The Meg universe, Meiying is the daughter of oceanographer Suyin Zhang and came to see Taylor as a father figure after he saved her life in the first movie.
She is a charismatic force, and to see that she is back for Meg 2 is a welcomed treat for all fans, especially since Li Bingbing isn't returning this time around. Besides The Meg, Cai played Maggie in the 2021 TV series Mr. Corman. She has also worked on the 2015 romance movie Somewhere Only We Know.
Page Kennedy as DJ
Let's be honest, the seas would seem a lot more terrifying if it wasn't for the brilliant comic relief provided by the scientist DJ. That's right, folks! Page Kennedy returns to The Meg universe as DJ, reprising the fan-favorite character from the 2018 film.
Besides cracking one-liners about prehistoric monsters in the ocean, Kennedy has a well of acting credits to his name. Fans may recognize him from his work on some of the best TV series ever made, S.W.A.T and Desperate Housewives. And the good news is that Meg: The Trench isn't the only new project on Kennedy's slate either. The star is currently signed onto multiple projects, such as the comedy movie Code 3.
Cliff Curtis as James "Mac" Mackreides
You can't have an underwater base without an operations manager, can you? So, it should come as a surprise to no one that Cliff Curtis is back on the big screen as James "Mac" Mackreides for Meg 2: The Trench.
In the first 2018 movie, James was the manager of the underwater research facility Mana One, and now he is back to help lead his team into the depths of the sea to uncover various nefarious goings on – such as a shady mining operation. Besides his work with giant fish, Curtis has plenty of box office experience.
His previous credits include Avatar: The Way of Water, Fast and Furious: Hobbs and Shaw, and one of the best horror series around, Fear the Walking Dead. Curtis also has plenty on his plate after Meg 2. Fans can look forward to the Avatar 3 release date to see him again and keep their eyes peeled for the upcoming TV series Kaos.
Wu Jing as Jiuming
The Meg 2: The Trench is filled with secrets, and fans got a treat with the newcomer to the franchise, Wu Jing. Playing the role of Jiuming, Meiying's uncle, Wu Jing is a massive character in the new movie and a welcomed addition to the shark family. But Wu Jing's action movie success isn't surprising when you look at the performer's career.
Wu Jing is one of the most well-known Chinese actors today, having starred in hit films such as Fatal Contact, Wolf Warrior, and The Battle of Lake Changjin. But besides his skills in front of the camera, the star is also a director and producer.
Sienna Guillory as Driscoli
Action movie star Sienna Guillory is diving into the Meg franchise and is cast as the new film's main villain, Driscoli. The partner of Jiuming who loves some betrayal, Driscoli is greed and style personified, and Guillory kills the part!
Now, if you haven't seen all the Resident Evil movies in order yet, you may not know that when Guillory isn't facing sharks, she's facing zombies as Jill Valentine. The star has also worked on a number of fantasy movies, such as Eragon and Peter Jackson's The Hobbit Trilogy. Basically, she is right at home in a big, monster-filled blockbuster.
You can learn about her thoughts on Meg 2 in our interview with Guillory.
Skyler Samuels as Jess
Skyler Samuels stars as Jess, another new villain, desperate to destroy the ocean for a quick buck. While she may be the monster this time around, Samuels is very familiar with terror.
Fans may recognize the star from her time in the series American Horror Story or the satirical slasher series Scream Queens. Besides horror, the actor is a veteran of fantasy, having appeared in projects such as Wizards of Waverly Place and The Gifted. We were very excited to see how Samuels fairs in Meg 2, and trust us, she doesn't disappoint.
Sergio Peris-Mencheta as Montes
Another Resident Evil cast alumni is joining Meg 2: The Trench! Sergio Peris-Mencheta plays Montes, Jess' partner and an evil mercenary with a personal grudge against Jonas. Like his co-stars, his past work helped him fit right in with this action movie.
Peris-Mencheta has no trouble facing off against the giant monsters of the deep since he previously worked on Resident Evil: Afterlife and Rambo: Last Blood. He has also ventured into the cinematic seas during his time on the 2022 TV series Boundless. Basically, he's another perfect choice for the Meg 2 cast list.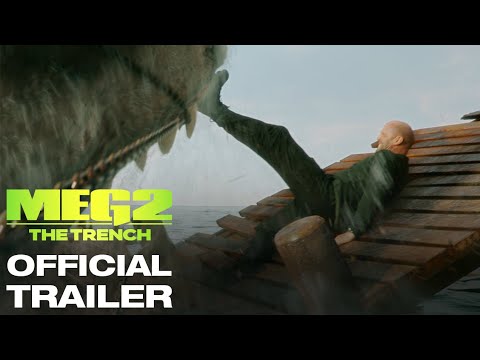 The complete Meg 2 cast list:
Jason Statham as Jonas Taylor
Wu Jing as Jiuming
Sophia Cai as Meiying Zhang
Page Kennedy as DJ
Sergio Peris-Mencheta as Montes
Skyler Samuels as Jess
Cliff Curtis as James "Mac" Mackreides
Sienna Guillory as Driscoli
Melissanthi Mahut as Rigas
Kiran Sonia Sawar as Sal
Able Wanamakok as Friend
Billy Clements Billy Clements as Mercenary
Ron Smoorenburg as Mercenary
Felix Mayr as Lance
Emily Ng as Waitress
Kenneth Won as Club Guide
Rui Shang as Party DJ
Ricky Bevins as Technician
Benny Bereal as Bodyguard
Whoopie Van Raam
For more big shark fun, you can read our guide on how to watch the Meg 2, go to our Meg 2 review, and check out our list of the best monster movies of all time. We also have an article breaking down everything you need to know about the Meg 3 release date and a piece explaining why shark movies are a nightmare to get right.
Or, if you're after even more thrills, here are our lists of the best horror movies of all time, best movies, and the best adventure movies that you can watch right now.