Who are the Invincible characters and cast? The Image Comics label has given the world some of the most exciting and unorthodox superhero brands out there, including Kick-Ass and Spawn, as well as a global zombie juggernaut in the comic books that inspired The Walking Dead.
One of the publisher's most fascinating titles is Invincible, which Amazon Prime adapted into an animated series in 2021. The story of the TV series follows the teenage son of the world's most powerful superhero, as he learns how to wield new powers of his own. It's a coming-of-age tale with a sci-fi series twist, for those in need of something a bit more adult than the latest Marvel series.
Invincible boasts a rich array of talent in the voiceover booth in order to bring its colourful characters, both human and super-human to life. Here's everything you need to know about all of the most important members of the Invincible cast as we look ahead to the Invincible season 2 release date.
What is the Invincible cast list?
Steven Yeun as Mark Grayson/Invincible
JK Simmons as Nolan Grayson/Omni-Man
Sandra Oh as Debbie Grayson
Gillian Jacobs as Samantha Eve Wilkins/Atom Eve
Andrew Rannells as William Clockwell
Zazie Beetz as Amber Bennett
Grey Griffin as Shrinking Rae and Monster Girl
Kevin Michael Richardson as The Mauler Twins and Monster Girl
Walton Goggins as Cecil Stedman
Jason Mantzoukas as Rex Sloan/Rex Splode
Steven Yeun as Mark Grayson/Invincible
Mark Grayson is just an ordinary 17-year-old. Or at least he could've been, were it not for the fact that his dad is Omni-Man – the most powerful superhero on Earth. Just after his 17th birthday, Mark began to develop abilities like flight and superhuman strength. He must reckon with his own responsibilities in order to become Invincible.
One of the most exciting actors in Hollywood today voices Mark, with Steven Yeun embodying the character. Yeun made his name as the ill-fated Glenn in horror series The Walking Dead before scoring an Oscar nomination for drama movie Minari. In 2022, he starred in Jordan Peele's ambitious science fiction movie Nope.
JK Simmons as Nolan Grayson/Omni-Man
Mark's dad is Viltrumite alien Nolan, who is 2,000 years old and the world's most powerful superhero by night, and a travel writer by day. He attempts to teach his son how to use his new powers. Invincible season 1 concluded with Nolan revealed as a villainous alien infiltrator, fleeing the planet after Mark refused to join him in conquering Earth.
Oscar-winner JK Simmons gives gravitas to Nolan, with a voice recognisable as a tyrannical music teacher in Whiplash and a yellow M&M. The guy has range. He's also known for playing newspaper boss J. Jonah Jameson in the Spider-Man movies.
Sandra Oh as Debbie Grayson
Mark's human mother, Debbie Grayson had to handle having a superhero for a husband and a superhero-in-training as her son. The first season saw Debbie collapse into drinking and depression after discovering that her husband was actually a villain.
Killing Eve star Sandra Oh provides the voice for Debbie. Prior to playing the title role in one of the most popular thriller series on TV, she was best known for her work on Grey's Anatomy and her supporting roles on the big screen.
Gillian Jacobs as Samantha Eve Wilkins/Atom Eve
Mark got himself a close friend in the superhero world when he discovered that energy manipulating being Atom Eve was actually one of his classmates. There was a potential romantic spark between them almost as soon as they became friends, which caused tension in Mark's relationship with girlfriend Amber.
Voice actor Gillian Jacobs will be best known to viewers for portraying Britta in comedy series Community – one of the best sitcoms of the 21st century. She led the Judd Apatow Netflix series Love and also popped up in the horror movie trilogy Fear Street.
Andrew Rannells as William Clockwell
Every superhero worth their salt – and especially the teenage ones – needs a civilian to calm them down and keep their feet on the ground when they're not flying from burning building to burning building. For Mark, that's his buddy and classmate William Clockwell.
Behind the animation is the voice of Andrew Rannells, who is best known for his musical theatre career. He won a Grammy thanks to his starring role as Elder Price in the original Broadway cast of The Book of Mormon. In terms of movies, he is best known for a musical turn in Ryan Murphy's big screen adaptation of The Prom.
Zazie Beetz as Amber Bennett
While Mark's superhero life was in a constant state of dangerous flux during Invincible season 1, his personal life wasn't much clearer. He had a clear connection with Eve, who understood his superhero life, but he was already romantically involved with classmate Amber. Mark's continued commitments to his hero work put a serious strain on their burgeoning relationship.
Amber's voice actor, though, is certainly familiar with the superhero movie world. Zazie Beetz has appeared in Deadpool 2 and Joker, as well as the action movie Bullet Train. She's set to return to the world of DC movies in Joker 2.
Grey Griffin as Shrinking Rae and Monster Girl
When the actions of Omni-Man forced a new roster for super-team Guardians of the Globe, the Teen Team of young heroes stepped up to the plate. Among them was the size manipulator Shrinking Rae, in a role gender-swapped from the comics.
She is voiced by comedian and member of The Simpsons cast Grey Griffin. The same actor also provides the voice for the cursed character of Monster Girl in her human form, while Kevin Michael Richardson (more on him below) provides the voice for the Monster Girl version of the character.
Kevin Michael Richardson as The Mauler Twins and Monster Girl
The blue-skinned Mauler Twins were adversaries of the Guardians, with each of the identical duo claiming to be the original while the other is the clone. They were incredibly powerful and super-smart antagonists.
Kevin Michael Richardson provides the voice for both of the Mauler Twins, as well as the aforementioned Monster Girl. He is best known for his voice work in villainous roles, including as Shredder in one of the Teenage Mutant Ninja Turtles and to Emmy-nominating effect as Joker in the 2000s DC animated series The Batman.
Walton Goggins as Cecil Stedman
As the director of the secret organisation, the Global Defense Agency, Cecil Stedman was a big part of Mark's early journey into being a superhero. He's not quite Nick Fury, but he's the closest equivalent in the world of Invincible.
Walton Goggins is an actor with superhero experience, portraying the Marvel villain Sonny Burch in Ant-Man and the Wasp. He also played a villainous role in the most recent Tomb Raider video game movie, and appeared for Quentin Tarantino in violent Western movie The Hateful Eight.
Jason Mantzoukas as Rex Sloan/Rex Splode
An arrogant superhero, Rex Splode started the series as Eve's boyfriend, but she caught him cheating with another member of their super-team. He was shown to become more mature as the show went on, with the impact of Omni-Man's betrayal weighing hard.
Sitcom veteran Jason Mantzoukas provides the voice for Rex. He's perhaps best known for his work as the wildly unpredictable Adrian Pimento in Brooklyn Nine-Nine, as well as playing Dennis Feinstein in Parks and Recreation. In 2021, he joined the voice cast of animated Star Trek series Prodigy.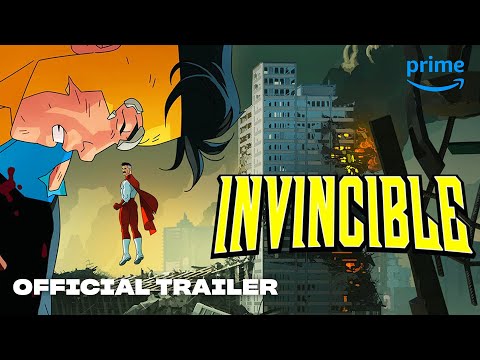 So there you have it, and you're now fully up to date on the Invincible cast and the Invincible characters you need to know about before the series returns to Amazon Prime.
For more of the best TV out there, check out our guides to The Walking Dead cast and The Boys cast, as well as the best anime series and the best Disney Plus shows ever made. Or if you prefer a bigger screen, check out the best movies of all time and all of the new movies heading your way in 2023.