With dark takes on superheroes all the rage right now, the Invincible season 2 release date brought in a new chapter for Mark and the gang.
Invincible teed up another installment beautifully when Omni-Man's true sadistic nature was finally revealed in season 1. One of Amazon Prime Video's best TV series, the heartfelt character arcs, unrelenting violence, and twisty plot were a real treat. Luckily for the Invincible cast, (but maybe not for Earth's citizens) that wasn't the end.
Who's in the Invincible season 2 cast?
Invincible season 2 is led by Steven Yeun as Mark Grayson/Invincible. JK Simmons as Nolan Grayson/Omni-Man is back in a reduced capacity, while the Guardians of the Globe are also back with new faces.
Exciting additions were announced at SDCC, including Chloe Bennet, Rob Delaney, Jay Pharoah, Rhea Seehorn, Kari Wahlgren, Calista Flockhart, Peter Cullen, Tim Robinson, Sterling K. Brown, Tatiana Maslany, Daveed Diggs, Ella Purnell, and Ben Schwartz.
The lineup is, quite frankly, mindblowing.
Speaking about the new cast, Kirkman said that having Peter Cullen — the voice of Optimus Prime — onboard season 2 made him emotional, as Optimus is his favorite character from his childhood.
Here's the Invincible season 2 cast list:
Steven Yeun as Mark Grayson/Invincible
JK Simmons as Nolan Grayson/Omni-Man
Sandra Oh as Debbie Grayson
Gillian Jacobs as Samantha Eve Wilkins/Atom Eve
Andrew Rannells as William Clockwell
Zazie Beetz as Amber Bennett
Walton Goggins as Cecil Stedman
Jason Mantzoukas as Rex Sloan/Rex Splode
Zachary Quinto as Robot
Malese Jow as Kate Cha/Dupli-Kate
Grey Griffin as Shrinking Rae and Monster Girl
Khary Payton as Markus Grimshaw/Black Samson
Seth Rogen as Allen the Alien
Kevin Michael Richardson as The Mauler Twins
Mahershala Ali as Titan
Reginald VelJohnson as Principal Winslow
Phil LaMarr as Lucan
Tatiana Maslany as Queen Lizard/General Telia
Sterling K. Brown as Angstrom Levy
Peter Cullen as Thaedus
Jay Pharoah as Bulletproof
Chloe Bennet
Rob Delaney
Scoot McNairy as King Lizard
Cleveland Berto as Darkwing
Rhea Seehorn as Andressa
Grey Griffin as Thula
Clancy Brown as General Kregg
Kari Wahlgren
Calista Flockhart
Tim Robinson
Daveed Diggs
Ella Purnell
Ben Schwartz
Lea Thompson
Cliff Curtis
Invincible season 2 release date and reviews
Invincible returned on Friday, November 3, 2023, with season 2 episode 1.
The news was unveiled at an SDCC panel attended by The Digital Fix, with Robert Kirkman breaking the silence on the release date. The premiere episode streamed on November 3, with three subsequent episodes arriving weekly until a mid-season break.
There was also the surprise announcement of a one-off adventure, which dropped on Prime Video on July 21, 2023. The 56-minute-long special, 'Presenting Atom Eve', covers one of the best Invincible characters' backstories.
Kirkman's sophomore outing hit the ground running with positive reviews, with Anthony McGlynn calling it a "surprisingly effective tapestry that weaves together oppression, redemption, the multiverse, and some awesome fight scenes," in our Invincible season 2 review.
At the time of writing, season 2 boasts the ever-glamorous 100% fresh rating on Rotten Tomatoes and an equally strong audience score.
Invincible season 2 release schedule:
Episode 1: November 3, 2023
Episode 2: November 10, 2023
Episode 3: November 17, 2023
Episode 4: November 24, 2023
Episode 5: Early 2024
Episode 6: Early 2024
Episode 7: Early 2024
Episode 8: Early 2024
What will happen in Invincible season 2?
With Omni-Man gone, Earth is left vulnerable to attacks in Invincible season 2. Mark has to tread lightly, as allies are wary and Viltrumites become a threat. He's also worried about being like his alien dad.
Kirkman told Entertainment Weekly "Omni-Man is not there to defend the Earth, especially from his own people. That ends up being a terrifying prospect that hangs over the series for a good long time."
Meanwhile, Mark is worried about his legacy. He has impressive powers now, but he desperately doesn't want to turn into Omni-Man. We're tempted to say the line from Spider-Man, but we'll resist. You know what we're talking about.
Now that Mark knows about Viltrum's true nature, he needs to prepare Earth for the eventuality that the evil empire will invade.
In other news, the Guardians have added a couple of team members, and the dimension-hopping Angstrom Levy is taking aim at Mark for crimes committed by his variants.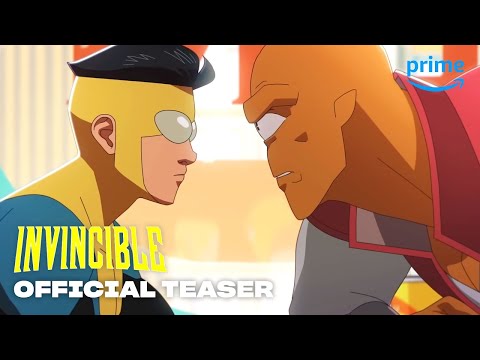 Is there an Invincible season 2 trailer?
The full season 2 trailer came out on October 14, 2023.
The first teaser in July 2023 leaned heavily on comedy, featuring Grayson in a burger restaurant with Allen the Alien, voiced by Seth Rogen. The second one, in August 2023, promised everything we've come to expect from the series.
The full trailer focuses heavily on the idea of Mark grappling with the revelations about his father. He worries that by embracing the potential of his abilities, he could become like Omni-Man. Of course, there's also plenty of action — we wouldn't have it any other way.
Where can I watch Invincible season 2?
Invincible season 2 streams on Amazon Prime Video from Friday, November 3, 2023.
Episodes will be available at no extra cost to subscribers. If you don't already have a subscription, you can get a free trial here and enjoy a host of brilliant shows new on Amazon Prime Video this month.
Two of the best Amazon Prime series we recommend to Invincible fans are The Boys and Good Omens.
How many episodes will be in Invincible season 2?
Invincible season 2 has eight episodes.
These will be split into two halves: the first four episodes in November 2023, with the last four following in early 2024.
Kirkman is aiming to continue the story for the foreseeable future, meaning there should be plenty more episodes to come our way after season 2!
He shared with Polygon, "I think in the seven-to-eight-season range seems like it would be enough. But there could be some things we move through a little faster, some things we expand. If we're fortunate enough to go for a good long time, I think that would be enough to cover the entire comic."
Eight sounds a little extreme, particularly given the often predictable drop-off in quality lots of series experience running that long, but who knows, maybe the plot can sustain that many episodes?
For more, find out why Invincible fans think this Marvel hero might be in season 2, where did Omni-Man go, and are the Mauler Twins dead. If you can't get enough of superhero serials, check out our list of the best Marvel series. We've also explained everything you need to know about The Boys season 4 for more supes gone wrong.
And we've got you covered on the biggest new movies for superhero fans.