Who is in The Boys cast? The world is obsessed with comic book movies nowadays, ever since the inception of the MCU changed the face of the cinematic landscape forever. But, while MCU films deliver nice, inoffensive family fun, streaming service Prime Video had other ideas with The Boys. The show is ultra-violent, packed full of profanities, and is most certainly not child-friendly.
Ever since The Boys premiered on Prime Video back in 2019, the show has marked itself as one of the best TV series out right now, gaining a huge following for its distinctly different take on heroes and villains. It has become one of the most popular products that Amazon Prime's streaming service has to offer. And a big part of the appeal of The Boys is the range of fantastic characters that are brought to life by the cast.
There are some familiar faces among The Boys cast and some relatively new kids on the block ahead of The Boys season 4 release date. So, if you're wondering where you've seen the actors before or want to know more about the stars, we've got you covered right here with our breakdown of the major players.
The main The Boys cast
Here, you'll find the list of all the main stars in The Boys cast with breakdowns of where else you may know them from.
The main 'The Boys' cast list:
Karl Urban as Billy Butcher
Antony Starr as Homelander
Jack Quaid as Hughie Campbell
Erin Moriarty as Annie January/Starlight
Jensen Ackles as Soldier Boy
Tomer Capone as Frenchie
Karen Fukuhara as Kimiko Miyashiro
Chace Crawford as The Deep
Dominique McElligott as Queen Maeve
Jessie Usher as A-Train
Laz Alonso as Mother's Milk
Elisabeth Shue as Madelyn Stillwell
Karl Urban as Billy Butcher
Billy Butcher is something of a brute, but we love him. As an ex-member of the British special forces, he uses his cunning and skills to put everything he has towards taking down Vought and The Seven via his group of vigilantes known as The Boys. He's not above resorting to some dirty tactics in his quest to take down the Supes, especially when it comes to Homelander.
He's played by arguably the biggest name and most recognizable face in the entire cast of The Boys, Karl Urban. The actor has played a part in various huge franchises like the MCU, Star Trek, and The Lord of the Rings.
The New Zealand-born performer may have a dodgy British accent in The Boys, but his performances as Skurge in the MCU timeline, Bones in the new Star Trek movies, and Eomer in the Lord of the Rings are all brilliant. And, let's not forget his iconic take on the brutal law enforcer of Mega City-One in the 2012 film Dredd (aka one of the best science fiction movies ever made). We would give anything to see him reprise that role!
He's got a couple of rumored roles upcoming in his slate, though we're keeping our fingers crossed that he'll return as Bones in the potential Star Trek 4.
Antony Starr as Homelander
Although he's technically a hero, Homelander may as well be considered a serious villain. As the leader of The Seven and the strongest Supe in their arsenal, Homelander is something of a superstar. On the surface, he's the perfect specimen, but underneath, he's a rage-driven, violent, and psychopathic force of nature.
It's hard to believe that The Boys is something of a breakout role for Antony Starr, whose villainous turn as Homelander is one of the standout elements of the show. Before this role, Starr had appeared in a string of TV series, most notably a leading role in the drama series Banshee.
Starr imbues Homelander with such unsettling energy that makes him equally captivating and also downright despicable. While he will probably always be synonymous with this role now, he does have a key role in the newest Guy Ritchie movie, The Covenant, and is a lead in Cobweb, a brand-new horror movie.
Jack Quaid as Hughie Campbell
Hughie begins the series as a normal guy…until his girlfriend gets obliterated right in front of him from a passing Supe. From there on in, he gets pulled into Billy Butcher's watchdog group and finds himself in a war of humans vs. heroes.
Jack Quaid is the son of veteran actor Dennis Quaid and rom-com movie queen Meg Ryan, but his rise to fame is more than just a by-product of nepotism. Quaid has forged his own path, working in a load of short films before hitting the big time in The Boys.
The young actor's first role was in the fantasy movie The Hunger Games, where he played Marvel. Since then, he's appeared in the comedy movie Logan Lucky, the Scream franchise, and provided a voice for the animated movie Smallfoot. Quaid also starred in Christopher Nolan's Oppenheimer movie. To find out about the performance, you can read our Oppenheimer review.
Erin Moriarty as Annie January/Starlight
Annie January is perhaps one of the more down-to-earth Supes of the bunch. Her goal is to save the world, but she finds this a difficult dream when her career as a Supe means that she gets pulled into an industry that doesn't care about her morals. Eventually, her world becomes even more complicated when she and Hughie form a romantic bond, leaving her even more split between sides.
While The Boys is certainly the biggest gig to date for Erin Moriarty, there's a good chance you'll have seen her face on your screen before. Moriarty is actually no stranger to the world of superheroes after appearing in the first season of the Marvel series Jessica Jones, where she played Hope Shlottman.
She has also had small roles in the brilliant True Detective, the drama movie Captain Fantastic, and an uncredited role in Kong: Skull Island. Moriarty will be starring in two new movies – a horror movie called True Haunting and a drama called Catching Dust – so look out for those if you're a fan of Starlight!
Jensen Ackles as Soldier Boy
Soldier Boy is, essentially, The Boys' version of Captain America. But way less squeaky clean. You've no doubt seen the viral video of him performing Blondie's 'Rapture,' a clip that made everyone ask, "Wait…what's this show about?"
Before Homelander, Soldier Boy was 'THE superhero' and served in World War II. But he would then go on to perform black ops jobs for the US government and eventually became the subject of horrific experiments by the Russians. This guy was a new face in The Boys season 3, but we're pretty sure you'll be familiar with Jensen Ackles already.
The cornerstone of his career has been the horror series Supernatural, in which he played Dean Winchester since 2005. Ackles' career is largely rooted in small-screen roles, appearing in the likes of classic 2000s television shows such as Smallville and Dawson's Creek. He first really made a name for himself in the long-running soap opera Days of Our Lives, where he played Eric Brady for nearly 450 episodes.
Tomer Capone as Frenchie
Arguably the most impulsive of The Boys, Frenchie is the team's resident genius who "knows a little about a lot of things" and a firm favorite at The Digital Fix. While he starts off as an uneasy ally of Billy and Hughie, his relationship with Kimiko slowly softens him until he's ready to leave his violent old life behind. Unfortunately, escaping Billy was never going to be easy.
Before he was Frenchie, Tomer Capone was best known for his work on the popular Israeli TV series Hostages, Fauda, and When Heroes Fly. Capone will also appear in the upcoming Mikael Håfström film, Slingshot.
Karen Fukuhara as Kimiko Miyashiro
Kimiko works with Billy Butcher and Hughie as part of their vigilante group. Well, their initial meeting wasn't quite as friendly, but they eventually learned to work together. The Boys found her imprisoned and, mistaking her for a victim, they released her from her cage, only to realize she's a vicious chick with a skill for killing (therefore, highly useful). Over time, she grows closer to Frenchie.
Although she's mute, she does have superhuman abilities despite having gained her powers in adulthood. Arguably, she's one of the more powerful of the Supes.
If you're a fan of comic book movies, you've probably seen Karen Fukuhara before. Prior to showing up as Kimiko in The Boys, Fukuhara joined the DCU as Katana in Suicide Squad. Despite the huge potential for this character, the movie did her dirty and basically forgot she existed.
Fukuhara was part of the animated series Star Wars Visions for the episode titled The Village Bride, where she provided the voice of F. She also starred in Bullet Train, where she worked alongside Brad Pitt (check out our Bullet Train review for more info).
Chace Crawford as The Deep
The Deep is one of the more ridiculous Supes of the bunch, with the ability to breathe underwater and communicate with aquatic wildlife. But although he sounds like Aquaman, his purpose is to basically be an Instagram pull. Frequently appearing on talk shows and even boasting his own memoir, Deeper, the only thing he really wants in season 1 is to be back in The Seven.
Sadly, ever since he made a name for himself in the hit TV series Gossip Girl, Chace Crawford found himself typecast and boxed-in, unable to forge a credible career on the big screen. His role as Nate in Gossip Girl is arguably still his most notable credit, but The Boys is certainly changing his image, as he plays very much against type with his portrayal of the problematic hero, The Deep.
Domininque McElligott as Queen Maeve
The original matriarch of The Seven may end up meeting her maker at the hands of Homelander, but there are plenty of chances for you to check out the career of Queen Maeve actor Dominique McElligott if you know where to look.
McElligott had a recurring role in one of the best Netflix series, House of Cards, playing Hannah Conway in seasons 5 and 6 of the show. Further back, she appeared in the hilarious comedy The Guard in 2011 and the brilliant sci-fi movie Moon in 2009.
Jessie Usher as A-Train
If you need to know A-Train as anything, it's as the Supe who ran through (not past, through) Hughie's girlfriend, Robin. So, in a way, this super-speedy hero can be credited or blamed for kickstarting Hughie's involvement with The Boys and the plot of the show.
After plugging away in various bit-part roles in TV series through the years, Jessie Usher finally saw his fortunes shift when The Boys helped his career take off.
Usher hasn't done much on the big screen, but he has bagged roles in legacy sequels such as Shaft, where he played Samuel L. Jackson's son, and one of the best disaster movies of all time, Independence Day: Resurgence – where he played Will Smith's son. We can think of worse movie dads, for sure!
Laz Alonso as Mother's Milk
Another member of The Boys, Mother's Milk (Or M.M), is one of the more cool-headed members of the group. While the others are more easily excitable and quick to fire, M.M is their wisest comrade. M.M.'s reasoning for joining the group is a sad one since his grandfather was killed by a Supe, and his father later died from the stress of seeking justice.
Believe it or not, Laz Alonso actually has one of the more impressive, prolific, and eclectic careers of anyone in The Boys. Sure, most of his credits have been supporting roles, but the actor has actually been in some really big projects in his time.
Alonso has appeared in the war movie Jarhead, the musical Stomp the Yard, Kathryn Bigelow's 2017 movie Detroit, and Guy Ritchie's Wrath of Man. He has also nabbed roles in huge franchises like Avatar and showed up in two Fast and Furious movies.
Elisabeth Shue as Madelyn Stillwell
Madelyn is one of the big bads in charge of The Seven. As Vought's Senior Vice President of Hero Management, she's essentially their manager. Ruthless and unrelenting, Madelyn is unstoppable when it comes to her quest for profit and power.
Older viewers were probably well aware of Elisabeth Shue long before she played Madelyn Stillwell, the owner of The Seven. Shue was a veritable star of the '80s when she had key roles in The Karate Kid and the Back to the Future franchise.
Her career stalled a little bit post-millennium but has seemingly got right back on track since The Boys and has even reprised her role as Ali in the Karate Kid spin-off Cobra Kai.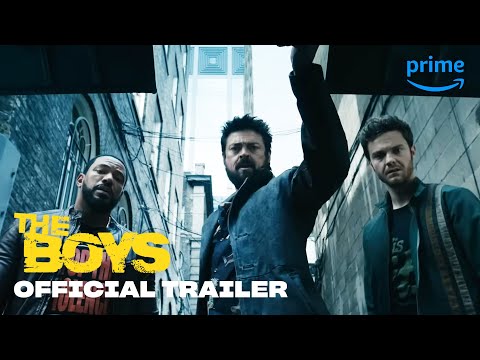 Everyone in The Boys season 1 cast
Here's the list of everyone who appears in The Boys season 1, from our main heroes to supporting stars.
Karl Urban as Billy Butcher (8 episodes)
Jack Quaid as Hughie Campbell (8 episodes)
Antony Starr as Homelander (8 episodes)
Erin Moriarty as Annie January / Starlight (8 episodes)
Dominique McElligott as Queen Maeve (8 episodes)
Jessie T. Usher as A-Train (8 episodes)
Laz Alonso as Mother's Milk (8 episodes)
Chace Crawford as The Deep (8 episodes)
Tomer Capone as Frenchie (8 episodes)
Nathan Mitchell as Black Noir (8 episodes)
Elisabeth Shue as Madelyn Stillwell (8 episodes)
Jennifer Esposito as Susan Rayner (5 episodes)
Nneka Elliott as Female News Anchor (3 episodes)
Simon Pegg as Hugh Campbell (4 episodes)
Shaun Benson as Ezekiel (4 episodes)
Christian Keyes as Nathan (4 episodes)
Brittany Allen as Popclaw / Charlotte (3 episodes)
Jess Salgueiro as Robin Ward (3 episodes)
Alex Hassell as Translucent (3 episodes)
Mishka Thébaud as Shockwave (3 episodes)
Shantel VanSanten as Becca Butcher (3 episodes)
Ann Cusack as Donna January (3 episodes)
Malcolm Barrett as Seth Reed (3 episodes)
Jordana Lajoie as Cherie (3 episodes)
Brendan Beiser as Jeff (2 episodes)
David Andrews as Senator Calhoun (2 episodes)
Mike Massaro as ESPN Interviewer (2 episodes)
Bill Turnbull as Trevor (2 episodes)
Haley Joel Osment as Mesmer / Charles (2 episodes)
Roger Peterson as Male News Anchor (2 episodes)
Aldrin Bundoc as Clerk (1 episode), Bodega Clerk (1 episode)
Billy Zane as Himself (1 episode)
John Doman as Jonah Vogelbaum (2 episodes)
David Reale as Evan Lambert (2 episodes)
Nicola Correia Damude as Elena (2 episodes)
Laila Robins as Grace Mallory (2 episodes)
Lovina Yavari as Telekinetic Superhero (uncredited) (1 episode)
Latoya Webb as Tiny Hero's Female Friend (uncredited) (1 episode)
Konstantin Shaburov as Lamplighter (uncredited) (1 episode)
Jim Pagiamtzis as Wealthy Business Guy (uncredited) (1 episode)
Redd Ochoa as NYPD Officer Mack (uncredited) (1 episode)
M.E. Lewis as Psychic in Wheelchair (uncredited) (1 episode)
Alanna LeVierge as Waitress (uncredited) (1 episode)
Jimmy Fallon as Jimmy Fallon (uncredited) (1 episode)
Brittany Drisdelle as Beautiful Woman (uncredited) (1 episode)
Mike Donis as Tiny Hero (uncredited) (1 episode)
Virginia Dennis as Protester (uncredited) (1 episode)
Gary Brennan as National Defense Expert (1 episode)
Kamil Orzechowski as Desperate Thief #1 (1 episode)
Anton Gillis-Adelman as Benjy (1 episode)
Jaiden Cannatelli as Mason (1 episode)
Brendan Shoreman as Security Guard (1 episode)
Deshay Padayachey as X-Ray Tech (1 episode)
Jack Mosshammer as Gary (1 episode)
Paulino Nunes as Mayor of Baltimore (1 episode)
Jaden Martin as Jamie (1 episode)
Toby Bisson as Colby (1 episode)
So, there's your extensive guide to who's who in The Boys cast. If you want to learn more about TV picks, here is everything new on Amazon Prime this month, or if you'd like to read about other great ensembles, check out our breakdown of the Good Omens season 3 release date.
Don't forget to check out the best Amazon Prime movies, as well as our list of the best movies of all time, the best superhero movies that you can watch right now, and a full breakdown of all the upcoming Marvel movies heading our way.