What are the best Beth Dutton quotes? The only daughter of John Dutton is a firecracker. Much like the rest of her morally-challenged family, Kelly Reilly's Beth is ferocious, impulsive, and never above throwing punches against those she deems as dangerous to her family's legacy.
Yellowstone is a show of many talents. Needlessly dramatic subplots that are oft forgotten? Yes. A cinematic masterpiece that perfectly articulates the beauty and brutality of the Montana landscape? Oh yes. The best written show in the world? …Hmm, probably not. But despite it's flaws, it's still one of the best TV series around, and still addictive as hell. You could describe Beth Dutton in the same way.
Beth is not a good person. Most of the Duttons aren't. But, in her own way, she has her standards. What results is a mix of truly unforgettable moments and dialogue from the Dutton's hardest-working family member. Here are our picks for the best Beth Dutton quotes, along with their ranking of quotability in the real world.
"You are the trailer park. I am the tornado."
If Beth could be surmised in one a short piece of dialogue, this is how. She is a tornado, ripping through Montana with no care for what or who she leaves in her wake. Honestly, with her biting attitude and vicious nature, she could have said this to any character in the Yellowstone series and it would still have had meaning.
Real-world quotability: 3/10. Unless you live in a trailer park, or are an asshole, you couldn't really get away with saying this to anyone in real life.
"Everything I do is for him, and everything you do is for you."
Beth is incredibly dedicated to her father, John Dutton. She might not always understand his dedication to the ranch, but she respects it. Which is why she's spent five seasons fighting his battles. She only lives to serve John, and their relationship does contain tender moments. Ultimately, her volatile relationship with Jamie Dutton (who she deems to be a threat to her father's goals), is one of the most entertaining arcs in the drama series.
Real-world quotability: 8/10. This isn't so insane that you couldn't get away with it in reality. You'd just have to find yourself in a specific enough scenario.
"It's OK to watch me walk away, you know. That's why we do it."
Beth's sensuality is one of her greatest weapons, though she only really uses it in earnest with her beloved Rip Wheeler. This line comes from one of the numerous flashbacks of her youth, and to Rip no less. While her attitude towards Rip changes over the years, her methods to others around her have not.
Real-world quotability: 2/10. This is easily one of the most cringe-inducing lines from the show to use in real life. Beth can just about get away with it. You can't.
"You know, life isn't a longevity contest; it's a contest in quality."
For once, Beth is speaking actual sense here. This is a quote you could also probably find painted onto a wooden panel and mounted onto a wall next to a 'Live, Laugh, Love' mural. We would advise doing the opposite of what the Duttons usually do, but when it comes to a life well lived, this isn't the worst mentality we've ever heard.
Real-world quotability: 9/10. Let's just say that you could use this with the right person. Just try not to look too theatrical or philosophical when you said it.
"Nothing f*cks up a good deal like an attorney."
This is classic Beth in business mode. She's just as dominating in the boardroom as she is everywhere else, and the times where she's flying the highest are where she's playing corporate high-flyers like chess pieces. People forget that Beth is actually very good at her job, since she spends most of her time wandering around the ranch or chilling in bars.
Real-world quotability: 9/10. Ha! Lawyer jokes! Say this at your next dinner party for a real laugh among your successful friends while you drink champagne and they throw their heads back, cackling.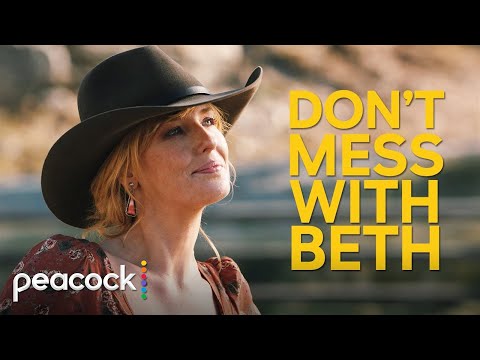 "I made two decisions in my life based on fear, and they cost me everything."
Beth loves to ruminate on the past, so it makes sense that she would be constantly referring back to her previous traumas. She uses her youth as the driving force behind her rage and distrust of the world. Again, it makes great fodder for her very entertaining take downs of Jamie throughout the show. It's also the kind of line that you could almost find in one of the best Westerns.
Real-world quotability: 4/10. If you said this offhandedly to a friend, at any time, you'll probably be met with a: "…Oh…anyway…"
"Only the good die young. If a meteor strikes Earth tonight, it is me and the cockroaches running this mother**ker tomorrow."
This is a piece of dialogue that we probably shouldn't enjoy. It's just a little too much. But if anyone in the Yellowstone cast is going to make it sound cool, it's Kelly Reilly. It's another one of those things that only Beth Dutton can get away with saying because, on some level, you can almost believe that it's true.
Real-world quotability: 1/10. When would you say this? When?!
For more from the Duttons, check out our list of the best John Dutton quotes, the 10 shows like Yellowstone to watch next, and the 6 best Taylor Sheridan TV shows and movies. We've also got everything you need to know about the 1883 cast and 1923 cast. If you're looking to the future, check out our guides to the 6666 release date and Lawmen: Bass Reeves release date.
We've also got a breakdown of everything new on Paramount Plus this month, as well as features on why the Western has always been a genre for women, and why Dallas ran so Yellowstone could fly.