In 1977, the science fiction movie genre was changed forever by the arrival of Star Wars. 40 years ago, the Original Trilogy of Star Wars movies was concluded by Return of the Jedi, and while The Empire Strikes Back is undoubtedly the best movie in the saga, this third instalment is a delightfully playful effort.
It's an unenviable task to follow that incredible '80s movie and bring the trilogy to an end. However, it's a task Return of the Jedi director Richard Marquand manages with a combination of vibrant flair, neat storytelling, and a healthy dose of fun and thrills.
The adventure movie opens with Luke Skywalker, now a fully-fledged Jedi Knight, embarking on a quest to rescue his friends, Princess Leia and Han Solo, as well as the Star Wars droids C-3PO and R2-D2 from the clutches of Jabba the Hutt.
Once that mission is completed, the stakes are raised as the Rebellion launches its attack on the second Death Star. With Emperor Palpatine on board the superstructure, its destruction could well be the end of the Galactic Empire's tyrannical rule of the galaxy.
That long opening sequence in Jabba's palace is a fantastic example of how wonderfully ludicrous Star Wars can be. With a whole host of colourful Star Wars characters, including a Glup Shitto or two, and an iconic Star Wars bounty hunter, we get a real taste of life in the darker depths of the galaxy.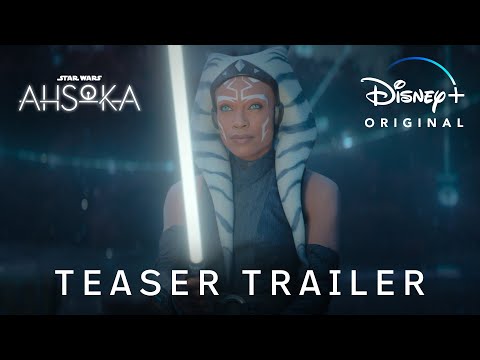 As we hover over the sarlacc pit, the heroes combine brilliantly for an entertaining little battle with Jabba's forces. When that trio of Mark Hamill, Carrie Fisher, and Harrison Ford are together on screen, it's pure magic.
Sadly, from there on out, they spend very little time as a group. Luke decides to visit Yoda for some extra training, but the wise old master has reached the end of his long life. Before he leaves Dagobah, Luke is visited by the Force ghost of his mentor, Obi-Wan Kenobi, and learns the truth about his connection to Leia.
Important as this narrative development may be, we naturally want to see the Star Wars cast traversing the galaxy together, not going on their own separate adventures. Still, the threesome is reunited on the forest moon of Endor, which gives us some fantastic moments and silliness of the highest order.
The Ewok are cute little critters and offer plenty of entertainment, especially for younger viewers. However, the extent of their involvement in the movie overall does border on being excessive.
Nitpicking a bonafide classic feels sacrilegious, but it has to be said that Return of the Jedi does, at times, feel unrestrained and superfluous. While its predecessor is all killer, no filler, this film revels in theatrics for theatrics sake, for better or for worse.
The Star Wars saga was always intended to be a family movie experience, though, and Return of the Jedi, quite simply, gets that. It's by far the funniest entry in the Original Trilogy, and is a picture so filled with energy, optimism, and colour that it has to be commended for all its exuberance.
There is a real tonal shift as we approach the big climax, which delivers one of the best Star Wars scenes of all time. The pairing of Sith Lords Palpatine and Darth Vader makes for a menacing presence on screen, and the impressive set design of the former's throne room for the finale creates an uneasy atmosphere for those of us invested in young Skywalker's fate.
As Palpatine shifts his attention between the warring Star Wars ships outside his window and the tempestuous emotions of the brave Jedi standing before him, his desire for violence and hatred twinned with that ghastly appearance becomes the stuff of nightmares.
The Star Wars villain begs Skywalker to strike him down or kill his father, as either act would suffice in securing his place on the Dark Side of the Force. It appears Palpatine may get his wish, too, as Vader duels his son once more and Luke lashes out with wild abandon. The music from John Williams at this point is otherworldly, as the score swells and soars with each clash of the lightsabers.
From this rousing sequence to one of the most emotional moments in the entire Star Wars series, we see Vader fade away and Anakin Skywalker return for glorious salvation. As he defiantly slings Palpatine to what we all assumed (and wished) was his death, Vader sacrifices his own life for the son he never knew. His dying wish is for his mask to be removed so he may look upon his child with his own eyes, and in that moment he is reminded there is light in the galaxy.
Marquand clearly knew that copying the Empire blueprint was futile. His work on Jedi needed to be different, bold, and a little bit out there. It's a film which serves as an effective symbol for the value of diversity and risk-taking, proving that not everything has to follow a formula. It may not be perfect, but Return of the Jedi is a feel-good movie brimming with charm and positivity, and a sublime finish to the best journey of all time.
For more from Star Wars check out our guides to the Andor season 2 release date, the Ahsoka release date, or the new Star Wars movies. If you're feeling nostalgic, we've got explainers on characters like Chewbacca and Mace Windu, or a rundown of the best Star Wars aliens and the Skywalker family tree. And you know what? Here's why George Lucas was right about Star Wars.
Return of the Jedi review
A wonderful conclusion to one of the best trilogies of all time, as Star Wars gets playful.