What are the best adventure movies of all time? Want to explore strange and foreign lands beyond your wildest dreams? Fancy seeking out ancient treasures, most likely surrounded by deadly booby traps that were a real hassle to construct just for a single use?
Well, it's dangerous to go out alone, so take this list of classics that mine from the best action movies, best fantasy movies, and best science-fiction movies while putting an adventurous spin on stories and characters. We've mapped out the essentials to ensure you don't waste your time watching anything but the most rousing offerings led by a wide variety of heroes.
From ass-kicking archaeologists to goodhearted gardeners, these would make an exceptional movie marathon. So watch your step (and these recommendations), because here are the best adventure movies.
17. The Secret Life of Walter Mitty (2013)
One might not think of Ben Stiller as an adventure hero, and he's not, not really. But The Secret Life of Walter Mitty sees Stiller play your average Joe who winds up embarking on a globe-trotting adventure that takes him far from where he began. It all begins with Walter, a negative assets manager at Life magazine, who discovers that a film sample containing a picture of what is said to depict the "quintessence of life" is missing.
Realizing that the image must be used for Life's final print edition, Walter decides to ditch his dull life and head out into the world to try and track down the mysterious photograph. It's stunning to look at, blurs the lines between fantasy and reality, and gives you a protagonist you can really root for. Isn't that what adventure is all about?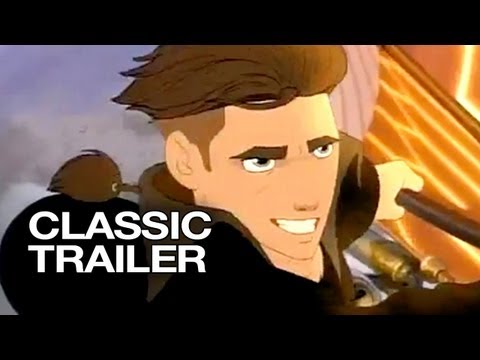 16. Treasure Planet (2002)
This sci-fi reimagining of the classic adventure novel Treasure Island is an underrated gem that, despite its 2002 release, is reminiscent of the Disney Renaissance era. It might not have lit up the box office, but its stunning animated sequences, along with the vocal talent of Joseph Gordon-Levitt, Brian Murray, Martin Short, and Emma Thompson, means that it definitely deserves its cult classic status.
Plus, it has something all the best adventure movies ought to contain: a heart. There are plenty of emotional beats throughout, which makes our hero's journey all the more meaningful. Not an easy feat when your movie is A) animated and B) set in an alternate Space reality. When are we getting the live-action Disney remake, huh?
15. Stand by Me (1986)
Although the idea of an adventure movie might spark images of faraway lands, magical creatures, and dangerous villains, Stand by Me proves that true adventure can come in a quieter and smaller form. Based on the novella by Stephen King, Stand by Me is one of the best '80s movies of the time, and follows a group of young boys as they set out on a hike to locate a dead body.
Although they may not travel far, the journey the boys embark on is both physical and emotional. It's about growing up, and the last few experiences one can have when they're young. Make no mistake, the journey is turbulent and full of trouble, but compared to some of the others on this list, Stand by Me is an adventure movie of a more unexpected kind.
14. Dungeons and Dragons: Honor Among Thieves (2023)
It might have only been released this year, but everyone who has been part of a D&D campaign knows it can be one hell of an adventure. Honor Among Thieves is essentially a love letter to the spirit and creativity that's inherent to the tabletop RPG, and that's why fans of the game adore it so much.
And even if you're a novice to the D&D world, it's an incredibly accessible film, and the cast's charisma and impeccable comedic timing make it well worth a watch. I mean, Chris Pratt, Hugh Grant, and Michelle Rodriguez are definitely a crew we'd want to play with.
13. The Pagemaster (1994)
You're never alone with a good book, and this crossover of live-action and animation is a testament to that. When young Richard Tyler (Macauley Culkin) escapes into a library during a thunderstorm, he gets caught up in a mythical animated quest involving some of the finest novels that were ever written.
Three anthropomorphic books, Horror (Frank Welker), Fantasy (Whoopi Goldberg), and Adventure (Patrick Stewart), provide Richard with some company on the perilous journey. Joe Johnston of Captain America: The First Avenger directed the live-action parts, while Maurice Hunt handled the animated scenes. Classic literary scenes and characters are brought to bright, colorful life, proving that, as the Pagemaster himself puts it, all is possible.
12. Interstellar (2014)
Christopher Nolan's Interstellar is an adventure on the grandest scale that takes Matthew McConaughey's Cooper across the galaxy in an effort to save humanity from extinction. It's not exactly lighthearted, since it doesn't skip out on some of the more haunting and perilous aspects of Space travel, but it's well worth anyone's time to engage with the impeccable world-building and visual effects.
Easily Nolan's most breathtaking and beautiful film, Interstellar balances weighty scientific concepts with the tender message that love, not gravity, is the force that bonds us all together.
11. Pirates of the Caribbean: The Curse of the Black Pearl (2003)
Fancy stretching your sea legs in your search for danger? You can't go wrong with Pirates of the Caribbean: The Curse of the Black Pearl. Disney's wild card based on one of its famous theme park rides could've easily sunk had it not been for Gore Verbinski being at the helm.
Sure, there's the supporting talent of Kiera Knightley and Orlando Bloom, but the character smuggles scenes away with ease, only rarely having to compete with Geoffrey Rush's enigmatic Captain Barbossa. An eclectic crew sail, sword fight, and belch their way through a blockbuster that manages to surprise at almost every turn of the ship's wheel, this is still an absolute treasure.
10. The Dark Crystal (1982)
As great as he was at creating heated relationships between talking pigs and frogs, one of Jim Henson's most significant endeavors was an out-there adventure, The Dark Crystal. Lonely gelfling Jen's heroic journey to restore the titular towering monument and battle the iconic and nightmare-inducing Skeksis is a magical watch even now.
Demonstrating the best of what Henson's workshop had to offer, including the stoic urRu and exhaustingly frantic Fizzgig, The Dark Crystal still shines on.
9. Hook (1991)
In retrospect, Robin Williams' Hook feels like a long-lost superhero movie that dares to fly like no other Peter Pan adaptation has since. The journey of a mild-mannered father transforming into Pan the Man to save his kids is an "awfully big adventure" that sprinkles a new batch of fairy dust on an iconic character.
Add in Dustin Hoffman's 'tash-twirling movie villain, along with sword (and food) fights set to John Williams' chest-swelling score, and you've got a great adventure movie that is absolutely bangarang!
8. Labyrinth (1986)
If we're on the topic of adventure, then we have to talk about the babe. The other equally nuts but brilliant fantasy film from Henson sees Jennifer Connolly try to rescue her baby step-brother after wishing him away to Jareth the Goblin King.
While David Bowie steals the show as the big-haired, ball-twiddling (no, we're not referring to that codpiece) antagonist of the piece, there's much to enjoy elsewhere, too, as Connolly gets lost in this Acid in Wonderland trip alongside a fantastic bunch of characters devised by Henson in his prime.
7. Jumanji: Welcome to the Jungle (2017)
Of all the daring efforts on this list, Jumanji: Welcome to the Jungle has every reason not to work, and yet it does. Modernizing an already beloved property and retrofitting it around a superb quartet of characters, it isn't just a great adventure but also one of the best video game movies ever made.
Blending Tron and the first round of Jumanji, which starred Robin Williams, Welcome to the Jungle zips by at an incredible pace thanks to its massive set pieces and a self-aware cast, including Dwayne Johnson on top form, along for the ride. Changing the game that we loved, Welcome to the Jungle, has a bit of fun for everyone — yes, even diehard fans of the first film — and all involved are clearly having bucket loads of it. Press start if you haven't already.
6. The Princess Bride (1987)
When The Princess Bridge was released, it wasn't exactly a critical success. Part of this is because it was one heck of a puzzle to market, and any advertising failed to depict the full scale of the story. Was it a romance? A world-spanning adventure tale? A quest between a hero and villains? Well, actually, it's all of the above. Isn't that magical?
The Princess Bride is a love story that spans the years set in a fantastical faraway land. But it's also a tale of giants, princes and princesses, and one of the best sword-fights ever written. It was only when the movie was released on video that it found its fame (and has since grown to be known as one of the best movies ever made), and has remained as one of the biggest and most unforgettable adventures ever told.
5. Indiana Jones and the Last Crusade (1989)
Some of the greatest adventures are family affairs, and they don't get better than Steven Spielberg's third installment in the Indiana Jones series. If seeing Indy thumping Nazis and outsmarting ancient trials isn't compelling enough, witnessing him having to deal with his dad along the way makes The Last Crusade one of the finer chapters.
The story goes that Spielberg always had Sean Connery in mind to play the dad to Harrison Ford's whip-cracking protagonist because, as far as he saw it, James Bond was the father of Indiana Jones. It's a line of thinking that pays off massively, raising the stakes and adding more heart to an already pulse-raising picture. Choose wisely.
4. The Lord of the Rings: The Fellowship of the Ring (2001)
Peter Jackson's perfect introduction to Tolkien's world, and the One Ring bound to it, is still a chapter worth revisiting. So many hair-raising lines and unforgettable encounters woven together make for an epic, peril-filled adventure in which — unusually — the heroes seek to rid themselves of a treasure.
Perfectly cast in just about every area, seeing Middle-earth's mightiest heroes uniting always brings chills, and let's be honest, when it comes to fantasy, The Lord of the Rings characters can't be beaten. Be warned, though; you shall not pass this viewing without sticking the next one on straight after. Find the extended editions, if you can, for even more Middle-earth goodness.
3. The Goonies (1985)
A kid's treasure hunt that any youngster would love to go on. The Goonies' search for One-Eyed Willy's rich stuff made such an impact that some of the most popular films and TV series are still trying to replicate its success years later. Quite frankly, we can't think of any that have managed to meet the bar The Goonies set, let alone raise it.
From the second Mikey tells his friends the story of hidden treasure and finding the map that could lead them to it, it's a dose of childhood awe and nostalgia that never fades. If you want to get lost on a Saturday afternoon, then The Goonies really are good enough.
2. Star Wars: A New Hope (1977)
As a daring first installment and franchise that would span decades, A New Hope has every crucial ingredient for an adventure. Knights and princesses, rogues and wizards, monsters and talking carpets. At the time, it was a movie unlike any seen before, and set the precedent for every new sci-fi movie that followed.
And yet the first Star Wars film (Is it the first chronologically, though? Check out how to watch the Star Wars movies in order for more on that) is so original, it stands tall above the rest in its genre. Regardless of what followed, there's no denying young Skywalker's trip across the stars is one for the ages.
1. Raiders of the Lost Ark (1981)
If adventure has a name, it must be Indiana Jones. Born from two of the most influential directors ever, the man in the hat's first film manages to cram every second with excitement. Raiders of the Lost Ark is not just a phenomenal introduction to the hero that's a hybrid of both Han Solo and 007, but just a near-perfect film in its entirety.
Ford's grumbling good guy straps us into a roller-coaster ride that you never want to get off. Can you honestly imagine cinema history without him?
For more quality films, take a trip around the world and enjoy the best anime movies, the best family movies, and the best horror movies of all time. If you're looking to plan another adventure, then why not check out our list of all the new movies coming in 2023? We've also got the Indiana Jones movies in order for those of you who are whipsmart, and the Lord of the Rings movies in order if you want to visit Mordor.
Elsewhere, check out everything we know about Superman Legacy, Avatar 3, and The Marvels. Or, if you prefer your adventures on the smaller screen, take a look at our House of the Dragon season 2 guide. Happy trails!