With the Creed 3 release date upon us, some fans may be worried that the bell is about to ring on the Rocky series for the final time. Well, fear not, because Michael B Jordan plans to continue the sports movie saga beyond its third instalment, and personally, I hope it goes on forever.
The Rocky movies began over 45 years ago and while they have evolved over time, their premise remains wonderfully simple. At the heart of it, we as viewers just cannot get enough of an underdog story. We also love to see very strong people beating the crap out of one another.
It's something the very best superhero movies recognise. The same notions can even be found in the great Westerns of days gone by. But more than anything, the Creed franchise can thrive for years to come by drawing inspiration from the world of anime series, and more specifically, Dragon Ball Z.
The Stallone-era of the Rocky franchise managed to squeeze six stories out of Rocky Balboa, and almost all of them are really great movies (we will never accept Tommy Gunn, sorry). By and large, all six of the films are centred around the very basic concept of a damn good boxer going hell for leather in the ring with different opponents, and it never gets boring.
Of course, it helps that Stallone imbued the Italian Stallion's journey with plenty of heart and looked at the boxer's life outside of the ring to bring in some personal stakes. It's this kind of character development and attention to detail that has seen the legacy of Rocky live on all these years later.
When you look at a show like Dragon Ball Z, you can see exactly the same level of patience and commitment to what is frankly, the mundane daily life of superhuman characters. We all come to see Goku and the gang take on otherworldly threats like Frieza and Cell, but we care about their fights all the more because we know what they have to lose.
Dragon Ball Z characters like Master Roshi, Chi-Chi, and Bulma may seem like unnecessary diversions from the action at times, but they help to contextualise the very reason anime villains have to be stopped at all costs. The same applies to Rocky's wife Adrian, and Adonis 'Donnie' Creed's partner Bianca; normal people who help to ground our heroes. Having people you care about makes you vulnerable, but they also provide excellent motivation.
As important as the deeper thematic elements of both the Rocky franchise and TV series like Dragon Ball Z are, the height of entertainment is in the very physical conflict. Just as we enjoy watching brutish boxers rocking one another's jaws, it's also incredibly fun to watch all-powerful anime characters going toe-to-toe.
In the real world, boxers don't just reach the end of the road when they become the heavyweight champion of the world; they then have to defend this crown as a conveyor belt of contenders come at them. And no matter how strong you may be, there will always be someone stronger. Maybe not immediately, but in time, an opponent will inevitably knock you off your perch.
That's exactly where we are with the Creed franchise right now, as Adonis looks to retain his title while battling a face from his past. The adversary in the new movie, Damian Anderson (Jonathan Majors), is an old friend of Donnie's and he doesn't just want to take his shiny belt, he wants to ruin his life. The movie villain's motivations for revenge are rooted in the pair's shared history, as Damian feels Donnie wronged him in the past.
Damian is a beast of a man. He's clearly trained for this moment all his life, and he wants to make Donnie suffer. This is a fight that will not just threaten to disrupt the rankings in the boxing world, but could very literally see our protagonist's mortality put to the test. It's entirely personal for both these warriors, and feels reminiscent of the damaged brotherhood of the Saiyans Goku and Vegeta in the early seasons of Dragon Ball Z.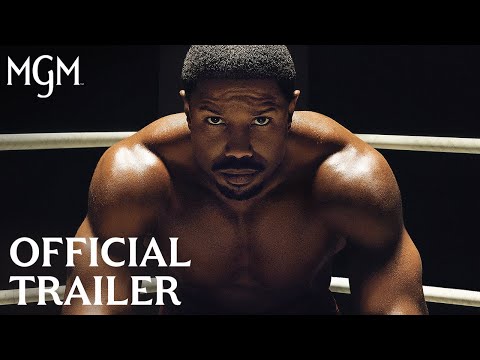 For Michael B Jordan, this action movie will mark his first foray into directorial duties, and the actor has spoken of the challenges he faced in keeping the franchise fresh and engaging. In an appearance on the Tonight Show With Jimmy Fallon, Jordan cited his love of anime movies as a big influence on the fight sequences we will see in Creed 3, and I can't think of a better approach for creating a sustainable franchise.
By studying the art of animated movies and series, Jordan can turn the boxing ring into a truly epic battle arena, adding a theatrical quality to the fight sequences. Boxing has often been likened to a form of dance, but by invoking the spirit of anime, Creed 3 and its potential successors can inject even more pace, power, and dynamism to complement the more graceful elements of the sport.
Then there's the training montages, too. The Rocky movies became famous for inspiring and iconic moments like Balboa dragging a sled through the snow or Drago's robotic-like focus in his high-tech Russian gym. In Creed, too, we saw Adonis put through his paces in the streets of Philadelphia while quad bikes raced alongside him. These montages are long, drawn-out and oftentimes cheesy, but I'll be damned if they're not incredibly entertaining.
In Dragon Ball Z, you'll find hours of this stuff. After all, where's the fun in diving straight into the fight? We need to see these characters evolve (sometimes literally), to test their limits, and prepare for the fight of their lives. Whether it's cartoon characters or live-action humans doesn't matter: the appeal comes from seeing people sacrifice blood, sweat, and tears for the cause.
Dragon Ball first originated almost 40 years ago. The Rocky series is a little older, but both share so many similarities and find their strengths in the same ways, that there's no reason they can't both go on for decades to come. Just like anime, the Creed franchise can grow to become a huge saga in its own right, full of training montages, epic fights, character development, and an endless line of bad guys.
If you want more from the boxing world, here's how to watch Creed 3 or you could check out our Creed 3 review. Alternatively, look ahead to the future with our guide to the Creed 4 release date.
For more from the world of anime check out our guides to the Dragon Ball Super season 2 release date or the Edens Zero season 2 release date. Or, for more sport, dive into our guide to the Ted Lasso season 3 release date or the Welcome to Wrexham season 2 release date.