What are the best anime movies of all time? Japan has been producing world-leading animation for decades, and to this day, some of the most inventive, creative, and forward-thinking studios are based there.
When you think of big-screen anime, Studio Ghibli jumps to mind straight away, of course, but then you have Madhouse, MAPPA, Studio 4°C, and numerous others. Along with famous directors like Hayao Miyazaki, there are also Rintaro and Satoshi Kin. In short, anime is the playground for numerous masters of cinema, who've graced us with some of the best movies of all time, period.
Sadly, a lot of their work gets overlooked in English-speaking territories, overpowered by the best Disney movies and best Pixar movies. So, to help you get more into anime, we've collected the best anime movies you can watch right now. You're likely to recognize a few – it's hard to avoid Studio Ghibli movies, and there's overlap with the best anime series, but sometimes a good rewatch is necessary, as well.
27. Perfect Blue (1997)
Directed by acclaimed filmmaker Satoshi Kon, Perfect Blue is one of the best movies ever made, period. Not only is it on our lists for the best horror anime and the best animated movies as well, but it is a film that has inspired the likes of Darren Aronofsky's Black Swan.
By the time the credits roll, you will be questioning your own reflection, scared of your own dreams, and left an unsettled mess. Yep, that is right, Perfect Blue is truly that good. The film follows the young Idol Mima Kirigoe's transition from singing to professional acting and the subsequent psychological mystery that plagues her career shift. From stalkers to a murderous self-reflection, reality is blurred, and you are left with pure tension and unease. It's a masterpiece.
26. Wolf Children (2012)
Wolf Children is one of the most underrated picks on this list. Directed by Mamoru Hosoda, the film is centered around family, as a single mother must help her two half-human, half-wolf babies find their own path. After falling in love with a werewolf who passes away, Hana must navigate motherhood.
However, when you have two supernatural babies to care for, everyday issues become mountains to climb, and you are thrown into the unknown. Hana has to uproot her life to care for her children, she has to try and understand half of their upbringing alone, and she has to come to terms with her own dreams, too. The story is surprisingly emotional, and you'll be bawling by its end. So yeah, definitely put Wolf Children on your radar, folks!
25. The First Slam Dunk (2022)
Written and directed by Takehiko Inoue, The First Slam Dunk isn't just one of the best anime movies of all time, but it's also one of the best sports movies you'll ever see. Based on Inoue's manga Slam Dunk, the film follows the lives of Shohoku High School's basketball team as they defy all odds and go head-to-head with the long-running champions Sannoh Kogyo High School.
With a special focus on the anime character Ryota Miyagi, The First Slam Dunk combines heart-racing athletics with touching backstories as flashbacks from every team member dissect dreams, trauma, and their determination. The film puts sport at the forefront but still manages to pull on your heartstrings as sneakers squeak on the court and players run toward the ball.
In 2023, The First Slam Dunk also won the Japan Academy Prize for Animation of the Year and is the fifth highest-grossing anime movie of all time. So, even if basketball isn't your thing, this flick is a must-see.
24. Ponyo (2008)
Although Ponyo is technically for children, it's one of the most enjoyable and heartwarming animes out there. For anime newbies, it doesn't get much more accessible than Ponyo, an adorable retelling of The Little Mermaid. You'd be hard-pressed to find an adult or child alike who wouldn't fall in love with the perfect animation.
To this day, it's still the eighth-highest-grossing anime movie of all time, and one of the best Studio Ghibli movies around. It's the story of a goldfish named Ponyo who desires to become a human girl and who meets Sōsuke. The two form a beautiful bond, and throughout the movie, you feel as if you're part of their secret adventure.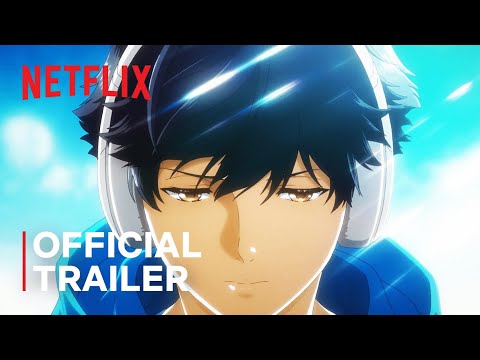 23. Bubble (2022)
Wit Studio quietly released this film on Netflix in 2022. Gorgeous and post-apocalyptic, there's nothing desolate about this depiction of the future where mysterious bubbles that defy the laws of physics cause cities to be abandoned.
Two young people are destined to change that, intertwined as their lives are. Stereotypical, that may be, Bubble's the kind of Netflix anime that you wish you could've seen on the biggest screen imaginable.
22. Inu-Oh (2022)
There are actual live concert films that have less energetic cinematography than the musical performances of Inu-Oh. The rock opera focuses on an unusual pairing, a blind biwa player and a physically deformed dancer, who form a band that produces the kind of riffs and melodies Freddy Mercury dreamt about.
Enthralling as is, Masaaki Yuasa's film offers grace and substance in the ties that bind within music. The core friendship is beautifully rendered, all within the solace of good old-fashioned rock and/or roll. You can find out more in our Inu-Oh review here.
21. Dragon Ball Z: Resurrection 'F' (2015)
Dragon Ball Z movies are a bit of a mixed bag, but Resurrection F is an underrated gem. Why? Well, this is the movie that brought back one of the best anime villains of all time and a firm favorite Dragon Ball character. We're talking, of course, about the one and only Frieza.
Featuring breakneck action, funny character moments, and a genuinely surprising twist, Resurrection F is a must-watch for any Dragon Ball fan. And if you are after the complete timeline, here is our guide on how to watch all of Dragon Ball in order.
20. Only Yesterday (1991)
Based on the manga of the same name, Only Yesterday is one of Studio Ghibli's most critically acclaimed films, boasting an impressive 100% score on Rotten Tomatoes. The film follows Taeko Okajima, a young woman living in Tokyo who decides to visit the countryside and finds herself reminiscing about her past.
Down to earth and remarkably poignant, Only Yesterday isn't as fantastical as the likes of Spirited Away or Kikii's delivery service, but there's a universal charm to the film that makes it incredibly relatable in a wistful sort of way. It is also on our list of the best animated movies of all time because, yes, it is just that good.
19. Tokyo Godfathers (2003)
A Christmas tragicomedy, Tokyo Godfathers follows a trio of misfit homeless people living on the streets of Tokyo who one night discover an abandoned baby while rifling through the trash. With nary a clue as to the baby's identity, the three decided to reunite the young child with its missing parents.
Heartwarming and heartbreaking at the same time, Tokyo Godfather is an exquisite feature that serves as a powerful reminder that you don't have to be related to be a family.
18. Princess Mononoke (1997)
If you're into Lord of the Rings and Game of Thrones, you're probably going to find yourself right at home with Princess Mononoke. This anime movie is an epic historical fantasy, building upon a deep-rooted lore and heavily steeped in mythology. It's also gorgeous to look at.
Set in the late Muromachi period of Japan, it follows a prince named Ashitaka as he becomes entangled in a battle between the humans who ravage the natural resources of the forest and the gods who rule it. Princess Mononoke has plenty of mythical creatures, rich visuals, and a big blockbuster feel.
17. Belle (2021)
A modern retelling of Beauty and the Beast set in a world where the internet has become a holographic 3D playground; Belle is a remarkable update to a tale of old as time. The anime movie boasts bold and creative visuals, grand character design, and a touching story about coming to terms with one's own insecurities.
Written and directed by Mamoru Hosoda, Belle follows the story of the 17-year-old Suzu Naito. Suzu is plagued by trauma but finds her voice in the virtual world "U," where she basically becomes a pop star. However, her time online leads to an encounter with an outcast user called The Dragon, and the two bond, heal, and struggle to find the courage to expose their true identities for the world to see. It is downright beautiful. For more information, you can read our full Belle review here.
16. Your Name (2016)
A body-swapping romance anime and a time travel rom-com, we may not be entirely sure what genre Your Name belongs in, but we do know that it's an absolutely sensational film. You wouldn't think that a film that combines high romantic melodrama with awkward teen shenanigans would work, but trust me, they come together like peanut butter and bread in what's director Makoto Shinkai's most commercially successful film.
It's worth mentioning as well just how gorgeous this film looks and sounds, especially during the climax. The colors are dazzling, and the music sweeping. If you've not seen Your Name, you need to track it down.
15. Metropolis (2001)
Humans and robots may live together in Rintaro's study of futurist architecture, but that means they integrate well. The multi-layered society, split across a growing number of levels, suffers from enormous inequalities and financial hardship.
Not that Duke Red, the richest inhabitant, cares. A number of plotlines look at the ways established order is an extremely fraught construct in this reality, chief among a scientist and his nephew trying to help an artificial young girl. A lot gets packed into Metropolis; perhaps a lot is packed into the unending city. It's a technical marvel that still finds something warm to cling onto.
14. Grave of the Fireflies (1988)
It remains truly mind-boggling that Studio Ghibli ever thought pairing this and My Neighbor Totoro was a good idea. A whimsical fairytale about the rabbit holes of nature and a war movie that absolutely shatters the soul.
Two siblings, Seita and Setsuko, lose their home during the bombing raids on Kobe, Japan, during WWII. Their father MIA, and their mother are killed in the firestorm; they have no choice but to brave a crumbling society. Staying with relatives becomes untenable, and as they struggle for shelter, Setsuko's health deteriorates.
One almost wells up just thinking about Grave of the Fireflies, a crushing example of Isao Takahata's craft. But that feeling you're left with in your gut? That's the sign of powerful filmmaking.
13. Memories (1995)
The three chapters of Memories form one cohesive notion: the future and space are terrifying, and we should probably avoid both. Magnetic Rose gets much of the attention for Memories, a superbly animated haunted spaceship chiller, but Stink Bomb and Cannon Fodder have their merits as well.
The former has a strange, almost funny look at bioweapons innovation, and the latter imagines our cities as perpetual war machines. If the ghosts up above don't get you, our need for bigger and bigger cannons will.
12. Pokémon 3 The Movie (2000)
There have been nearly two dozen animated Pokémon movies since the first in 1999. Most require some knowledge of the Pokémon games or anime series to fully understand. Pokémon 3: The Movie eschews this barrier to entry by delving headfirst into the mythical side of the franchise, involving alternate places of reality, dimension-altering monsters, and the legendary Entei.
When Professor Spencer Hale disappears while investigating the elusive Unown, his daughter, Molly, deciphers a code to summon them. She uses their powers to fulfill her deepest desires, with predictably troubling consequences, and Ash, Pikachu, and the usual gaggle of regulars get stuck in the middle of it.
11. The Tale of the Princess Kaguya (2013)
Working in animation since 1961, Isao Takahata has an extensive filmography full of highlights. Yet, it's this late-career fairytale made with Studio Ghibli that gets him on our list. Using beautiful watercolor paintings, Iasao retells The Tale of Bamboo Cutter, a tenth-century Japanese story about a magical young girl from the moon who's raised by a bamboo cutter and his wife.
The art style gives everything a relaxed sense of wonder, like hearing it from a beloved grandparent, all kept swaying by Ghibli regular Joe Hisaishi's score. Despite some length, it always feels disappointing when the credits roll and you've to return to the real world.
10. Akira (1988)
Starting with an obvious one, Katsuhiro Otomo's futuristic cyberpunk science fiction movie is a standard-bearer for the marriage of technique and storytelling. In a dystopian 2019, biker gangs rule the streets of Neo-Tokyo. During one clash, Tetsuo Shida rides straight into an esper that gives him strange powers.
What happens next is best left for you to witness for yourself, but it's dazzling if more than a little disturbing. The flow is exhilarating, and the technological landscape is recreated in striking detail such that you'll be rewatching just to visit.
9. Angel's Egg (1985)
A decade prior to Ghost in the Shell, Mamoru Oshii wrote and directed this piece of gothic dystopian surrealism. Largely a tone piece, it follows a young woman who cares for an oversized egg in a derelict building in a rundown city under military lockdown.
Moving from street to street, she avoids roving biomechanical forces, and increasingly dreamlike sequences provide a loose recollection of what has led up to now. Strange, mesmerizing, and worth your time if you've never explored Mamoru's other work.
8. Paprika (2006)
Director Satoshi Kon's last feature film before his passing is a powerhouse in psychological storytelling that uses animation to capture people's innermost thoughts. Experimental devices designed for therapy through a person's dreams become a gateway for people to invade each other's psyches, completely shattering what it means for anything to be "real".
A very literal parade of reality-questioning concepts; every time you think you've got it all figured out, another set piece blossoms forth and changes everything. Sitting in the middle is the titular alter-ego of Doctor Atsuko Chiba, one of the creators of said dream exploration tech. But who's who? Well, that's for you to decide.
7. The Castle of Cagliostro (1979)
Chances are you don't need anyone to espouse the virtues of director Hayao Miyazaki. However, his first directorial outing in 1979, The Castle of Cagliostro, is an under-appreciated gem. Based on Lupin the Third, an ongoing Japanese franchise about a career thief of the same name, it follows Lupin and his partner Daisuke Jigen, who try to rob Cagliostro but wind up pivoting to stop a politically motivated sham marriage.
Energetic from the opening chase, Hayao's signature sense of motion is immediately evident, as is his penchant for alluring characters. Slapstick comedy, romance, and even some coercive stealth are involved, making it a romp that's relatively distinct within Miyazaki's oeuvre.
6. The End of Evangelion (1997)
We have Neon Genesis Evangelion as one of the best TV series of all time, and as we pointed out there, explaining the narrative elements of Hideaki Anno's mind-bending mecha show is a tall order. The gist is that after a major global event leaves us with a stream of interstellar invaders, humans rely on giant robot suits called Eva to protect us.
When the initial ending proved divisive, Hideaki decided to redo it in feature-length form with more nuance. No longer bound by the structure and scope of episodic television, Evangelion becomes yet more pathological and inscrutable. Being up-to-date beforehand is advised, so give our Evangelion order guide a read before sticking it on.
5. 5 Centimeters Per Second (2007)
Makoto Shinkai has rightfully become well-known thanks to the critical and commercial success of the aforementioned Your Name, but 5 Centimeters Per Second has topped his best-performing movie on this list. Broken into three parts, each about a particularly important relationship or memorable period for the main character, Takaki Tono, we're given a portrait of Tono's growth from childhood to adulthood.
The segments vary in backdrop and dramatic thrust; Makoto's multi-faceted animation and brilliant colors are employed in different ways for each. They're held together by loneliness, unrequited love, and the invisible ways we grow and stay the same. Stirringly humanist. For more from Makoto, check out our Suzume review to hear all about his new movie.
4. Little Prince and the Eight-Headed Dragon (1963)
Something classic now – a standard-setting production that featured several pioneers and inspired a few more. Drawing from ancient Japanese myth, the young deity Susanoo cannot handle the death of his mother, and sets off to find heaven and get her back, rabbit companion Akahana by his side. Landing in another province, Susanoo vows to help a family being terrorized by a multi-headed serpent.
Roundly shaped talking animals and odd-colored plants surround Susanoo and his people, whose broad movements give the aesthetic an enchanting pop-up book feel. Recurring Pokémon animator Yoichi Katabe and regular Lupin the Third filmmaker Yasuo Otsuka got key credits, and Isao Takahata served as animation director.
Genndy Tartakovsky, creator of Samurai Jack, and Tomm Moore, director of Song of the Sea and Wolfwalkers, both name-dropped it as an influence. Limited releases thus far have made it frustratingly hard to find, but this is history that warrants the effort.
3. Belladonna of Sadness (1973)
Sometimes, 'cult classic' means a movie took a while to find its audience. Other times, it's because the thing was so hard to come across; doing so made you a member of a pretty exclusive club. Before a 4K restoration in 2016, the latter was true for this erotic, psychedelic horror anime.
In France during the Middle Ages, Jeanne started practicing witchcraft after neighboring villagers sexually assaulted her and nearly murdered her husband. She has fever dreams and encounters the Devil, all depicted in stylized images that are moved across the screen with music and dialogue. Slightly impenetrable, director and co-writer Eiichi Yamamoto's experimental, arthouse approach yields something incredibly singular.
2. Ghost in the Shell (1995)
The seminal '90s anime feature. In 2029, technological upgrades and augmentations on the human body have become common, and the internet can be accessed through special headsets that provide neural links. Much of the police force has been mechanized, and Major Motoko Kusanagi, a cyborg cybercrime investigator, is on the tail of a mysterious hacker called The Puppet Master.
Adrift in loneliness, director Mamoru Oshii captures a future where tech does little to fix our systemic issues, merely creating new avenues for us to feel isolated. Stunningly detailed, body horror captures the way our body as we know it is a facade, something to tinker with as we see fit.
1. Spirited Away (2001)
Just like Citizen Kane on our best movies list, this is a very typical answer, but in our defense, Spirited Away is a masterpiece. Director Hayao Miyazaki's eighth feature-length production is gorgeous, delightful, sometimes terrifying, a little distressing, and spiritually nourishing.
Young Chihiro and her parents are moving across Japan, and she's not too keen on it. During a pitstop, they explore an old theme park, which becomes a bathhouse for spirits that trap the parents. Alone and afraid, Chihiro is assisted by some kind-hearted inhabitants and works to free her parents, untangling some personal grudges while she's at it.
Never more beguiling in his world-building or amiable in his characterization, Miyazaki sculpts a realm beyond our own that feels as warm as it is unfamiliar. We may not have mystical beings watching over us like Chihiro, but this is a worthy substitute.
If you love anime, then you're in the right place. We've ranked our favorite One Piece characters, One-Punch Man characters, and Naruto's Akatsuki members, and the best shounen anime of all time.
Still want more? Well, you should check out our guides on watching Dragon Ball in order, One Piece in order, the Dragon Ball Super season 2 release date, the One-Punch Man season 3 release date, and Demon Slayer season 4. Not only that, we have a list of all the new anime out this month as well.