Michael B Jordan is a dude of many talents. He's a proven leading man in action movies, hefty drama movies and, of course, gave great movie villain charisma as Erik Killmonger in the MCU movie Black Panther. Having made two of the best sports movies of recent years in Creed and its solid sequel, he's now adding the role of director to his sizeable wall of fame with Creed 3.
He's stepping into big shoes in the process, replacing Ryan Coogler – director of the previous two outings in this spin-off series from the Rocky movies. Those are some intimidating footsteps to follow, but Jordan has the confidence to do it.
And he has done so in potent fashion with a film that feels as packed with emotional intensity as it does with crunching jabs to the nose.
The new movie finds Adonis Creed (Jordan) as he hangs up his gloves in the wake of a title fight with old rival "Pretty" Ricky Conlan (Tony Bellew). He's focused full-time on training up new champion Felix Chavez (Jose Benavidez), while being a husband to wife Bianca (Tessa Thompson) and a father to their daughter Amara (Mila Davis-Kent).
The arrival of his childhood friend Damian (Jonathan Majors) after a lengthy prison term shakes his hard-won comfort, especially when Damian makes it clear he has aspirations in the ring.
The trappings of Creed 3 are classic sports movie fare, and Jordan isn't afraid to let his story follow a fairly standard arc. However, what Jordan brings – with the help of a script by Keenan Coogler and Zach Baylin – is a sensitivity and an acknowledgement of emotional complexity.
It's a story about the often transient nature of male friendship, which relishes the inherent parallels between performative masculine bravado and the desire to punch people very hard in front of an audience.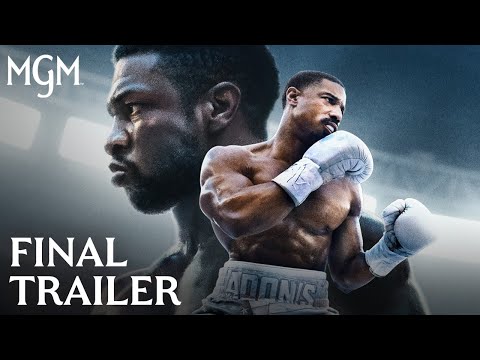 It's a cliché to say that Adonis and Damian are two sides of the same coin, but that sums up their divergent paths perfectly. Adonis has been shaped into a sensitive and warm person by his life, while Damian's time in prison – forced to watch his buddy's success in the ring – has left him angry, aggressive and with nothing to lose.
Damian is potentially a bit of an obvious and generic role for an actor, but Majors is one of Hollywood's most thoughtful rising stars and finds the nuance beneath the hulking physicality of Damian. There's a palpable sense of danger to Majors' considered and captivating work, which goes way beyond the template of what it means to be a Rocky villain.
Often, all it takes is to wave a different flag. But for Adonis and Damian, every punch is personal and every drop of blood is rich with resentment, guilt and a sheer refusal to address the unspoken trauma standing between them. But this is ultimately still a Rocky movie and Jordan delivers the boxing movie thrills as well as the emotional depth.
A well-curated soundtrack of excellent hip-hop tunes assists the propulsive score by Joseph Shirley – and yes, there's a training montage – so, by the time the final confrontation comes around, there's a big fight feel in the cinema as well as the arena.
It's in this final war that Jordan wears his nerd influences on his sleeve with nods to some of the best anime series and best anime movies with which he is publicly obsessed. The single combat element of boxing has long made it the most inherently cinematic of sports, but Jordan isn't content to rest on the laurels of tried-and-tested fight choreography.
His third act finds unusual and intriguing ways to imbue the energy of anime into 12 rounds of fisticuffs. Much like in a boxing match itself, not every big swing lands, but it's impressive to be in the company of a director willing to keep trying for the knockout blow.
Creed 3 is a hell of a calling card for its director, who flexes every muscle as both actor and filmmaker to construct a movie that, by excluding the Stallone-shaped elephant in the room, sees Creed break out on its own.
While Stallone might have been the megawatt star Rocky needed in the '70s, Jordan is every inch the glittering sensation of the 2020s. With him at the helm for more Michael B Jordan movies, this franchise could continue to punch well above its weight.
The Creed 3 release date in cinemas is March 3, 2023. For more of the best 2023 movies heading your way, check out our guides to the Scream 6 release date, Barbie movie release date, and the Fast and Furious 10 release date.
Creed 3 review
No Rocky, no problem. Michael B. Jordan steps into the spotlight with a movie that packs as much of an emotional punch as a physical one.