Here's how to watch the Rocky movies in order, right through to the Creed movies. Ever since Sylvester Stallone first stepped into the boxing ring more than 45 years ago, we have been obsessed with the underdog story of the Italian Stallion.
Stallone wrote and starred in the first movie in the Rocky series way back in 1976, and the sports movie franchise has gone from strength to strength since. Now, the torch has been passed to Michael B Jordan with the Creed storyline, and the imminent Creed 3 release date will bring the franchise to nine instalments.
The beauty of all these films is in their simplicity: it's just a lot of fun to watch a down-and-out fighter battle his way to the top against the odds. But, the franchise also has a lot of heart and emotion, and that's why we love it so much. Whether you're jumping in for the first time or rewatching ahead of the new movie, here's the best way to watch the Rocky movies in order.
The Rocky movies in order:
Rocky
Rocky 2
Rocky 3
Rocky 4
Rocky 5
Rocky Balboa
Creed
Creed 2
Creed 3
Rocky (1976)
The great thing about the Rocky franchise is that all the movies run in release order, so you should start with the very first film and go from there.
The first Rocky movie was a whirlwind success and earned ten Oscar nominations, winning three Academy Awards including Best Picture. Stallone's script sees Rocky Balboa, a small-time boxer, get the chance of a lifetime after being invited to fight the heavyweight champion of the world, Apollo Creed (Carl Weathers).
Rocky 2 (1979)
Ding Ding! What's better than seeing Rocky Balboa fight Apollo Creed? How about a rematch? That's exactly what Rocky 2 gave us, as the enemies become friends and go toe-to-toe once more in the ring.
At the same time, Balboa has to deal with his personal life as he battles with the newfound fame he has achieved and balancing that alongside his family with Adrian.
Rocky 3 (1982)
The friendship between Rocky and Apollo really blossoms here as a new contender enters the fray in the form of Clubber Lang (Mr T). The series takes its first real turn into the drama movie realm as we see Rocky come to terms with losing not only his title, but also his beloved trainer Mickey (Burgess Meredith).
Rocky 3 isn't quite as strong as the first two instalments in the franchise, but this '80s movie is still entertaining enough and is hugely important to developing the character and his journey.
Rocky 4 (1985)
Personally, I think Rocky 4 is the best movie in this list. It may not be quite as nuanced as the first, but seeing a robotic Russian beast kill off Apollo Creed and then try to add Rocky to his kill count makes for one hell of an entertaining time.
It's pretty much as close as you can get to an all-out action movie in a boxing ring, as Ivan Drago (Dolph Lundgren) embodies the ultimate movie villain. He genuinely feels unbeatable, but that makes it even more satisfying to watch Balboa try.
Rocky 5 (1990)
From the best in the franchise, to the very worst movie of them all. Rocky now tries to take someone under his wing, in the same way the likes of Mickey and Apollo did to him. Sadly, Tommy Gunn is just a very unlikeable character and the film suffers for it.
Rocky 5 sees a retired Rocky take on Mickey's gym and train his young protégée, but the '90s movie struggles to capture the heart and excitement of previous instalments.
Rocky Balboa (2006)
A pretty huge time jump takes us from the '90s right through to 2006, and an aged Balboa decides to come out of retirement 30 years after his first fight to go at it again. You might be thinking he's too old for this now, and you'd be right.
Nevertheless, there's enough great story outside of the ring in this 2000s movie, as Balboa connects with his adult son (Milo Ventimiglia) and essentially comes to terms with the fact that he just ain't the fighter he used to be.
Creed (2015)
Nine years later, the youth and energy of Michael B Jordan becomes the front of the franchise and the result is electric. Stallone is still there, and this time his work as a trainer is poignant and powerful, and most importantly, meaningful.
Jordan plays Adonis Creed, the son of Apollo and a young man who resents the way his father was allowed to die in the ring all those years ago. He channels that to become one hell of a boxer himself, and the movie is a roaring success as all the thematic and technical elements combine perfectly with Ryan Coogler's direction.
Creed 2 (2018)
The follow-up to this new era of the franchise sees Adonis really step up and deal with the legacy of his family name as he enjoys life as the heavyweight champion of the world. What better way to do this, than to fight the son of the man who killed your father?
That's right, Adonis takes on Viktor Drago, who is obviously trained by his father Ivan. It makes for an incredibly tense battle in the ring, while outside the ring there's a really fascinating look at masculinity and pride that just shows how deep this saga can actually dig on a thematic level.
Creed 3 (2023)
Michael B Jordan will not only star in Creed 3, but will also make his directorial debut with the 2023 movie, and we cannot wait to see how it all unfolds.
This time, Adonis will have to take on a formidable face from the past as his old friend Damien turns up after years in prison, and let's just say he has a score to settle. Damien is played by Jonathan Majors, who you'll probably recognise as the Marvel villain Kang the Conqueror, and he looks absolutely terrifying in the trailer for Creed 3. Adonis is going to have to be on top form to come out of this one alive!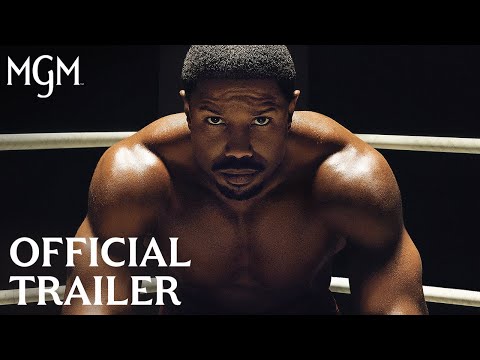 That's all on the Rocky movies for now, but hopefully there will be plenty more to add to this list for years to come! In the meantime, check out our feature on how Sylvester Stallone was in softcore porn before he was famous, or look ahead to his future work with our guide to the Expendables 4 release date.