What did we learn from the Loki season 2 trailer? We're a few months away from the latest Marvel series on Disney Plus and now we have a closer look at what Loki and Mobius are up to next.
The MCU has been a bit of a mixed bag recently, but we all remember that Loki was right up there with the best Marvel series on Disney Plus. If you want to keep up with the events of the Marvel movies in order, you'll have to tune in for the latest adventures of Loki (Tom Hiddleston), TVA agent Mobius (Owen Wilson), and unpredictable Loki variant Sylvie (Sophia Di Martino).
Ahead of the Loki season 2 release date, we've been through the new Loki season 2 trailer with a fine-tooth comb and picked up on all of the Loki season 2 trailer Easter eggs you might have missed. Take a look at the trailer first and then keep reading for everything we've worked out about Marvel's best TV series from the teaser.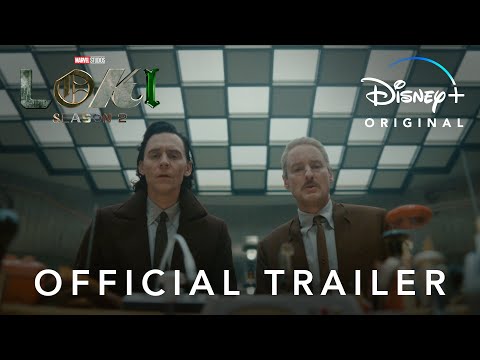 Ke Huy Quan is OB
The first scene of the new Loki trailer introduces us to the new (and already very funny) character played by Ke Huy Quan, who seems to be a TVA tech supremo. He's referred to as OB and works at the "repairs & advancements" desk.
There has been a lot of speculation that the character's full name is Ouroboros, which refers to the mythological image of a snake eating its own tail in an eternal cycle. It exists in several mythologies, including Norse in which it's formed by the serpent Jörmungandr – a child of Loki. How very interesting.
Timeslipping
Loki and Sylvie drove the multiverse into chaos by killing Kang variant He Who Remains at the end of the first season. It's no surprise that this anarchy has affected Loki, who is experiencing the painful-looking phenomenon of "timeslipping".
This seems to be the central problem faced by the characters in the new season, as Loki is blasted from timeline to timeline against his will. Can OB help?
A jet ski, dare we hope?
One of the consequences of Loki's timeslipping is that he ends up outside of a store called Piranha Powersports. That place sells jet skis, which is a sly reference to the fact that Mobius is absolutely fascinated with jet skis and the freedom they represent.
Or maybe there's more to it and our guy will finally get the joyous experience of marine sports that he has always wanted. We can only dream.
Our favorite TVA staff return
This trailer gives us glimpses of all of the most important TVA folk from the first season, including Hunter B-15 (Wunmi Mosaku), Ravonna Renslayer (Gugu Mbatha-Raw), and Casey (Eugene Cordero), as well as Mobius.
Significantly, the timeline chaos of the Loki season one ending meant that these people had their memories wiped, so Loki might have to do some convincing to get them on side. It looks like they're all hopping between timelines, whether they want to or not.
Zaniac… is that John Krasinski?
Unfortunately for fans of that baffling Illuminati segment of Doctor Strange 2, that isn't John Krasinski getting out of a car in the Loki season 2 trailer. It's actually Rafael Casal, who's playing Brad Wolfe.
In the Marvel Comics, Wolfe is an actor who plays the serial killer Zaniac. Given the glimpse we get of the cinema marquee, this will be his Loki role too. On the page, he became possessed by the Zaniac parasites – which are connected to Doctor Strange baddie Dormammu and the Dark Dimension – and turned into the killer himself.
Is Sylvie friend or foe?
The tense and often fractious relationship between Loki and variant Sylvie was one of the things that made the first season so special. In the end, she decided to kill He Who Remains and trigger the timeline anarchy that's at play.
The complex dynamic between the Lokis looks set to continue this time around. "Whatever we do, we're playing God," says Sylvie in the trailer, to which Loki replies: "We are gods". Well, he's not wrong.
Sticky tape in space
Mobius might not be the "man of action" he describes Loki as, but one scene of the trailer shows him donning a suit to go on some sort of space-walk. OB uses some duct tape to patch up a crack in his helmet.
It's played for a gag here, but this is a nice nod to the fact real astronauts often use duct tape for repairs, as simple as it seems. We saw this play out in The Martian, with Matt Damon temporarily sealing his helmet using tape during one of the best science fiction movies of recent years.
Miss Minutes goes Kaiju
During one of the sequences of the trailer set in the past, we see TVA mascot Miss Minutes grow to gargantuan size and terrorize the people like a temporal Godzilla. It's safe to say the TVA has a problem, what with all of this timeslipping going on.
Victor Timely
We knew that at least some of the variants of Kang (Jonathan Majors) would play a role in this season, as he's set to be one of the best Marvel villains as Marvel's Phase 5 continues. It's the Victor Timely incarnation of the baddie who makes a brief appearance this time around, as teased in the Ant-Man 3 post-credit scene. "Make the hard choice," he intones, as Loki reacts with horror to the bad guy's appearance in the past.
Loki and Mobius can be seen entering the Midway Plaisance in Victorian garb – this is clearly the Chicago World's Fair of 1893. Nikola Tesla performed his 'City of Light' electricity demonstration at the fair, and Victor Timely's act (probably a magic act) involves electricity. Tesla was famously played by David Bowie in The Prestige, and he does have a history in the Marvel comics, sometimes going by Night Machine.
While we wait for Kang's plan to unfold, Guardians of the Galaxy Vol 3 is on Disney Plus this week. So there has never been a better time to sign up for one of the best streaming services.
We've got everything you need to know about the upcoming Marvel movies on the way soon, including detailed guides to new movies like The Marvels release date, the Captain America 4 release date, and the Deadpool 3 release date.
And for more on the best movies in the series so far, check out our Guardians of the Galaxy Vol 3 review. We've also explained why Captain America's most twisted story is too dark for the MCU and penned an open letter to Kevin Feige.