What is the Wednesday season 2 release date? The new ooky, kooky, and spooky Netflix show brought The Addams Family back to live-action in spectacular fashion, as spearheaded by Tim Burton, making it a dream crossover for many.
Now that the first season of the Netflix series has solved the Nevermore Academy monster, a mystery that truly made Wednesday worth watching, we're already eager for more from the young Addams and her newfound friends. What kind of creatures and mysteries could emerge from the school's crypt? Could Enid Sinclair finally convince Wednesday to wear more than black and white? Don't bet on that last one, but more strange happenings? Count on it.
That all said, what is the Wednesday season 2 release date? We've looked into if a second season of the horror series is prophesised, or if we're all just waiting to see what the spirits say. Either way, strap in, because you never know where Uncle Fester is lurking.
Wednesday season 2 release date speculation
We don't know the Wednesday season 2 release date but it has been confirmed by Netflix. The announcement was made on Twitter in January 2023.
Co-creators Tim Burton, Alfred Gough, and Miles Millar had mentioned ideas for ways to progress the story further. "Miles and I are talking among ourselves about it," Gough told Empire magazine. "There's definitely more that you can explore in the world of the Addamses."
The first season of the fantasy series covered the stand-alone mystery of the Nevermore Academy monster. Within that, we get hints at Addams Family lore and other avenues that could easily flesh out further episodes. We'll keep you informed!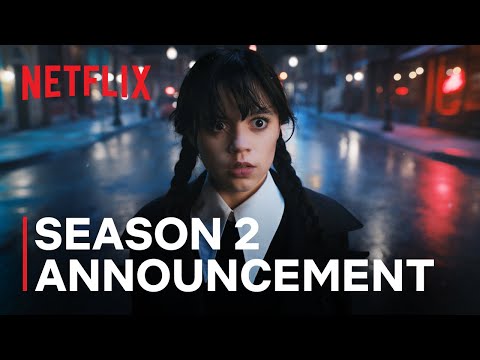 Wednesday season 2 cast speculation
We can expect Jenna Ortega to return for Wednesday season 2, since she's the star of the show. Emma Myers as her roommate Enid Sinclair, Joy Sunday as Nevermore's most popular student Bianca Barclay, Percy Hynes White as Xavier Thorpe, and Moosa Mostafa as bee-lover Eugene are likely too.
Catherine Zeta-Jones and Luis Guzman should return as Morticia and Gomez, Wednesday's eternally loving parents. Fred Armisen as Uncle Fester is possible too, and maybe more young Morticia if there'll be flashbacks.
The expected Wednesday season 2 cast:
Jenna Ortega as Wednesday Addams
Emma Myers as Enid Sinclair
Hunter Doohan as Tyler Galpin
Percy Hynes White as Xavier Thorpe
Joy Sunday as Bianca Barclay
Georgie Farmer as Ajax Petropolus
Moosa Mostafa as Eugene Otinger
Victor Dorobantu as Thing
Catherine Zeta-Jones as Morticia Addams
Luis Guzmán as Gomez Addams
Isaac Ordonez as Pugsley Addams
Gwen Jones as young Morticia Addams
Lucius Hoyos as young Gomez Addams
George Burcea as Lurch
Fred Armisen as Uncle Fester
Besides those, we can't be sure. Stay tuned!
Wednesday season 2 plot speculation
Wednesday season 2 is expected to return to Nevermore Academy. As much is hinted in the Wednesday ending, where the students break for a brief holiday home before returning to classes later.
Wednesday has more mysteries to solve, like finding out who her stalker is, and more to learn about the Addams Family. What more can possibly uncover?
Perhaps we'll get another cello song from Wednesday too. Alas, it's all speculation for now – we'll keep you posted. If you're looking for more great TV series check out our guides to The Sandman season 2 and House of the Dragon season 2.