At the height of the action in Strays, dozens of dogs are mobilized by Reggie (a mutt voiced by Will Ferrell) to defecate in unison to the rousing beat of Miley Cyrus' 2013 hit 'Wrecking Ball.'
Truth be told, it's difficult to put the R-rated comedy movie, which was produced by Across the Spider-Verse's Lord and Miller, into words. But in describing this climatic shitting sequence, which is Strays' equivalent to a final face-off with a Marvel villain, you can at least get an idea of what you're in for with this chaotic adventure movie.
In an interview with The Digital Fix, Josh Greenbaum breaks down how this Jamie Foxx and Will Ferrell flick pushes the envelope, along with some of the new movie's more surprising sources of inspiration. (Editor's note: directors are not participating in the 2023 Writers Strike and Actors Strike because the Directors Guild of America has already struck a separate deal with the Alliance of Motion Picture and Television Producers).
The Digital Fix: First of all, how did the Dennis Quaid cameo come about? What made you want to subvert the likes of A Dog's Purpose?
Josh Greenbaum: Dan (Perrault, writer/producer) and I had created a new sequence with the eagle in the middle of the film. And I think we thought, 'Oh, it'd be fun to pop out and see a birdwatcher all of a sudden, notice that there is an eagle carrying two dogs.' We thought that would be a funny reaction to sort of break out of the action sequence.
And when it came around to casting, the idea of Dennis Quaid popped into mine and the producers' minds, and we said, 'That'd be really funny,' because obviously, you know, he's in these movies — A Dog's Purpose, A Dog's Journey, and A Dog's Way Home, which are also made by Universal.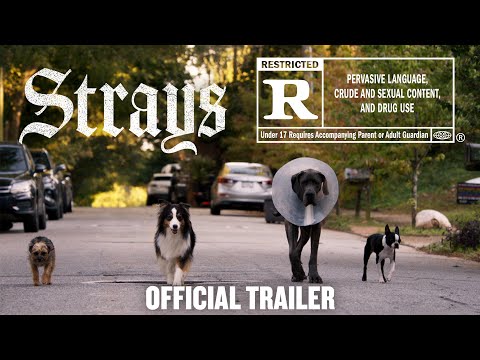 So, we reached out. I've been a fan of his forever, and he was into it! He also, by total luck, ended up being in Atlanta, where we were filming at the time. And so, he showed up and was totally game. And I remember sitting up on this cliff and showing him the notebook. I had some different joke pitches for what should be in his little bird book, and I thought maybe it just says 'bird, bird, bird, bird,' and he just checks off random birds. He laughed and liked that, and we just went from there.
But yeah, we just felt so lucky to have him. And obviously, we have a couple of those moments where we're subverting the dog genre, the dog movie genre, and we have another fun cameo from Josh Gad, who is one of Dennis Quaid co-stars, who plays a narrating dog at one moment. So wherever we could, we try to kind of wink and nod and sort of gently poke fun at that genre, which I am a big fan of as well.
TDF: Speaking of, did you ever think of Strays as Homeward Bound 3 for people who were kids when that film came out?
JG: Absolutely. Dan and I are around the same age: the age where that kind of movie is exactly what we grew up on. And I guess when you think about it, you ask yourself, 'What would the adult version of that movie be?' And I think, in many ways, it is Strays. So we certainly looked at Homeward Bound, along with The Adventures of Milo and Otis, and a few other wonderful films from when we were young.

TDF: What other films served as an inspiration?
JG: One that jumped to mind when I first read the script, weirdly, was 40 Year Old Virgin. The reason being that '40 Year Old Virgin,' when I first heard the title, I kind of had the general idea of what the film might be. I thought it would just be this sort of loud, silly sex comedy with a lot of sex jokes, and not really treated honestly, like 'Ha, a guy who somehow has never had sex, and is 40 years old.'
And I remember being so taken aback by how emotionally honest it was. And it was it was quite moving. And I was emotionally invested in the story and the performances are grounded, even though it had these kind of outrageous jokes in the middle of it. So immediately, that's what sparked me to this as well, because it does have these very funny loud jokes and scenes.
And we do subvert the dog movie genre, but it is not a spoof. It really functions on its own. It has a lot more heart and a very sweet emotional centre. That really attracted me to it, but other films popped into my mind like Stand By Me. There's also a film I love called Breaking Away, which, ironically, was one of Dennis Quaid's first roles!
So, I thought of a lot of movies are about friendship, and how your friends kind of you go on a journey and you all grow together. And so there are all sorts of references.
TDF: What do you think of recent discourse about talking dog/animated movies just being for kids?
JG: I would just say, Why? Why is one genre relegated to one audience? It's a form of how we can tell stories. AI think animation has finally has broken that mould a little bit from the sort of loud, outrageous movies like Sausage Party. Look at the beautiful, artistic Spider-Verse movies that Phil Lord and Chris Miller — who produced Strays also — produced. I don't think any one genre has to be limited to any one audience. It's just whatever format works.
I was very excited by the idea of making a film with dogs that is for adults. It felt fresh and unique and interesting. And as an artist, I think that's all you want is that you want to feel like you're doing something new. And that was certainly a huge part of the appeal for this project for me.
If you're wondering how to watch Strays, don't chase your own tail — the 2023 movie is in cinemas now. But before you and the pack get tickets, check out our Strays review.
As a member of the Barbie cast, you should also check out our Barbie review as well as our guide on how to watch Barbie if you want to see more of Will Ferrell. Or, stay at home instead and make the most of your streaming services with our guides to everything new on Netflix, new on Disney Plus, new on Paramount Plus, new on Apple TV Plus, and new on Amazon Prime.