Who is in the Barbie cast? Come on, Barbies, let's go party! We say Barbies, plural, because there's approximately five hundred of them in this cast, and a whole lot of Kens, too. Luckily for us, this cast's differing levels of Kennergy are going to keep things interesting.
Of all the films coming out in the summer of 2023, we have to admit Barbie has us in its well-manicured grasp more than any other new movies do. It has a huge cast chock-full of actors we love (so many that you'll find an extensive list following the main cast's profiles below), Greta Gerwig at the wheel, and Margot Robbie in the role she was born for.
More than that, Gerwig's take on the iconic Mattel toy subverts expectations while maintaining the chic, fun, and bombastic qualities we associate with life in plastic. Here's to the cast of Barbie 2023!
The Barbie movie cast and character list:
Margot Robbie as Barbie
Ryan Gosling as Ken
America Ferrera as Gloria
Kate McKinnon as Weird Barbie
Issa Rae as President Barbie
Will Ferrell as the CEO of Mattel
Emma Mackey as Physicist Barbie
Kingsley Ben-Adir as Ken
Simu Liu as Ken
Ariana Greenblatt as Sasha
Michael Cera as Allan
Margot Robbie as Barbie
We're starting with the main Barbie because the 2023 movie finds this doll struggling with the plastic sheen of Dreamland. When she's offered a chance to branch out and discover the meaning of life, she sets off for the real world.
This existential blonde is played by Margot Robbie, who would be a bonafide movie star if they were still being successfully concocted. Starting out in Australian soap Neighbors, her breakout role was in Martin Scorsese's The Wolf of Wall Street, but the real fame came from the DCU's Suicide Squad, unfortunately.
You'll find the best Margot Robbie movies in her Oscar-nominated role in I, Tonya, Bombshell (her first collaboration with Barbie co-star Kate McKinnon), and a much better DC movie, Birds of Prey. She's reportedly in the running for the MCU's Sue Storm, but we think Vanessa Kirby will nab it.
Ryan Gosling as Ken
Ryan Gosling's Kennergy is off the charts, and he's the movie's primary Ken, or Ken #1? Whatever… from the scene in the trailer where his bleach-soaked brain struggles with the concept of a female doctor, we can see he's a bit of a bumbling idiot, but maybe by the end, he'll be our bumbling idiot. He's a broski, and he won't go away, so we're choosing to love him.
Gosling led one of the best thriller movies, Drive, so that's our first recommendation in his back catalog, but Gosling has been working for decades. If you're not a thriller person, why not check out Crazy, Stupid, Love, where he plays a suave wingman who would probably despise Ken? Otherwise, see our list of the best Ryan Gosling movies.
America Ferrera as Gloria
America Ferrera stars as one of the film's human characters. She works at Mattel, and has a young moody daughter who gets roped into helping Barbie navigate the real world. Gloria actually has a deep-rooted emotional connection to our pink-adorned bestie, and ends up having a large part to play in Barbie's character development.
Ferrera starred in the smash hit comedy series Ugly Betty, which felt like an era unto itself. She was also in The Sisterhood of the Travelling Pants (most people wouldn't mention this, but we want to bring back camp 2000s movies). Ferrera has also lent her voice to How to Train Your Dragon as Astrid and was in the main cast of the workplace-comedy Superstore.
Kate McKinnon as Weird Barbie
She needs no introduction, but we'll do it anyway. Kate McKinnon is Weird Barbie — the one alt kids vandalized with a pair of scissors and permanent markers. Weird Barbie pushes Barbie to expand her pre-determined horizons and see the "truth" about the universe through a choice between a Birkenstock sandal and a high heel, similar to The Matrix's 'red pill or blue pill' moment… Subtext? Who said that?!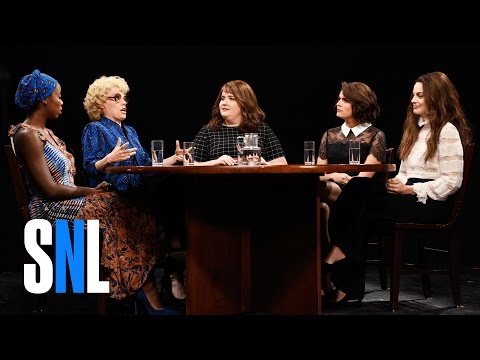 McKinnon and Robbie were in Bombshell together but they've also worked together on Saturday Night Live when Robbie hosted, which yielded some great moments. McKinnon has been nominated for Emmys a gazillion times and was one of the best things about Paul Feig's Ghostbusters, enough said.
Issa Rae as President Barbie
Issa Rae is President Barbie. We'd vote for her. President Barbie is the Commander in Chief of Barbieland. She always manages to unite her Barbies, and does it all with a big smile on her face — cult leader or the Barbie chosen to unite them under one banner? You decide!
Rae is multi-talented and has earned praise for her writing and producing as well as her acting credits. Her star rose in the TV series Insecure, but she's worked on many series that celebrate Black women and girls such as The Hair Tales, Black Girls Rock! and Hair Love. Most recently, she played a Jessica Drew variant in Spider-Man: Across the Spider-Verse.
Will Ferrell as the CEO of Mattel
Will Ferrell steps in as one of Barbie's more meta chess pieces, the CEO of toy company Mattel — the real-life manufacturer of the prolific dolls. Honestly, he's something of a weirdo. But if you're wondering if he's based on the real CEO of Mattel, then you can find out as much with our answer to the question: Is Will Ferrell's character based on a real person?
Ferrell is best known for using his comedy chops across mediums, with his roles in Step Brothers, Anchorman, and Elf taking him to another level. His unique personal brand of comedy makes him a genre unto himself.
Emma Mackey as Physicist Barbie
Emma Mackey is Physicist Barbie! Who is, based on our own scientific research, a Barbie who is a Physicist. A lot of the Barbies in the film seem to have names that showcase the wide variety of Barbie dolls and the different career paths they may inspire young girls to approach, and this Barbie is no different.
We could talk about how Mackey is the Lois Lane who almost was… but let's talk about her numerous successes instead. Mackey, who many people think looks a bit like Robbie (she does), rose to prominence in Netflix's Sex Education. She has left the series in search of greener pastures, and between this and almost securing a major DCU role, things seem to be working out.
Kingsley Ben-Adir as Ken
Kingsley Ben-Adir is yet another Ken, and is a right-hand man for Gosling's version of the character, appearing next to him often. He also fights by his side at the Battle of the Kens, so you know that he's got Ken's back.
We're having to use a bit of cognitive dissonance with this casting, because it's hard to imagine Ben-Adir, who currently is the Skrull leader Gravik on the Marvel series Secret Invasion, in Barbie right now. The power of acting… speaking of, Ben-Adir's upcoming project is One Love, where he plays the iconic musician Bob Marley.
Simu Liu as Ken
Add another Ken to the tally. Simu Liu is something of an antagonist to Gosling's Ken, with the pair puffing chests. Liu's Ken can usually be found showing Gosling's Ken up and teasing him relentlessly. (Why? They're basically the same person…)
We imagine Liu's next big movie will come when the Shang-Chi 2 release date eventually arrives, but going backward, Liu made a name for himself in the comedy series Kim's Convenience before joining the Marvel Cinematic Universe as the Master of Martial Arts.
Ariana Greenblatt as Sasha
Ariana Greenblatt joins the cast as Sasha, Gloria's teenage daughter. If you ask us, she's our vehicle for screenwriters Gerwig and Noah Baumbach to explore the disconnect between girls today with the Barbie brand, particularly in how feminism has affected its image. Of course, she definitely has a lesson or two to learn from Barbie herself.
This is Greenblatt's biggest role so far, but she's been working as a child actress for some time, appearing in 65 with Adam Driver, Love and Monsters, and Netflix's 2021 sci-fi movie Awake.
Michael Cera as Allan
Before he became the iconic Allan – unique in Barbie Land for being a total outsider – Michael Cera starred as the innocent George Michael Bluth and proved his penchant for comedy. He's gone on to lead the Edgar Wright movie Scott Pilgrim vs the World, and has cemented himself as one of the funniest actors of his generation with the likes of Juno and Superbad. What a legend.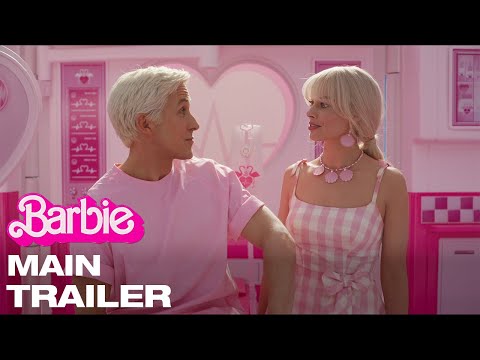 Everyone in the Barbie cast
Here's everyone in the Barbie cast, from each and every Barbie doll to all the Kens, and everyone in between:
Margot Robbie as Barbie
Ryan Gosling as Ken
America Ferrera as Gloria
Kate McKinnon as Weird Barbie
Issa Rae as President Barbie
Rhea Perlman as Ruth Handler, the inventor of Barbie
Will Ferrell as the CEO of Mattel
Hari Nef as Dr. Barbie
Alexandra Shipp as Writer Barbie
Emma Mackey as Physicist Barbie
Sharon Rooney as Lawyer Barbie
Dua Lipa as the Mermaid Barbies
Nicola Coughlan as Diplomat Barbie
Ana Cruz Kayne as Judge Barbie
Ritu Arya as Journalist Barbie
Kingsley Ben-Adir as Ken
Simu Liu as Ken
Scott Evans as Ken
Ncuti Gatwa as Ken
John Cena as Merman Ken
Helen Mirren as the narrator
Emerald Fennell as Midge
Michael Cera as Allan
Ariana Greenblatt as Sasha
Jamie Demetriou as a Mattel employee
Connor Swindells as Aaron Dinkins
Ann Roth as an old woman who meets Barbie
Marisa Abela in an undisclosed role
That's the Barbie cast. You can read our thoughts on the movie with our Barbie review, get a full breakdown of 20 things you didn't know about Barbie, our Barbie ending explained, and find out why we think the Barbie movie's body positivity came at the right time.
Or, check out where you can see Liu next with Marvel's Phase 5 explained, stay up to date with Kingsley-Adir with how to watch Secret Invasion, or get clued up on the Robbie Sue Storm casting rumors with the Fantastic Four MCU release date. We also have a guide on the best DC characters, which includes Harley Quinn. Don't miss our list of the best movies of all time, either!