Is The Pope's Exorcist streaming? The prospect of Russell Crowe in a horror movie is an interesting one. The Oscar-winning star has done just about every kind of movie over the years, but he has steadfastly avoided the spooky side of cinema. Until now.
In his new movie The Pope's Exorcist, Crowe plays the real-life priest Father Gabriele Amorth. The real Amorth claimed to have performed tens of thousands of exorcisms during his life, and this horror movie tells the story of one of the most disturbing. As with many scary movies based on a true story, it takes some liberties with the truth. After all, we want that terrifying spectacle.
And if you're indeed on the search for that demonic spectacle, we've got you covered on how to watch The Pope's Exorcist. So without further ado, let's dive into the shadows with one of the best actors of all time in what might be his darkest movie yet.
How to watch The Pope's Exorcist
The Pope's Exorcist is in US cinemas from April 14, 2023, and UK cinemas from April 7, 2023.
It's good news for British audiences, as they can catch Russell Crowe's descent into demonic darkness a week before audiences in the USA. The movie is exclusive to multiplexes for now, and is being released by Sony Pictures.
So if you want to see Crowe face off against malevolent forces from the depths of hell, you'll need to hop on the bus and book yourself a cinema ticket. At least you won't have to take on any demons on the way. Probably. We don't know what your bus route is like.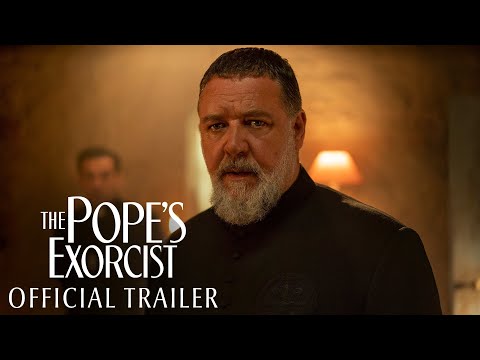 Can I stream The Pope's Exorcist?
No, The Pope's Exorcist is not on streaming platforms as it is currently a cinema-only release, as of April 2023.
So if you're hoping to experience The Pope's Exorcist from the comfort of your sofa – or while hiding behind it – you'll have to wait a while. It's just in cinemas for now, but we're sure the movie will make its way to digital platforms and streaming services in the near future.
Is The Pope's Exorcist on Netflix?
No, The Pope's Exorcist is not yet available on Netflix, as of April 2023.
As The Pope's Exorcist is a cinema-only release initially, we don't yet know if and when it will be available to stream on Netflix.
But we do have you covered on some of the best movies already available to view in your own home. So check out our lists of the best Netflix movies, the best Amazon Prime movies, and the best Disney Plus movies available right now.
Or for more of the spookiest 2023 movies on the way, check out our guides to the Evil Dead Rise release date, the Renfield movie release date, and The Meg 2 release date.