Russell Crowe's new movie is scary enough that even he doesn't want to watch it. The Antipodean Oscar-winner doesn't like horror movies but gets his spook on in The Pope's Exorcist as Father Gabriele Amorth, who is… well, he's the Pope's exorcist.
Crowe stopped by for a chat with The Digital Fix ahead of the release of his thriller movie and confessed that he didn't want to revisit one particular scare-fest while preparing to play Amorth.
You'd think that someone about to play an exorcist would want to give The Exorcist a spin, right? It's one of the best movies of all time, after all. Crowe was not keen, and it all goes back to a traumatic cinema experience he had as a teenager.
"I saw that when I was 14. I don't need to see it again. I really don't," says Crowe. "I saw it in a movie theatre in Auckland, New Zealand, actually. It was on probably its fourth or fifth run. This usher in the theatre, halfway through, decided it was a funny idea to bang the roof of the theatre with a broom. The 500 of us in the theatre did not share his sense of humour in that moment."
Despite his horrifying multiplex experience, Crowe acknowledges the impact of The Exorcist on horror movies through the years and explains that The Pope's Exorcist tries to use a different part of the exorcism toolkit.
He says: "[The Exorcist] was such an arresting experience and psychologically very powerful. I think this film comes at that subject matter with a little bit more of a lean towards a lightness of touch. So there's opportunities for humour that we brought in … It came down for me to two things that made up his character that were very important, and I had to have balanced. The first one was the purity of his faith, and the second one was his sense of humour. That's what I tried to bring to the extreme experience of the film."
Directed by Overlord filmmaker Julius Avery, The Pope's Exorcist is a movie based on a true story, which follows Father Gabriele Amorth to Spain, where he faces a child possessed by a particularly savage demon. The little lad speaks with the voice of Ralph Ineson, which is either utterly chilling or a Dacia advert, depending on your mileage.
In the process, Amorth discovers a secret the Catholic Church desperately wanted to stay hidden.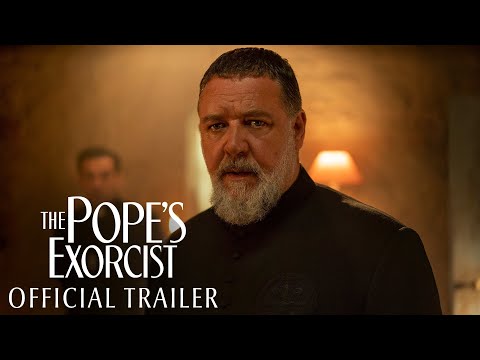 The real Amorth was a prolific exorcist, having already had a colourful life as an anti-fascist partisan fighter in the Second World War, followed by a career in journalism. "It's not until he's approaching his 60s that he gets the tap on the shoulder and is chosen to become the new Chief Exorcist of the Vatican – something that was very unexpected for him," says Crowe.
"That wasn't where he thought his career was going to go. 36 years, he did that job. A storied career, 12 books, depending on which number you look at it's between 36,000 to 160,000 exorcisms. I met one man who actually worked with Gabriele for 160 exorcisms, and his belief in Father Amorth was absolute.
"To me, the experience of reading about the person and meeting the people who worked with him, meeting with his friends, going to see where he lived, that became very compelling for me to do the role, even though I'm not really a horror fan."
As well as the small matter of outwitting malevolent supernatural forces, Crowe also speaks a bit of Italian in the movie, which presented yet another challenge.
"I just had to get it right. I had to get it as close to perfect as possible but give him his own personality when he was talking as well. There was also Latin to learn and screeds of different prayers for exorcism and other things. Intellectually, I had a lot to take in. Apart from screaming at demons, there were other things for me to do."
Well, we think Crowe did a heck of a job. And you can see for yourself when the movie arrives in US cinemas from April 14, 2023 – or April 7, 2023, for lucky UK viewers.
If you love horror more than Crowe does, there are plenty more scares to be found in our lists of the best body horror movies, the best zombie movies, the best slasher movies, and the best ghost movies.
And for the scariest new movies coming in 2023, check out our guides to the Evil Dead Rise release date, The Meg 2 release date, the Renfield movie release date, and the Insidious 5 release date.