What is the Gladiator 2 release date? After decades, the historical epic Gladiator is finally getting a long-awaited sequel complete with an impressive cast list.
Gladiator, widely considered to be one of the best movies of all time, told the story of the Roman general Maximus, who was forced to fight as a gladiator after being enslaved. The Ridley Scott film is top-notch, so there was always going to be high pressure on any new movies added to its canon. Before you find out if it meets expectations, here's everything you need to know.
What is the Gladiator 2 release date?
Gladiator 2 will be released on Friday, November 22, 2024.
Filming began in June 2023 after Scott finished work on his other historical epic, Napoleon; however, filming shut down on Gladiator 2 in July when the 2023 Actors Strike began. This means production is running months behind schedule, which introduces the potential for delay.
Unlike some other films, there is still a healthy gap to the intended late 2024 release date, though, so it doesn't necessarily have to move. At least, we hope it doesn't have to move. In an interview with Total Film, Scott explained why Gladiator 2 is finally happening now:
"We tried, actually, four years ago, and I chose a very good writer who couldn't get his head around it. He wrestled. He was terribly upset that he didn't deliver. He's a friend of mine. I said, 'You're not getting there?' He said, 'No.'"
"That took ten months. So it went dead. And then we circled the wagons again, coming back with a very obvious idea, and why not? There's a survivor. The survivor is the son of the union between Lucilla and Maximus."
Who's in the Gladiator 2 cast?
The Gladiator 2 cast includes Paul Mescal, Pedro Pascal, Denzel Washington, and plenty of other famous faces.
The star of the TV series Normal People and indie-hit Aftersun will be taking on the leading role in the movie as an adult Lucius Verus, meaning that Spencer Treat Clark won't be reprising his role from the original.
Alongside him, Washington is set to star in the sequel, which means that the Gladiator 2 cast is stacked. Stranger Things breakout Joseph Quinn is Emperor Caracalla and Connie Nielsen is set to reprise her role as Lucius' mother, Lucilla. Djimon Hounsou and Derek Jacobi are also returning from the first film. In early April 2023, it was announced that Pedro Pascal had joined the cast in an undisclosed role.
Barry Keoghan was initially cast in Gladiator 2 but has had to leave the production due to scheduling conflicts. The White Lotus' Fred Hechinger will now replace him as Emperor Geta. Basically, this movie is a collection of all-stars from some of our favorite TV shows. That's a thumbs up from us!
Here's The Gladiator 2 cast list:
Paul Mescal as Lucius
Connie Nielsen as Lucilla, the mother of Lucius.
Derek Jacobi as Senator Gracchus
Djimon Hounsou as Juba
Joseph Quinn as Emperor Caracalla
Fred Hechinger as Emperor Geta
Denzel Washington as an arms dealer
Pedro Pascal
May Calamawy
Lior Raz
Peter Mensah
Matt Lucas
What is Gladiator 2 about?
30 years after the death of Maximus and Commodus, Gladiator 2 will focus on Lucius Verus, Lucilla's son.
This was confirmed when Paul Mescal was cast as the character in the lead role, and Russell Crowe has also spoke about the development during an interview on the Fitzy and Wippa podcast. He said, "[Myself and Ridley Scott had] dinner and talked about it and all that stuff. So I know roughly how he's shaping the story."
"If you remember, there was a young kid who wanted to beat the Gladiator, which led to the 'My name is' speech. So that young kid has grown up, and he's now the Emperor," the star continued.
But despite being a new story with a new character, Scott has hinted that (just like the first movie), Gladiator 2 will be about survival. While promoting Napoleon, the director told Rotten Tomatoes:
"[Lucius] has been out in the wilderness for.. let's see, we last saw him when he was 12. It's about 12, 15 years later, he's been out in the wilderness having lost touch with his mother. His mother lost touch with him. She doesn't know where he is. She thinks he might be dead."
So, it's safe to say that there is a wider story to unpack here. Why was Lucius gone for so long? What happened to him during those years? And what will his return mean for his family and community as a whole? Personally, we can't wait to find out!
Crowe also revealed that we'd be getting something of a backstory for Denzel Washington's character, and would focus on how gladiators would fight in exchange for their freedom. Washington playing a man with a grudge sounds like it's right in his wheelhouse, so we reckon he'll probably end up being one of the most integral parts of the new movie.
Previous (and subsequently scrapped) versions of the Gladiator 2 script have been absolutely wild, and one even included an immortal version of Maximus, who fought in the Vietnam War. It's safe to say that one isn't happening. What's more, one scene that Scott has confirmed is a battle with baboons. Yes, you read that correctly.
"Baboons are carnivores. Can you hang from that roof for two hours by your left leg? No! A baboon can," Scott told The New Yorker. We're not really sure how we feel about this, to be honest. I mean, a gladiator fighting baboons sounds like it could be the coolest scenario imagined by man, but how that'll fit into a historical drama movie, we have no idea.
Is there a trailer for Gladiator 2?
We'll probably see the first teaser for Gladiator 2 around September 2024, a few months before the November release date.
If the release date shifts expect the trailer to as well. We'll keep an eye out for any teasers and first looks for you, so make sure to check back. While we wait for updates, you can revisit the trailer for the first Gladiator movie below: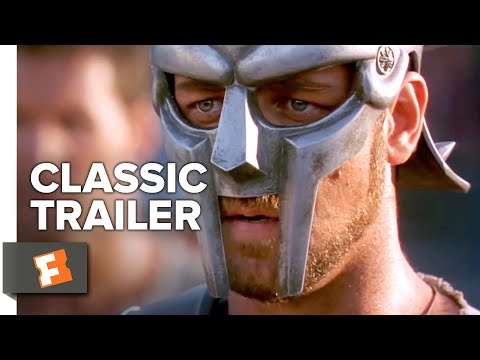 Where can I watch Gladiator 2?
Gladiator 2 will likely receive an exclusive theatrical release. This means that you can only watch the film in movie theaters.
That's because Gladiator 2 will most likely be one of the biggest films of 2024 with all the reputation it carries from the first movie, and so will be expected to be a major box office draw. (We know we'll be seated, come opening day.)
After a widespread theatrical release, Gladiator 2 will then shift to become available on VOD and will likely eventually move to a streaming service.
Is Maximus in Gladiator 2?
Russell Crowe's Maximus is not in Gladiator 2, which the actor confirmed himself.
Crowe gave a succinct answer when pressed on the topic, saying that he's not at all involved in the movie on The Jonathan Ross Show. He also denied being in the cast in multiple other interviews, so that's cleared up then.
While we wait for Gladiator 2, why don't you check out some of our other incredible stories about the film? For instance, did you know that Russell Crowe hated Gladiator's best line and tried to have it changed? Or that they used a real tiger on set?
You can also check out our guides listing the best war movies, the best action movies, and the best fantasy movies of all time. And we've got individual articles on the Dune 2 release date and Avatar 3 release date as well.