What are the best Netflix horror movies? Thanks to streaming services, finding a good scare has never been easier. Picking one for movie night? Now that's another story.
Let's face it: it can be overwhelming trying to land on the best horror movies from the comfort of your own couch. But don't worry, if you're stuck wondering what Netflix jumpscare will destroy your sleep schedule the most, we've got you covered. Instead of browsing the best Netflix movies for hours, we've made a handy list of the scariest movies on the platform that you can stream right now. So, have some holy water at the ready, and get reading below!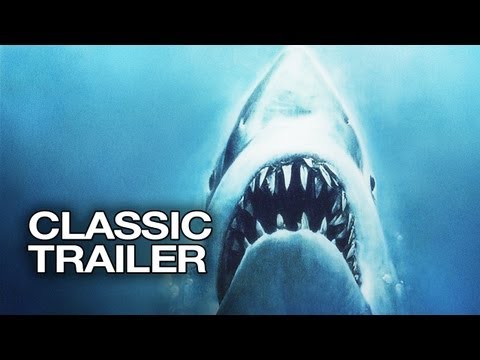 12. Jaws (1975)
That's right folks, one of the best movies of all time is now on Netflix, ready to give you deep-sea nightmares. Directed by Steven Spielberg, this classic is packed with suspense style and has one of the most frightening movie scores in existence. In short, it's the perfect pick for all you scare hounds.
Set in a summer resort town in the US, the shark movie sees the locals face certain death after a killer great white makes the beachfront its hunting grounds. It's up to the new police officer Martin Brody, a marine biologist, and an eccentric shark hunter, to venture out in the blood-filled waves.
With gore, thrills, and some touching family moments too, Jaws has it all. It's also a classic, so you need to watch it at least once!
11. I Am the Pretty Thing That Lives in the House (2016)
From director Oz Perkins — who has horror in his DNA thanks to his iconic father, Anthony Perkins — I Am the Pretty Thing That Lives in the House is a shifty and claustrophobic horror-thriller. A ghost story at its heart, the film sticks to a mesmerizing Ruth Wilson in the role of a nurse who takes care of an elderly author.
As she begins to feel a presence in the house, Perkins' camera uses corners, our natural fear of the dark, and seeping paranoia to craft a dreadful atmosphere. Polarisizing due to its slow-burn approach and patient style, its ideas and permutations mutate in the background while the focus is pulled elsewhere.
One of the most unique horrors on the service (or anywhere), it's not one for jumpscare fanatics. But if poeticism and lingering camera work compel you, welcome in.
10. It Follows (2014)
When it comes to the best monster movies, It Follows puts a creative spin on the genre. Using its 'monster' as an allegory for sexual encounters, It Follows starts on a high with its captivating and horrific opening scene and doesn't let the audience go from there.
More of a slow horror, it ambles along keeping tensions consistent, and utilizes some clever camerawork to create fear, maintaining thrills all the way. From its incredible opening scene to the creeping sense of dread that's maintained throughout, It Follows will have you looking over your shoulder for the rest of the day. Or week. Or year.
9. Gerald's Game (2017)
Stephen King adaptations are always on the mind, let's be honest, and Gerald's Game is one King movie that will have you sleeping with one eye open.
When Jessie and her husband Gerald arrive at an isolated cabin for a romantic getaway, Jessie finds herself in a terrifying fight for survival after Gerald suffers a heart attack during an attempt at a sexual fantasy. Handcuffed to the bed, Jessie suffers dehydration, starvation, and terrifying hallucinations.
It's a clever portrayal of a shocking story. And once we dive deeper into Jessie's past, the audience soon realizes that this event is more traumatic for her in ways we ever could have imagined. And while it doesn't hold a candle to The Shining or Misery, Gerald's Game is still an eerie watch.
8. His House (2020)
If you're looking for genuinely frightening imagery and a film that knows how to shoot its ghosts, this is the Netflix pick for you. A couple manages to escape from war-torn South Sudan, but as they try to adjust to their new life as refugees in England, a dark supernatural force haunts them.
After being among the few survivors to make it across the English channel, Bol (Sope Dirisu) and his wife Rial (Wunmi Mosaku) move into a government-appointed, rundown house. The two try to start a new chapter in their lives, but their past and an evil force lurking in their home refuse to let go.
Like we said before, the imagery in His House is pure nightmare fuel, the cinematography is outstanding, and it will chill your bones. One of the best ghost movies we've seen in years, it also shows the oppression, trapped, and desperate feelings of the refugee experience through a horror lens, making it timely as well as terrifying.
7. Vampires vs The Bronx (2020)
What it says on the tin: a bunch of young residents of the Bronx have to protect their community from some vampires. Airy, fun, and very aware of its influences, Oz Rodriguez's comedy-horror distills the energy of one of the best '80s movies, The Lost Boys, and combines that with modern social commentary on gentrification.
While petitioning for a local to be kept open, three friends, Miguel, Bobby, and Luis discover some vampiric creatures prowling their neighborhood. They decide to do what any sensible kids would do — watch Blade and then go vampire hunting. Charming and often hilarious, Vampires vs The Bronx is up there with the best vampire movies that'll remind you of stumbling on a gem at the old video store.
6. Creep (2014)
Creep is a found footage horror that lives up to its namesake. The film creates fear through discomfort, unsettling you with cringe-inducing intimacy that makes you want to log out of your Netflix account, chuck your TV out the window, and then lock your doors. Aaron, a filmmaker, travels to a remote cabin in the woods after accepting a job to film Josef – a terminally ill man who wants to leave a video diary for his unborn child before he passes away.
The film relies on its character interactions and focuses on Josef's pushing of personal boundaries and his increasing hostility as the plot moves forward. Creep is short at only 77 minutes long, but that's why it works; it never overstays its welcome or pretends to be a grand, in-depth narrative.
We know what is going to happen from the get-go, but it's seeing the journey to that expected violent climax which is morbidly fascinating, and what makes Creep a frighteningly memorable flick.
5. Lights Out (2016)
Lights Out is based on the short film that shook the world. You undoubtedly watched the YouTube horror short that came out in 2013. It was the launching pad of the now well-known David F. Sandberg, who would then go on to direct Annabelle: Creation and both Shazam! movies.
We don't know whether to thank him or hate him, because the Lights Out short is most definitely the reason we rediscovered our fear of the dark.
The feature-length film is an adaptation of the concept and follows Rebecca as she tries to protect her younger brother from the horrific, unknown thing that lurks in the dark. Add in an unhinged, creepy mother, and lights that seem to go haywire on their own, and you've got the recipe for a pretty underrated horror flick.
4. #Alive (2020)
The best zombie movies always manage to hit that terror sweet spot but are especially effective when they stick to simple and contained storylines. #Alive is a South Korean horror that presents the standard zombie survival narrative in its purest form.
It focuses on the adrenaline-inducing feeling of being trapped, completely isolated, and terrified that an undead horde may just be around the corner.
Telling the story of Joon-woo, the film centers around his time alone in his family's apartment during a mysterious infectious outbreak that causes those afflicted to crave fresh human flesh.
There are some moments in the writing that are predictable, and character choices feeling forced. But despite this, #Alive is still wildly entertaining. It manages to focus on the basic instinct and emotions of human fear, and weirdly, as it shows loneliness and the frantic hoarding of basic supplies, it feels somewhat relatable after COVID-19.
3. Velvet Buzzsaw (2019)
We love a black comedy horror around here, so it makes sense to add the Netflix original Velvet Buzzsaw. Centered around the offbeat and pretentious atmosphere of the art world, Velvet Buzzsaw follows the haunted paintings of a dead artist that comes alive and brutally murder those who have bought the pieces. At times it can be a little heavy on the quirk, but it's gory, funny, and unlike anything you've seen before.
Plus, it has a truly stacked cast. Jake Gyllenhaal is back in the saddle with another bizarre character role and is supported by Rene Russo, Toni Collette, and Zawe Ashton. Honestly, it's impressive how creative the kills get, and at times, it provides some truly creepy imagery and tense scenes as the snobby art elite get picked off one by one.
2. The Pale Blue Eye (2022)
If you're a fan of Gothic horror and Edgar Allan Poe, then my-oh-my, have you hit the jackpot with this Netflix original. The Pale Blue Eye is adapted from the novel of the same name and follows a young Edgar Allan Poe as he teams up with a detective to solve a strange murder within the United States Military Academy.
It's a terrific mix of classic horror, literature, and murder mystery. Much like many films of its kind, not everything is quite as it seems, and that's part of the fun. It's got an eerie and grey aesthetic, perfect for that October viewing. What's more, it's got Christian Bale and Gillian Anderson. Need we say anything else? You can read our The Pale Blue Eye review for more info!
1. Run Rabbit Run (2023)
Nobody quite does horror better than Australians, so it makes sense that Netflix would grab onto this one as tightly as they could. Starring Succession's Sarah Snook, this is one psychological horror you won't be able to shake for a while after watching. It's got everything: dealing with the grief of a loved one, a weird child, and a struggling single mother. Check, check, and check!
Run Rabbit Run boasts some seriously impressive performances. It's also oddly elegant for a Netflix movie, with a sense of cinematic integrity and style. While it may not go down as a classic of the genre, it's certainly an impressive little horror that's worth your time.
And there you have it guys and ghouls, the best horror movies that Netflix has to offer. However, we all know that Netflix likes to keep us on our toes with fresh new releases, so take note of everything new on Netflix this month. And you can always use our secret Netflix codes to jump straight to the goodies.
For a different flavor, we've got lists of the best Halloween movies and the best horror series ever made. And be sure and check out our list of the best streaming services of all time, as well as all the new movies coming out in 2023.