In the wake of the Shazam 2 ending, there's a big question on the lips of many DC movie fans: will we see Shazam again? Zachary Levi's likeable character was left in play when the new superhero movie finished, despite the fact he isn't present in the Chapter 1 Gods and Monsters plan laid out by new DC Universe boss James Gunn.
The Shazam 2 post-credits scenes showed the hero being recruited into the Justice Society by Peacemaker cast members Emilia Harcourt and John Economos. We first saw this super-team in Black Adam, which ended with a reluctant alliance between the Society and the god-like Adam. But given that Black Adam is typically a DC villain for Shazam, putting them in the same room feels like a recipe for conflict.
The question is, though, whether any of these teases will get to pay off in a new movie any time soon. We don't know, but speculation keeps the brain healthy, so let's dive in.
On paper, Shazam is the perfect sort of hero for a James Gunn world. His solo adventures so far have been comedy movies as much as action movies, with Levi's experience from comedy series like Chuck meshing perfectly with the childlike energy required to play a teenager in the body of a mega-jacked superhero. Anyone who has seen a Guardians of the Galaxy movie, or The Suicide Squad, will know that's where Gunn thrives.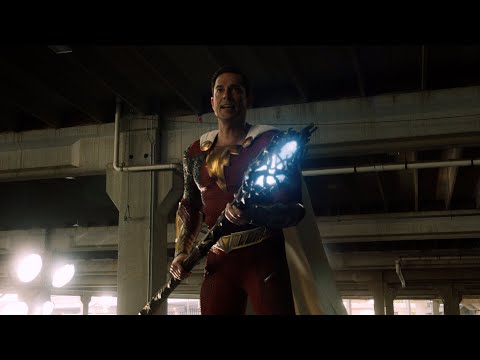 And now Gunn, along with producing partner Peter Safran, has the keys to the entire DCU, a character like Shazam could allow him to bring his energy to a new home.
Shazam director David F. Sandberg, too, feels like a kindred spirit for Gunn as he builds his DC empire. Like Gunn, Sandberg has a horror movie background and a sensibility that veers towards the grotesque and absurd. There were some very dark scenes in the Shazam movies, particularly in the first one. Not many mainstream superhero movies feature defenestration by demon. Gunn and Sandberg could be a dream team.
As things stand, we might know the projects Gunn wants to make as part of his new plan, but there's little information on how they will fit together. We're getting a new Superman movie and a new Batman movie, as well as some odds and ends featuring very different DC characters. But there's no mention of the Justice League, Justice Society or similar, at least not as things stand. In these new early stages it may well be a case of throwing a lot of stuff at the wall and seeing what sticks.
Insofar as there is an over-arching plan, the TV series Waller is beginning to look very important. Viola Davis's character oversees both the Suicide Squad and the Justice Society, which means she's involved in the big and small screen portions of the universe. She got a name-check in the Shazam 2 credits scene, with the suggestion being that she hand-picked Shazam for the Justice Society. If the DCU has a Nick Fury puppet master, it's Waller.
With that in mind, it will be interesting to see who appears in Waller. Gunn is writing and directing Superman Legacy to kick-start the new phase, then moving on to Waller before returning to the long-promised Peacemaker season 2. If the head honcho is focused on it, it's fair to say that Waller is an important cog in the machine.
So to return to the big question we started with, Shazam and the wider Shazam cast absolutely could play a role in the DCU going forward. But equally, there's a certain amount of hedging going on. While that post-credit scene did tease a potential future for Shazam, it's by no means essential. If the loose end is never tied up, few will be minded to complain too much.
If Gunn wants to use Shazam, the character is ready and waiting – Levi certainly seems keen – but if Gunn's not a fan, there's nothing stopping him leaving the character on a shelf somewhere to gather dust. It's not as if Gunn's roster will be short on lightly goofy man-children.
For more on the new movie, check out our Shazam 2 review and our guide to everyone who dies in Shazam 2 – as well as more on Wonder Woman in Shazam 2. We've also got guides to the big upcoming projects in the DCU, including the Supergirl Woman of Tomorrow release date, The Brave and the Bold release date, and the Lanterns release date.