Superhero fans need to be eagle-eyed to catch everything, and not just because these movies are onslaughts of razzmatazz and spectacle. Those devilish filmmakers are always slipping details in for only the most devoted fans to catch. DC's latest is no different, with plenty of Blue Beetle Easter eggs lurking in the background of the main story.
The latest iteration of the DC Universe doesn't begin in earnest until the Superman Legacy release date rolls around, but that doesn't stop Blue Beetle from looking back at the best movies and the best DC characters from the superhero behemoth's past. We don't yet know what sort of role Jaime Reyes (Xolo Maridueña) will play in the franchise when James Gunn takes the reins, but we're sure there will be space for such an entertaining addition to the canon.
If you want to know more about what we thought of one of DC's final new movies of the pre-Gunn era, check out our Blue Beetle review. But stick with us if you've already seen the movie and want a closer look at some Blue Beetle Easter eggs. Be warned; there are spoilers ahead.
Two villains for the price of one
While the malevolent business leader Victoria Kord (Susan Sarandon) is the main villain here, it's Ignacio Carapax (Raoul Max Trujillo) who actually goes toe to toe with our hero. He's an amalgam of two DC foes, combining Conrad Carapax, the Indestructible Man, and the OMACs.
The comic version of Carapax became fused with a malfunctioning robot while trying to uncover what Blue Beetle had discovered. The OMACs, meanwhile, were dangerous cyborgs who played a major role in the Infinite Crisis storyline.
In the movie, Carapax is the first test subject for the OMAC (One Man Army Corps) program, which Kord intended to use to develop an army. It turns him into a formidable rival for Jaime and his nascent abilities.
The other Beetles
In DC Comics, Jaime Reyes is the third character to take on the mantle of Blue Beetle, following on from Dan Garrett and Ted Kord. The latter looms heavily over the film, especially when it comes to the Blue Beetle post-credits scene, as the father of Jenny Kord (Bruna Marquezine).
Ted Kord's HQ proves to be a base for our protagonists during the movie, and comic book fans can also get a glimpse of Garrett's costume in the base as well. A double-whammy.
Joker, is that you?
During the shots of the Palmera City skyline, we can see that there's an Ace Chemicals building along with the likes of LexCorp. DC Universe fans will know that Ace Chemicals is where the Joker's transformation happened and also where he encouraged Dr Harleen Quinzel to become Harley Quinn.
Lex, is that you?
When Jaime smuggles the Scarab out of the Kord building, he does so in a box from Big Belly Burger. This particular burger chain exists throughout DC Comics and is a subsidiary of LexCorp, meaning even the hamburgers in this universe go back to Lex Luthor.
Everyone else, is that you?
OK, we've over-used that subheading format now, haven't we? There are plenty of references to the most prominent DC heroes throughout Blue Beetle, with Batman, Superman, and The Flash all getting a name-check. Jaime even went to study law over in Gotham City.
However, one of the more subtle ones is hidden in the opening credits, in which a flash of green light nods to the fact the Scarab responsible for Jaime's powers might have some connection to the Green Lantern Corps. We might well find out more when the Lanterns release date comes around.
The Beetle Ship
As we learn in the movie, Ted Kord was a Blue Beetle without superpowers, relying on his genius inventing skills. One of his greatest inventions was his bug-inspired ship, which Jaime's uncle Rudy (George Lopez) pilots to save the day in the movie.
It's also interesting to note that this ship was the inspiration for Nite Owl's ship in Watchmen. Comics just keep eating each other.
Promethium
We hear a number of speeches from Victoria Kord throughout the movie about the company's scientific and humanitarian advances. One of these mentions Promethium, which is a very important material in DC Comics.
It's an artificial alloy used to create part of Cyborg's metal inner workings, as well as much of Deathstroke's weaponry. There's also a real element called promethium, but it's not quite as badass.
Guillermo del Toro
During a scene in which Jaime's grandmother (Adriana Barraza) is seen flicking through TV channels, she happens upon a scene from 1993's Cronos – one of the best vampire movies ever made.
Not only is this directed by the renowned Mexican filmmaker Guillermo del Toro, but it's also about someone being changed forever by a scarab device. The parallels are obvious.
Power Glove
During the later stages of Blue Beetle, other members of Jaime's family get the chance to tool up with some of Ted Kord's enhanced gadgets. Jaime's sister Milagro (Belissa Escobedo) wields a pretty cool accessory, which will be familiar to gamers of a certain vintage because it's actually a Nintendo Power Glove.
Released in 1989 for the NES console, the Power Glove was poorly-received and sold badly. There's no denying how impressive it looks, though, especially with some superhero enhancements.
El Chapulin Colorado
Throughout the movie, including in the post-credits sequence, we see a claymation version of El Chapulín Colorado – a Mexican superhero parody series from the 1970s, which translates into English as The Red Grasshopper. The original series was live-action, so the claymation version seems to be an exclusive creation for Blue Beetle.
The real show had such a legacy that it even inspired The Simpsons creator Matt Groening to come up with the character of Bumblebee Man after he spent a night watching it in a motel on the US-Mexico border.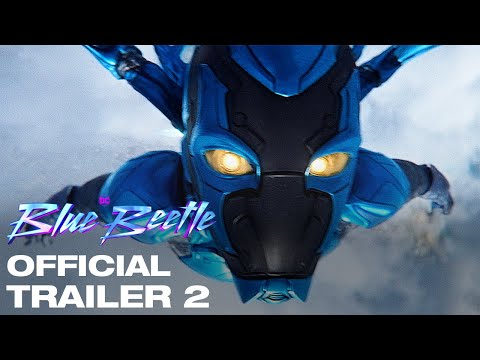 For more about this movie, learn how to watch Blue Beetle and find out more about Khaji Da. You should also read our Blue Beetle director interview and find out why he's honored by comparisons to Marvel. Then, look ahead to the Blue Beetle 2 release date.
As for the DCU under Gunn, we've got everything you need to know about the Chapter 1 Gods and Monsters plan, as well as a guide to all of the DC movies in order. You can also learn more about the Swamp Thing release date, The Brave and the Bold release date, and the Supergirl Woman of Tomorrow release date.