Who's in The Morning Show cast? The Morning Show gave us a dramatic, unpredictable insight into the world of network television. With it came a crowd of wild and often unlikable characters, some of whom are played by the biggest stars around.
The Morning Show, thanks to its perfected ability to create a sociopolitical hurricane on-screen, has become one of the best Apple TV shows. What's more, its stellar performances mean that it can be regarded as one of the best TV series cast lists to ever be put together.
With The Morning Show season 3 release date now here, we thought it was the perfect time to reflect on those who bring the drama to the best drama series around. From the big stars to the supporting players, here's everything you need to know about The Morning Show cast.
The main The Morning Show cast
Here's all the main actors and characters in The Morning Show cast list:
Jennifer Aniston as Alexandra Levy
Reese Witherspoon as Bradley Jackson
Billy Crudup as Cory Ellison
Mark Duplass as Charlie Black
Gugu Mbatha-Raw as Hannah Shoenfeld
Steve Carell as Mitch Kessler
Néstor Carbonell as Yanko Flores
Jennifer Aniston as Alexandra Levy
Alex Levy is the host of UBA's The Morning Show. Distinguished and well-known by the public, Alex is rattled and fears for her own career when her co-host, Mitch is accused of sexual harassment from multiple victims. After working with Mitch for fifteen years, this sends Alex into a tailspin and causes her to do the only thing she can think of to protect her own standing: to trick the network into hiring a fiery new co-host, Bradley Jackson.
When it comes to starring in one of the best '90s TV shows ever made, she'll be there for you. Jennifer Aniston shot to fame when she played Rachel Green for a decade on the long-running sitcom Friends. (Or F.R.I.E.N.D.S, if you're a purist.) Since then, she's been all over the place, whether it's in some of the best comedy movies ever made, or in commercials for moisturizer.
Just a few of her most notable projects other than the iconic series include: Office Space, Bruce Almighty, Along Came Polly, The Break-Up, and Horrible Bosses. She's a powerhouse and has made her name from her impeccable sense of comedic timing and delivery.
Reese Witherspoon as Bradley Jackson
Bradley Jackson is thrust into the world of hosting a morning show when her new co-host, seasoned Alex Levy, forces the network into hiring Bradley as her new co-star. Bradley isn't stupid and knows that Alex is only ever looking out for herself. Not wanting to fall foul of any tricks Alex might have up her sleeve, Bradley is outspoken, bold, and has an entirely different approach to her more experienced colleague.
Reese Witherspoon is one of the best actors of her kind. There, we said it. Of course, everyone knows her for her role as the lady who redefined pink and taught us the bend-and-snap in Legally Blonde, but she's also made a huge impact starring in movies based on a true story, like Walk the Line, or sexy thriller movies like Cruel Intentions.
Usually, she's the blonde-haired, blue-eyed actress who always catches us off-guard with sincerity and unpredictability. From Election to American Psycho, and Wild to Four Christmases, she's got every genre covered.
Billy Crudup as Cory Ellison
Cory Ellison is the President of the News Division at UBA, meaning he's partly the man in charge. Initially, following the allegations against Mitch, he considers replacing both Mitch and Alex in the hopes of having a fresh start for The Morning Show. Soon, he discovers Bradley, and asks her to consider joining the show. However, neither of them gets a chance to let the idea settle before Alex forces her hand, and Cory is left picking up the pieces as both Alex and Bradley become forces to be reckoned with across the network.
Billy Crudup has been in movies since the '90s and perhaps found his first major role in Almost Famous (which we view as one of the best movies of all time, thank you very much). From there on in, he found roles in the fantasy movie Big Fish, and found himself joining the Mission Impossible cast in MI3.
He's also been in Public Enemies, The Watch, Jackie, Spotlight, and Alien: Covenant. Oh, and he only played Doctor Manhattan in one of the best superhero movies of all time: Watchmen. Yeah, the big blue guy.
Mark Duplass as Charlie Black
Charlie Black (known as 'Chip') is The Morning Show's executive producer. Basically, he has a job that nobody would want, and it only becomes worse when things turn upside down after the allegations against Mitch. (It later comes to light that he may have been a complicit participant in the allegations.)
In a way, Chip is a relic from times gone by and often struggles to keep up with the new way of behaving and doing things, which ultimately leads to his downfall and eventual firing.
As well as being an actor, Duplass is also a filmmaker, writer, and musician. For the role of Chip, he earned a Primetime Emmy nomination. Prior to this, he appeared in movies like Greenberg, Safety Not Guaranteed, and the war movie Zero Dark Thirty. He also starred in one of the best horror movies of all time (and creepiest, literally): Creep. On the small screen, you'd also recognize him as Pete from The Mindy Project, and as the voice of Val in Big Mouth.
Gugu Mbatha-Raw as Hannah Shoenfeld
Hannah worked for TMS on the booking team. She quickly became Head Booker after an incident in which the previous Head Booker, Jared, messed up with an interview. She also gets sent to an important news story about the Las Vegas shooting when the team is unable to locate Jared.
But things take a turn for the worse when Hannah is horrifically sexually assaulted by Mitch after the story is done. When she goes to report him, she's offered the role of Head Booker, most likely as a way of buying her silence. She accepts the job but finds that she's frequently made to confront the incident while working at the network, particularly in the coverage that happens after Mitch's firing. Sad to say, Hannah doesn't have a happy fate.
Gugu Mbatha-Raw is a British actress who has performed both on-stage and on-screen. She's played roles in a lot of classics, including Romeo and Juliet, Anthony and Cleopatra, and Hamlet. On the screen, she started her career in earnest when she played Martha Jones' sister, Tish, in Doctor Who.
From there, she appeared in Larry Crowne, Belle, Jupiter Ascending, the live-action Disney remake Beauty and the Beast, and A Wrinkle in Time. In 2024, you'll see her in Lift, an upcoming heist movie with Kevin Hart and Vincent D'Onofrio.
Steve Carell as Mitch Kessler
Ah, Mitch. The charismatic co-host of The Morning Show. Or at least, he was. Shortly after his 50th birthday party, multiple sexual harassment allegations come to light, meaning that Mitch is axed from his role in UBA.
Mitch takes great care in trying to convince Alex that he's not guilty, but we're witness to him sexually assaulting Hannah, after the Vegas shooting. Plus, he can't hide his true nature underneath all the charm and intelligence that he manages to put forward.
We'll get it out of the way: Steve Carell is everyone's favorite boss. He became a true household name after starring as Michael Scott in The Office for years. Since then, he's appeared in countless comedy movies, in both leading roles and as hilarious supporting characters. He plays the oddball Brick in Anchorman, the incompetent Maxwell Smart in Get Smart, and the Bashful Andy in The 40-Year-Old Virgin.
But he's also shone in some of the best drama movies, too. Whether it's Little Miss Sunshine, Foxcatcher, or Beautiful Boy, he's always able to make us laugh and cry in equal measure.
Néstor Carbonell as Yanko Flores
Yank Flores is the resident weatherman at The Morning Show. He's passionate about his career and is probably one of the more endearing members of the TMS crew. That said, he does wind up having an affair with one of the production assistants, Claire.
In retrospect, starting a romantic relationship with a younger, less experienced crew member during a heightened atmosphere in the wake of sexual assault allegations may have not been the smartest move.
Néstor Carbonell is one of the most recognizable faces in show business because he's been in just about everything. Elsewhere in television, he's had roles in Law & Order, Melrose Place, and Veronica's Closet. But he's also dipped his toes into more modern dramatics, like Lost, Bates Motel, and The Good Wife. On the movie side of things, you'll probably remember him as Mayor Anthony Garcia from The Dark Knight. (The guy who almost gets assassinated during the funeral march scene.)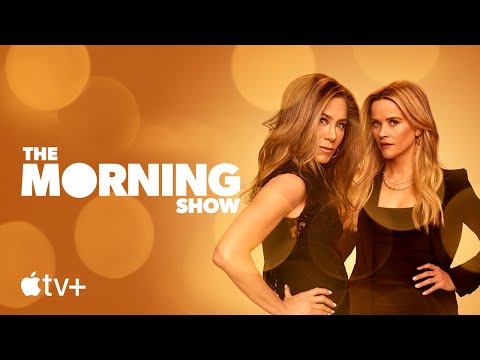 Everyone in The Morning Show cast
Here's everyone in The Morning Show cast list, from main players to supporting stars:
Jennifer Aniston as Alexandra Levy
Reese Witherspoon as Bradley Jackson
Billy Crudup as Cory Ellison
Mark Duplass as Charlie Black
Gugu Mbatha-Raw as Hannah Shoenfeld
Néstor Carbonell as Yanko Flores
Karen Pittman as Mia Jordan
Bel Powley as Claire Conway
Desean Terry as Daniel Henderson
Jack Davenport as Jason Craig
Steve Carell as Mitch Kessler
Greta Lee as Stella Bak
Ruairi O'Connor as Ty Fitzgerald
Julianna Margulies as Laura Peterson
Jon Hamm as Paul Marks
Nicole Beharie as Christine Hunter
That's The Morning Show cast! For more on the streaming service, check out our guides to see what we know about the For All Mankind season 4 release date, and Severance season 2 release date. You can also check out our list of the best thriller series for more drama.
If you're looking for breakdowns on all the biggest and best casts in Hollywood right now, take a look at our explainers for the Stranger Things cast, Bridgerton cast, and Ahsoka cast.