What are the best Apple TV shows? In 2019, the world was greeted with a brand new streaming service – Apple TV Plus. The platform had an uphill battle with first establishing itself, having no history of productions, unlike its competitors Netflix, and Prime Video. However, in only a few years, Apple TV has proven its doubters wrong.
The Apple TV library is constantly growing and is consistently producing high-quality TV series left, right and centre. Its shows are original, have fresh ideas, and despite how new the streamer is on the online scene – it has already produced an Emmy award-winning comedy series. Still, it is understandable if you are still unfamiliar with all that this relatively new streaming service has to offer.
With that in mind, The Digital Fix is here to help. From quality picks such as Ted Lasso to sci-fi standouts like Foundation, here are the best Apple TV shows that you can watch right now.
What are the best Apple TV shows of all time?
Ted Lasso
Foundation
Severance
Dickinson
For All Mankind
Mythic Quest
The Essex Serpent
Physical
Pachinko
Shining Girls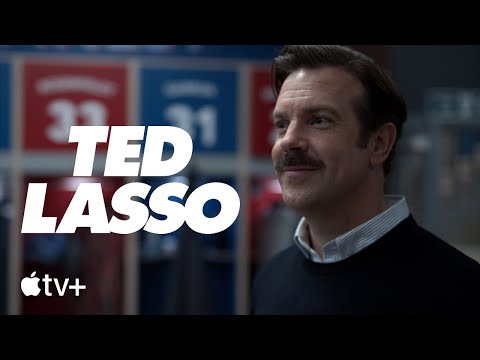 Ted Lasso (2020 – present)
Whether you are a fan of football or a hater of tea, it doesn't matter – Ted Lasso is a universally beloved show for a reason. First releasing in 2020, the comedy series is packed with feel-good moments, enduring characters, and plenty of hilarious one-liners to keep you hooked.
The story is simple, the American college football coach Ted Lasso finds himself leading an English soccer team. The only problem is, he knows nothing about the sport. Through teamwork, empathy, and some good old-fashioned hard work, Ted manages to find a new home for himself in the UK.
Ted Lasso is one of the most heart-warming shows in recent years, and with the Ted Lasso cast all holding multiple awards to their names and the Ted Lasso season 3 release date coming up, fans won't want to miss out on this series.
Foundation (2021 – present)
Who doesn't love an impressively put-together sci-fi series? Loosely based on the novels of the same name by Isaac Asimov, Foundation is an epic tale featuring clones, galactic feuds, and some algorithmic fortune-telling.
The show follows Dr Hari Seldon, who predicts the impending fall of the Empire thanks to his spawling psychohistory theory. Learning the bleak future of the galaxy, Hari sets out to establish The Foundation in an attempt to rebuild and preserve the future of civilization – however, not everyone is keen on his newfound mission.
If you are a fan of big visuals and epic sagas, then Foundation is the pick for you. And with Foundation season 2 confirmed, it looks like this series has no plans to slow down.
Severance (2022 – present)
Severance may have only come out in 2022, but already fans are dying for Severance season 2 – and really, who can blame them? The dark comedy series hits that perfect blend of a terrifying dystopian story with absurd existential humour.
Working can be overwhelming sometimes, thanks to intrusive thoughts, or pesky human emotions. Severance is a show which demonstrates what would happen if we sever the nerves in your brain that connect your work and non-work memories completely. The thriller series takes Black mirror-esque storylines to a whole new level and, while spooky, proves to be wildly entertaining thanks to Adam Scott's delightfully awkward portrayal of Mark Scout.
Severance was easily one of the best 2022 TV series, and for all of those with an Apple TV subscription, it is a must-watch.
Dickinson (2019 – 2021)
Hailee Steinfeld (from Marvel series fame) stars as one of the greatest American poets in history – Emily Dickson. Through the course of three seasons, we follow the coming-of-age story of Emily, who just doesn't seem to fit into the restrictive world around her.
With explorations regarding society, gender, and family, the series Dickson is an extremely binge-worthy, yet also insightful watch to add to your TV viewing list. And although this is a historical drama, fear not, the series has enough modern-day twists and sensibilities that there will be no head-scratching confusion either.
In short, Dickinson is a winner of a show that shines a light on young women and an important figure in literature.
For All Mankind (2019 – present)
When alternate history is done right, these stories never fail to grab our curiosity and attention. And in the case of the Apple TV show For All Mankind, the series begins with the intriguing question – what if the space race of the Cold War never ended?
In the sci-fi show, the Soviet Union succeeds in putting a human on the moon ahead of the US. The results of such a development? Well, the rivalry between the two increases and space becomes their passive-aggressive battlefield.
Created by Ronald Dowl Moore – best known for his work on Star Trek and the re-imagined Battlestar Galactica TV series – For All of Mankind easily captures the drama and suspense of a science fiction movie and turns its medium into one of the best sci-fi series that you can watch right now, period.
Mythic Quest (2020 – present)
If The Last of Us or The Witcher has taught us anything, it is that people love videogame-based fantasy series. So, what about a show about the making of a popular videogame instead of a straight adaptation? Mythic Quest follows a fictional video game studio – who is in charge of the popular MMORPG, Mythic Quest.
With hilarious creative differences between Ian Grimm, the creative director and Poppy Li, the lead engineer, the comedy series is a light-hearted watch that can lift moods with ease. There is romance, rivalries, and one-liners that legitimately make you laugh.
If you are a fan of easy and watchable sitcoms or have a soft spot for games such as World of Warcraft and The Elder Scrolls then, what are you waiting for? Start watching Mythic Quest today!
The Essex Serpent (2022)
Based on the novel by Sarah Perry The Essex Serpent has drama, romance and some mystical mysteries that keep us hooked to the screen. The thriller series follows the London widow Cora Seaborne (Claire Danes), who moves to Essex to look into reports surrounding a fantastical serpent.
However, once tragedy strikes the community Cora soon finds herself at the centre of suspicion and accusations. Featuring the acting chops of Marvel movie star Tom Hiddleston this period drama is a straight-fire binge fest that you won't be able to put down. Packed with brilliant acting and writing alike – you won't regret watching this intriguing mystery.
Physical (2021 – present)
Set in the early '80s, Physical is a series that touches on issues regarding female empowerment, and body image through the course of its digestible episodes – all with a 30-minute runtime. Rose Byrne stars as Sheila Rubin, an unhappy housewife, struggling with her self-image and restrictive marriage.
Sheila turns to the leotard-wearing exercise fad aerobics, and, by doing so, starts crafting her identity and discovers a renewed sense of purpose. The dark comedy series is a captivating character study against the backdrop of the sun-soaked setting of San Diego.
If you are like us and have been looking for a female-led '80s show ever since the Netflix series GLOW was cancelled, then Physical will be right up your street.
Pachinko (2022- present)
If you haven't noticed already from this list, The Digital Fix are fans of historical dramas. So it should come as a shock to no one that Soo Hugh's series Pachinko made our top picks. Pachinko is a show based on the novel by Min Jin Lee, which follows three distinct periods in Korean history through the eyes of Sunja.
The series draws on real-life experiences and reveals the hardships some faced under Japanese colonial rule. It is a fascinating depiction of a troubled chapter in history, which is also paired with spicy drama and even moments of romance.
Pachinko is a striking series that holds universal themes under a backdrop of a seldom-represented historical experience. It is a rarity, which has laid the groundwork for more seasons, and our expectations are high for its future direction.
Shining Girls (2022- present)
TV series about murder and serial killers tend to grip the public's attention no matter what, but the Apple TV show Shining Girls adds to this captivating formula thanks to its time-travelling twist.
The horror series follows Kirby Mazrachi (Elisabeth Moss), an archivist at the newspaper Chicago Sun-Times who, one day, finds herself attacked by a mysterious man. The traumatic event leads Kirby to discover links between her attack and the murders of various women. But bafflingly, these murders go back for almost a century – despite seemingly being committed by the same killer.
The original concept and approach to a murder mystery makes for addictive viewing, and enables Shining Girls to set itself apart from its crime peers. Moss's performance is also superb, making the show an all-rounder, and an easy addition to add to your watch list.
And that is all, folks! For more thrilling picks, here are the best animated series, and the best '90s TV shows of all time. Or, for new releases, here are the new movies heading our way in 2023. To sign up for Apple TV, click our link here.