We knew it was coming. Deep down, we knew this was how Ahsoka would finish. With a bang, but on a cliffhanger, setting up another season. Episode 8 of the show provides closure on Ezra Bridger, at least, and multiple doors are open for what's next, even if it's all on the same uneven ground as before.
Thrawn takes another big step towards being the Star Wars big bad Dave Filoni wants him to be. The menacing overlord still doesn't do a whole lot, but we see slightly more of the ruthlessness in the Star Wars series than before. Lars Mikkelsen has gotten good at hard glares and letting his face do the heavy lifting.
He'd need to, since that's all Grand Admiral Thrawn ever does in Ahsoka. Underwritten compared to the baddies of the Star Wars movies in order, there's an argument that he creates intrigue through not showing any real emotion. I remain unconvinced, however, the supporting Ahsoka cast compensate to round out the season.
To start episode 8, Sabine, Ezra, and Ahsoka have all escaped Thrawn, Baylan, and Shin. They know they're being chased, and that they need to get to Thrawn's ship if they want to get away from that planet. In a neat little bit of character work, Ezra, Sabine, and Huyang bond over building a lightsaber.
Huyang trained Ezra's master, making his insight crucial to finishing the weapon. Ezra has shaken off some reluctance over lightsabers and the Jedi, if only in service of helping his friends. That, I believe, has been Filoni's great thematic shift regarding the new generation of Jedi, making the order about camaraderie rather than a form of monkism.
Morgan Elsbeth undergoes a different kind of awakening, formally becoming a Nightsister. For most of the Disney Plus show, I thought she was underwritten, but I might be convinced otherwise over the course of this episode. She's understated because she's given herself wholly to the Galactic Empire and Thrawn. There is nothing else for her.
She makes for one of the best Star Wars villains here, too. Ahsoka, Sabine, and Ezra manage to storm Thrawn's base, first taking out a wave of stormtroopers. Morgan and the Nightsister then resurrect the bodies, turning them into zombified soldiers. Yes, zombie stormtroopers.
Ahsoka becomes a zombie movie for a time as the gang tries to handle the undead cronies. The ensuing fight is awesome, creative and tense since everyone's as taken aback as we are. This particular scene feels so reminiscent of classic Expanded Universe material, where the creative is doing something because it'd be cool to see in Star Wars. Filoni's worship of the past can be contentious, but here he gets it so right, and director Rick Famuyiwa handles it perfectly.
The zombie attack flows into Morgan and Ahsoka having a duel while Sabine and Ezra run ahead. Morgan comes to a grim realization when she tells Thrawn the Nightsisters spell has failed. "For the Empire," he tells her, revealing all she needs to know. Like all cowardly fascists, Thrawn believes in self-preservation above all else, and Morgan looks like she knew it. Diana Lee Inosanto has been an unsung hero of the Star Wars cast in Ahsoka.
Morgan and Ahsoka's fight is quick-footed, both aiming for death on every swing. Morgan manages to destroy one of Ahsoka's lightsabers, but fails to get the upper hand. As stormtroopers rally around the Nightsister, Ahsoka begins to look like she might be struggling. Meanwhile, Sabine manages to get Ezra aboard Thrawn's ship before it takes off. In a twist, she stays behind to help Ahsoka.
They defeat Morgan, and hop into their now repaired ship with Huyang to try and chase Thrawn's Imperial behemoth. They fail, but crucially, Ezra manages to remain on board Thrawn's vessel, thus returning home.
Thrawn is now one step closer to resurrecting the Empire, composer Kevin Kiner using some minor strings to truly let us know evil has landed. Ezra takes small ship to rendezvous with Hera Syndulla, and we cut to the remaining characters.
Baylan and Shin are both stranded, but they look ready to train and build an army of their own. Ahsoka and Sabine settle down for further training, to prepare for their rescue mission and whatever new Star Wars movies bring.
In the last shot, Anakin's force ghost watches on. I've been cynical of the nostalgia in Ahsoka, but this final frame puts distance between Ahsoka Tano and Anakin that feels worthwhile. She was his apprentice, but she's become her own hero, and the teachings are evolving as they're passed on. We're not living purely in the shadow of the Skywalkers any more.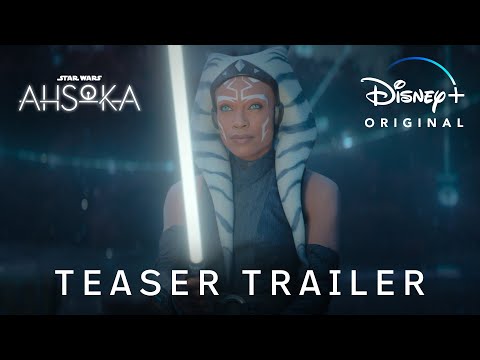 They're still present, like all our memories live within us, but they don't define the Star Wars story. We do not need to live by anyone else's standards or expectations. Ahsoka found another way, and she's handing that to Sabine. Just like at the end of The Last Jedi, Star Wars feels like it's on the cusp of evolution, and I'm excited to grow along with it.
Now that Ahsoka is streaming entirely on Disney Plus, check out our guides on the Skeleton Crew release date, the Acolyte release date, and the Andor season 2 release date for more from a galaxy far, far away. Or look ahead to the new Star Wars movies, and other new movies like The Marvels and Avatar 3.
Ahsoka comes to a satisfying conclusion that sets up the future of Star Wars.