Finally, it all starts coming together. Ahsoka kicks off a climactic battle between good and evil, with our heroes once again reunited in the penultimate episode, 'Dreams and Madness'. This chapter itself has a lot going for it, but the big question now becomes how much can the finale really achieve?
Familiar Star Wars territory greets us in the opening scene. Hera Syndulla is arguing with other political figures about the threat of Thrawn and what's going on. Like watching the Star Wars movies in order and plenty of the other Star Wars series, diplomacy is key to bringing peace to the galaxy.
One of the best Star Wars characters, C-3PO, makes an appearance, representing Grand Admiral Organa. Naturally, he grants backing to Hera in order to make clear Grand Admiral Thrawn presents a legitimate threat and should be treated as such – he is one of the best Star Wars villains, after all.
Two threads run parallel from there: Ahsoka riding with the space whales to Thrawn's planet, and Ezra Bridger and Sabine Wren reconciling. Shoot-outs and lightsaber duels punctuate both, and plenty of offhand references to suggest Dave Filoni has a wider narrative in the works.
Ahsoka continues her intense training, using a hologram of Anakin Skywalker. Once they come out of hyperspace, they're greeted by an array of mines from Thrawn. Navigating proves tricky, but not impossible, though landing the ship becomes another challenge. Baylan Skoll and Shin are scouting around, and they split up to tackle different targets.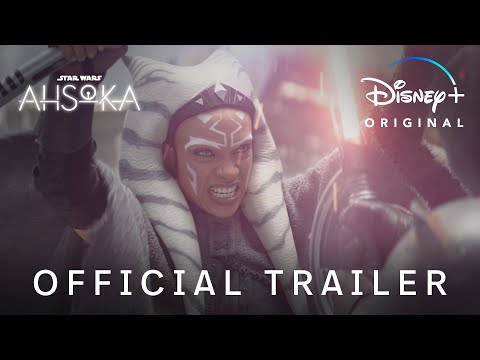 Baylan and Ahsoka's lightsaber fights have been consistently great. They both approach the weapon from a distinct perspective to each other and the Jedi or Sith, utilizing a certain aggression and grace that suggest they have more in common than they think. Their standoff is intertwined with Sabine and Ezra getting chased by Thrawn's men, when Huyang provides a distraction so Ahsoka can get away.
She joins Ezra and Sabine, and we finally learn that not only is the latter definitely Force sensitive, she can handle a lightsaber. Turns out, she just needed the encouragement of an old friend! Shin gets the brunt end of that exchange. We got genuine payoff on Sabine and Ezra's bond in their conversation, a sorely needed bit of depth for viewers who haven't seen Rebels.
I mentioned in my Ahsoka episode 1 recap that Sabine and Ahsoka's emotions were enough for us to understand why Ezra matters. That was true, but the Disney Plus show erred too hard on that during the second act. We could've used more development to feel the connection, and the same was true of Thrawn.
Now, he feels daunting, because he's essentially toying with Ahsoka, but for most of the show all we've had to go on is that he's 'Bad News' with nothing to back that up. In any case, he invokes Darth Vader, a phrase that sent chills down my spine. Hearing someone sincerely admire a fascist warlord after their downfall carries a certain disquieting anxiety, like this shit will never end because there'll always be someone who thinks the baddies were cool.
But that's what we've needed from Thrawn. Something to give a sense of his aspirations and threat. Now that there's only one episode to go, we're left wondering if Ahsoka Tano can actually stop Thrawn, or if he has another ace up his sleeve. Meanwhile, what will become of Baylan and Shin? It seemed like they were destined for redemption, but now that's not so clear.
Ezra starts pre-emptively celebrating his escape, suggesting he might not make it. We can only hope for one thing: more space whales on the ride home. Ahsoka is now streaming on Disney Plus. Check out our guides on the Skeleton Crew release date and The Acolyte release date for more from a galaxy far, far away. You might enjoy our articles detailing The Marvels and Avatar 3, too.
Ahsoka gets one step closer to facing Thrawn in an episode that starts paying off on lacklustre narrative threads.