How excited do you think Dave Filoni was to get an opening crawl on Ahsoka? Almost as much as I was to see the words "Grand Admiral Thrawn", I imagine. The first two episodes of the Star Wars show include all sorts of familiarities within the franchise, but tinkered with to suit the story at hand, like Ahsoka Tano herself has done with the Force.
Two interlocking mysteries lay at the heart of the Star Wars series – Thrawn's return, and the whereabouts of Ezra Bridger. If you haven't seen Rebels, the animated series that ran from 2014 to 2018, those names mightn't mean a whole lot right now, but Ahsoka does well to establish some connection.
The Disney Plus show does this by relying on the legend of Thrawn and the memory of Ezra. Two mysterious Sith are trying to find the Grand Admiral, competing against Ahsoka, who's hoping to figure out where Ezra went at the end of Rebels. He sacrificed himself to drag Thrawn into hyperspace, some years before the Rebel Alliance would topple the Empire entirely.
Ahsoka takes place post-Return of the Jedi, in a galaxy where remnants of imperial loyalty still exist. Baylan Skoll and Shin Hati, roving Sith who masquerade as Jedi to deceive New Republic officials, break free Lady Morgan Elsbeth, a prisoner of war. They plan to find Thrawn and begin restoring the Empire.
Baylan and Ahsoka aren't so different, both Jedi who managed to avoid Order 66 through hiding. But where Ahsoka maintained goodness, Baylan was corruptible and greedy, taking on Shin as his apprentice to worship the Dark Side. They're ardent and highly skilled, a threat to anyone who faces them.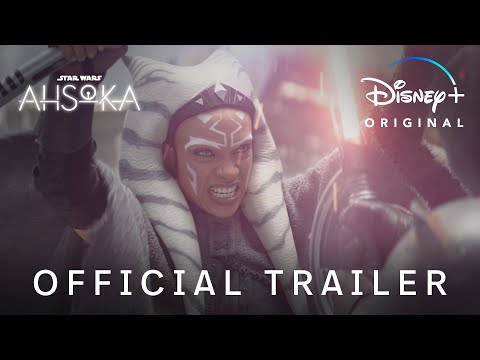 Their path cross with Ahsoka's over a hidden map (there's always a map!) that holds Thrawn's location. Ahsoka finds it in an old temple, though she needs help figuring out how to open it. That leads her back to a New Republic base and general Hera Syndulla, who advises contacting Sabine.
Not ideal, since Ahsoka and Sabine aren't on the best terms since Rebels concluded. Nonetheless, Sabine helps, only to be confronted by Shin. They have a short lightsaber battle, where it's clear Sabine's not in shape for these kinds of duels, getting a non-lethal wound. She wakes up in a hospital bed, where Ahsoka's waiting for her.
As a pairing, 'Master and Apprentice' and 'Toil and Trouble', directed by Filoni and Steph Green respectively, cover a remarkable amount of ground in terms of the present storytelling, and the previous timeline. Ezra's established through the grief of his friends and comrades; Sabine has a hologram of his that she regularly watches to hear his voice. Viewers who haven't seen Rebels don't learn much about him, but they understand the feelings he inspired in those who cared about him.
Meanwhile, Thrawn gets the classic movie villain treatment of being an anomalous entity that barely gets mentioned. Shrouds of hushed tones have always been the Star Wars MO when it comes to establishing the real antagonist, and Thrawn casts a menacing shadow.
Shin and Baylan spend a lot of their time in these first two episodes around weathered monuments. They're working with Nightsisters, witches who wield an arcane form of the Dark Side. Fascism often appropriates symbols and iconography to induce a sense of importance and legacy, establishing itself as the portal back to better, simpler times.
As worshipers of the Sith who were once part of the Light Side, Baylan and Shin standing within these broken down sculptures reflects this real world attempt at making fascist ideology seem like something once glorious that we moved away from. Really the opposite is true – these people may be dangerous, but they're also pathetic, shallow, and their beliefs are weak.
But if Ahsoka can move Jedi teachings away from the old hat principles of the council, then a Sith equivalent would be a prerequisite. That's where this drama series could be really fascinating – how does Ahsoka's philosophy avoid the traps Baylan falls into? Just how differently do they ultimately think?
Sabine, Ezra, and Thrawn coming to life, undergirded by such large questions makes Ahsoka the most intriguing production from Star Wars since Andor. The nostalgia's here, but it's being poked and prodded. Ahsoka Tano understood there comes a point the rules need to change, and now she's got a real chance of doing that for everyone in the galaxy. Just what Star Wars needs, at a point when it most needs it.
You can find out more about Ahsoka in our guides to is Morgan Elsbeth a Nightsister, the Eye of Sion, is Inquisitor Marrok secretly Starkiller, and how many episodes of Ahsoka are there.