Here's everything we know about the USS Kelcie Mae as seen in the new episode of Star Trek Strange New Worlds. This article contains minor spoilers for Star Trek Strange New Worlds season 2, Under the Cloak of War.
Star Trek is a show about people exploring space, and for that, you need starships. The best Star Trek starships come in all shapes and sizes, from Kirk's classic Enterprise to a terrifying (but gorgeous) Romulan Warbird. Across the Star Trek timeline, Starfleet's ships, in particular, have a distinctive look, whether it's the NX-01 or Seven of Nine's Enterprise-G.
But wait, what's that? Strange New Worlds season 2 episode 8 (which borrows heavily from Star Trek VI) unveiled the USS Kelcie Mae, and it's… different, to say the least. Here's everything we know about the ship and some speculation about its class and capabilities.
The history of the USS Kelcie Mae
The USS Kelcie Mae is introduced in the Strange New Worlds episode Under the Cloak of War in a rendezvous with Pike's USS Enterprise on Stardate 1875.4. This rendezvous took place while the ship was in the Prospero System and was staged as a handover for the Klingon defector Dak'Rah.
Dak'Rah had been aboard the ship presumably while traveling to Starbase 12. However, his presence was met with resistance from the crew, who mistrusted the Klingon for his brutal reputation as a Klingon general during the war. Starfleet mandated that he be transferred to the Enterprise instead.
Prior to the arrival (and post-departure) of Dak'Rah, nothing is currently known about the history of the USS Kelcie Mae. The ship's name isn't based on any real historical figure either, so the service record of the ship and other details, like who served as the captain, are currently unknown. We're hoping the pretty little ship will get some fleshing out in the future, though.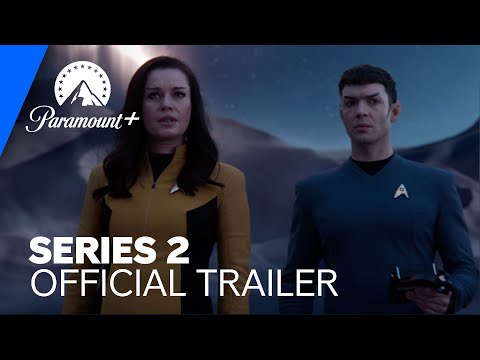 What class is the USS Kelcie Mae?
The class of the USS Kelcie Mae has not been confirmed. However, we still have plenty of thoughts. Buckle up.
The USS Kelcie Mae has a single warp nacelle, an underslung deflector dish, and a pointed hull rather than a saucer section. It's this unusual physical arrangement that makes the ship stand out, at least from a visual standpoint. In fact, it reminds us distinctly of the Olympic-class USS Pasteur as seen in the alternate future of All Good Things under the command of Captain Beverly Picard.
Ships like this, which have a very specific and intentional design, often serve a primary purpose rather than just being exploration vessels. The Olympic-class ships were medical ships, and we think that the USS Kelcie Mae could be in a class of ship dedicated to diplomatic operations. The single nacelle indicates that it isn't designed to travel at speed, and the fact that it was carrying Dak'Rah – an important Federation ambassador – suggests that this could be linked to its main purpose.
At least, those are our thoughts. Hopefully, we get some official confirmation of all this soon. That's everything you need to know about the USS Kelcie Mae for now. For more ships, check out our explainers on the USS Cerritos, USS Farragut, USS Cayuga, USS Defiant, and USS Intrepid.
Or, learn more about Strange New Worlds' Star Trek characters with our guides to Sam Kirk and Pelia. Then read our Star Trek Strange New Worlds season 2 review, as well as our interview with Anson Mount and Rebecca Romijn, and see which Star Trek captain we think would survive in a zombie apocalypse.
You can also see our ranking of the Star Trek movies and keep up with the status of the Star Trek 4 release date before seeing what's new on Paramount Plus this month and checking out our picks for the best TV series of all time.