Here's everything you need to know about Star Trek's Sam Kirk in Strange New Worlds and beyond. Minor spoilers ahead for season 2 of Strange New Worlds.
Family is always at the core of Star Trek, for better and worse. In the new season of the Star Trek series Strange New Worlds, we got our best look yet at Sam Kirk as he got involved in plenty of adventures alongside the rest of his crew.
Sam Kirk is Star Trek character with a long history within the franchise, as well as being a recurring figure within the Strange New Worlds season 2 cast. To help sort one Kirk from another, and to avoid getting confused with a certain Star Trek captain, here's everything you need to know about Sam Kirk including his backstory and future.
Who is Sam Kirk in Star Trek Strange New Worlds?
George Samuel Kirk, known as Sam to his friends, was a science officer aboard the USS Enterprise with a specialism in Xenoanthropology working under the command of Spock and Captain Pike. He is also the younger brother of James T. Kirk, one of the most famous Starfleet captains of all time. No biggie.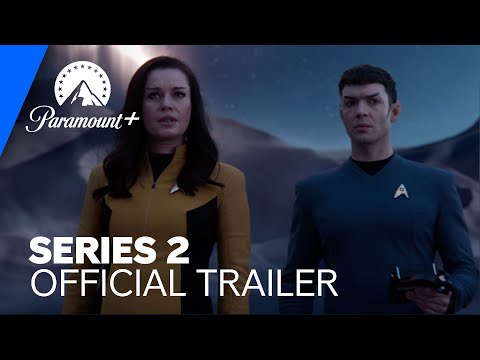 Sam Kirk has a recurring guest role in Star Trek Strange New Worlds where he's proven to be a plucky, charming member of the crew (though a bit too messy and laid back sometimes, for Spock's taste). As a Lieutenant aboard Starfleet's flagship, Sam Kirk and his moustache often found themselves stuck in more than their fair share of trouble. For example, in the Strange New Worlds season 1 episode Children of the Comet he was severely injured during a landing party and this left him requiring urgent medical care. Being a research biologist in space does come with risks, apparently.
Sam Kirk had his most significant role to date in the episode Lost in Translation, where he butts heads with his brother Lieutenant Kirk (who is about to be promoted to first officer aboard the USS Farragut) before going on to help Uhura solve the mystery of her hallucinations.
Sam Kirk's backstory explained
From TOS, we know that Sam Kirk will eventually leave the Enterprise and Starfleet before his brother Jim Kirk takes command of the ship and begins the five-year mission.
After continuing his adventures under the watchful eye of Captain Pike, Sam Kirk will eventually hand in his blue uniform to work as a civilian research biologist on the Deneva colony. We'd expect the show to slowly build up to this point and flesh out Sam Kirk's reasons for deciding to leave Starfleet behind him, as this isn't something we typically see from our characters on the shows.
Sam Kirk will also marry a human woman named Aurelan, and have three children including a boy named Peter. That could be part of the reason behind his departure, for sure.
What happens to Sam Kirk in Star Trek?
Sam Kirk sadly dies less than a decade after joining the crew of the Enterprise. We see in the TOS episode Operation – Annihilate! that Sam Kirk and his wife Aurelan are killed by flying parasites which had been brought onto the Deneva colony.
Though Jim Kirk eventually received a distress call from his younger brother, by the time he arrived on the colony it was too late and Sam (and his moustache) were dead. Sam Kirk was survived by his son Peter.
Who plays Sam Kirk?
In Star Trek Strange New Worlds Sam Kirk is played by Canadian actor Dan Jeannotte, and is played in TOS by another Canadian actor too: none other than William Shatner. Shatner takes on a double role in the series, hence the moustache helps to differentiate between the two.
That's everything you need to know on Sam Kirk for now. For more on Strange New Worlds' characters, take a look at our guides to Pelia and Amanda Grayson. Or, read our Star Trek Strange New Worlds season 2 review as well as our interview with Anson Mount and Rebecca Romijn.
You can also see our ranking of the Star Trek movies and keep up with the status of the Star Trek 4 release date before seeing what's new on Paramount Plus this month, and checking out our picks for the best TV series of all time (Star Trek's on there twice).