Star Trek Strange New Worlds season 2 review. In an era of streaming, and with an endlessly swelling sea of content, new ambitious TV series don't have the luxury of time. Long gone are the days when a debut season could last 26 (mostly awful) episodes and get away with it, as TNG did. But with a strong first season now behind it, the freshest Star Trek series, Strange New Worlds, has provided itself with useful wiggle room as it powers into its second season.
Star Trek Strange New Worlds season 2 takes hold of this opportunity and utilizes it well. After an excellent season 1 finale, the latest batch of adventures from Captain Pike and co. are mostly bigger and better, without breaking the mould. Even a few occasional-but-manageable bumps along the way can't hinder the undeniable charm of the Paramount Plus show.
At the head of it all Anson Mount continues to lead the way, and shines. Melissa Navia, Jess Bush, and Celia Rose Gooding are each far more settled, and Ethan Peck is better than ever as Spock. The extent to which the actor has improved since his bearded entrance in Discovery season 2 is immense; comparing the two versions of this character is genuinely impossible. However, more than the first outing, Star Trek Strange New Worlds season 2 understands the franchise has always been at its best when it acts as a platform for a magnetic ensemble cast.
The decision, for example, to have Anson Mount almost completely absent from some episodes (you could call him Absent Mount) feels so remarkably TNG, and so right. Other episodes similarly lack the presence of Spock, or Commander Chin-Riley. There's a whole world of adventure happening away from the bridge, and Star Trek Strange New Worlds season 2 truly grasps that.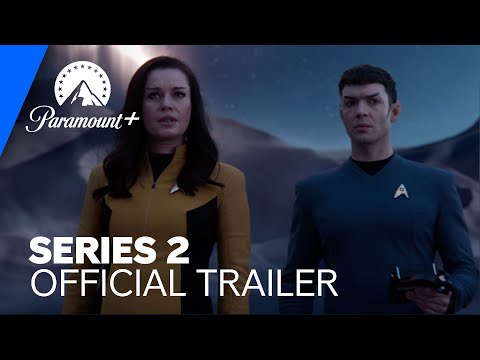 Elsewhere, Strange New Worlds' continued embrace of episodic storytelling (in bold defiance of streaming conventions) is genuinely impressive. With more success than its preceding season, Star Trek Strange New Worlds season 2 deftly integrates plot threads, themes, and character growth across its run while delivering standalone adventures. It achieves this equilibrium better than almost any Star Trek series previous, making for some supremely satisfying moments of set up and pay off.
There are other improvements, too. The majority of the kinks from the first season – tonal wonkiness, unintentional cringiness, and an over-eagerness to please – have been ironed out. The comedy in particular is now being balanced with noticeably improved precision. This goes a very long way indeed, and the show feels decidedly more at ease with itself and its characters.
At its worst, Star Trek Strange New Worlds season 2 is merely fine. It's still good, but in a self-restricting way and some episodes are deeply derivative, bordering on remakes of prior classics. Specifically, the new season takes heavy heapings of inspiration from the likes of Yesterday's Enterprise, The Measure of a Man, and The Drumhead. Needless to say, it doesn't reach the same heights.
The problem with attempting to emulate perfection is that shortcomings become abundantly obvious. What would otherwise be a good episode now leaves you wanting more. But even when Star Trek Strange New Worlds season 2 isn't great, it's still good. And, sometimes, good is enough.
Instead of trying to remix old hits, the season is far more successful when it aims for simple fun rather than moral profundity. While there are plenty of ethically thorny episodes (Chain of Command, Lower Decks, Preemptive Strike), TNG was mostly at its best when telling well-executed fun stories in a sci-fi setting.
The season 5 episode Disaster is a perfect example, taking characters who we know so well and putting them in situations which challenge them and force growth. In TNG watching Star Trek characters face new dilemmas is a joy, and it's no different here. The best episode within the first six, Charades, left me utterly delighted, grinning from ear to ear, because it was so simple but so delightful. It might not be an all time great, but it's perfect nevertheless.
In many, many ways this is TNG season 2. Everything feels more settled, the cast members are given more space to breathe and deliver improved performances, and the tone has become far more even. There's even the introduction of a pseudo-Guinan.
We might not be at Warp 9 yet, but Star Trek Strange New Worlds season 2 is far beyond impulse. With season 3 already greenlit it's a wonderful, confident position for the sci-fi series to be in.
For more on Star Trek, take a look at our picks for the best TV series of all time. Or, check out our ranking of the Star Trek captains and Star Trek movies, before finding out which Star Trek captain would survive in a zombie apocalypse.
Star Trek Strange New Worlds season 2 review
It's onwards and upwards for Star Trek Strange New Worlds season 2, which achieves many moments of TNG-esque brilliance.