What are the best Michelle Yeoh movies? With the legendary actor finally in line for an Academy Award we figured now is as good a time as any to do a little run down on her best movies.
Yeoh has been working for decades now and, after starting off in the world of Wuxia and martial arts movies, moved on to Hollywood and bagged some pretty big roles. From the James Bond franchise, to the MCU, and even voicing cartoon characters, Yeoh has done it all.
She was recently recognised as part of the Oscars 2023 nominations, and our Oscars predictions suggest she might just win too. It got us thinking, what are the best Michelle Yeoh movies? Well, you don't need to wonder, because we've assembled her top five right here.
The best Michelle Yeoh movies:
Everything Everywhere All at Once
Sunshine
Crouching Tiger, Hidden Dragon
Crazy Rich Asians
Kung Fu Panda 2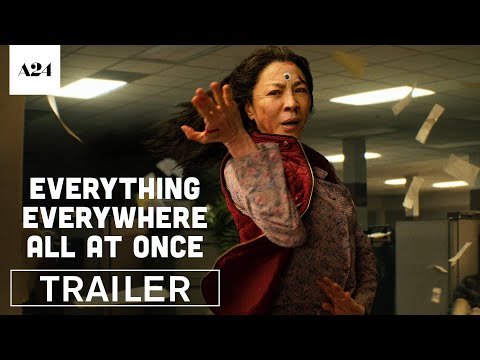 Everything Everywhere All At Once (2022)
This A24 movie is the very reason Michelle Yeoh is all over our screens right now, and we couldn't be happier. Everything Everywhere All at Once is a time travel movie with a twist and could be set to win big at the Academy Awards.
Yeoh stars as Evelyn Wang, a humble laundrette owner who discovers she can actually harness the power of the multiverse. When the movie villain Jobu Tupaki threatens the very fabric of space and time, Evelyn becomes the superhero she was born to be. It should lead Yeoh to Best Actress glory and is likely to win Best Picture too, where Everything Everywhere will be the most exciting Oscars winner ever.
Everything Everywhere is full of incredibly funny moments, great action set pieces, and by the end, will absolutely break your heart.
Sunshine (2007)
This Danny Boyle picture is something of an underrated science fiction movie, with an enthralling and terrifying story brought to life by a great ensemble cast, including Yeoh, Cillian Murphy, and Chris Evans.
The 2000s movie looks ahead to the year 2057 as a team of astronauts embark on a dangerous mission to reignite the sun before it dies completely. Not only is this thriller movie one of Boyle's best, but it also gives Yeoh the chance to shine (pun intended), and for that we should always be grateful.
Crouching Tiger, Hidden Dragon (2000)
We mentioned martial arts movies, and we couldn't compile a list of Yeoh's best works without talking about the action movie Crouching Tiger, Hidden Dragon. The Ang Lee picture won four Oscars – for set design, cinematography, music, and as the best international film – which just goes to show how beautiful a film this is.
As far as adventure movies go, few are as epic or captivating as this story of a young Chinese warrior and her romantic escapades across the country. Suffice to say, the fight choreography is just as special as the love story at the core of the film.
Crazy Rich Asians (2018)
Yeoh takes on the role of Eleanor Young in Crazy Rich Asians and brings an ice-cold ruthlessness to the comedy movie. She becomes a formidable matriarch, and while the film itself is pretty light and funny, we have to admit Yeoh scares us a little.
Nevertheless, the rom-com is an entertaining watch, and we're delighted that there's a sequel on the way at some point in the future. Hopefully, Yeoh will bring the same fierce energy to that film as she did in the original.
Kung Fu Panda 2 (2011)
We couldn't let the list end without recognising Yeoh's brilliant work in the animated movie world, and her vocal talents are perfectly applied to Kung Fu Panda 2 for the character of Soothsayer.
The kids movie is a rare instance of a sequel working and feeling necessary, and it's largely thanks to new characters like Yeoh's Soothsayer that the film feels fresh and exciting.
That's all for now, but we'll keep adding to this list to help you keep track of all the good stuff Yeoh is doing and has done in the past. While you're here, why not check out our guides to new movies on the way from Yeoh, like the Avatar 3 release date or the Transformers 7 release date?