Look, sometimes the Oscars can be a bit pretentious. There are only so many hefty drama movies and emotionally-charged war movies we can sit through before we just want to watch a comedy movie in which people fall over a lot and tell dick jokes. But this year – if our Oscars predictions pan out – something much more exciting is going to happen.
The clear frontrunner to win Best Picture is the multiverse-hopping science fiction movie Everything Everywhere All at Once. Directed by wildly inventive duo the Daniels, the action movie scored the most Oscars nominations of any new movie this year with 11, and is on course to win the big one after being lauded as arguably the best movie of 2022.
In fact, we can probably do away with the suspense. Everything Everywhere All at Once is going to win Best Picture. History is on its side.
The spreadsheet enthusiasts among us will be able to note that Everything Everywhere has scooped an enviable haul of what we refer to as precursor awards – the many red-carpet-and-tuxedo bashes Hollywood luminaries throw to pat themselves on the back for the year's achievements. Just about every corner of the industry has a ceremony of its own.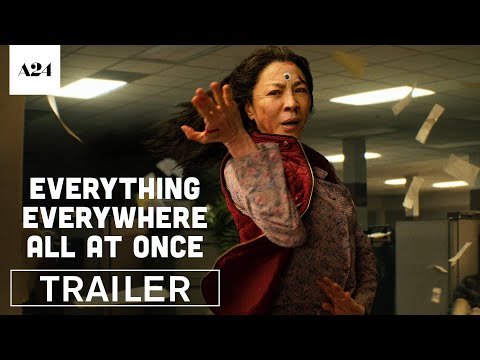 Of these precursors, the biggest are the awards handed out by the Producers Guild of America (PGA), the Screen Actors Guild (SAG), the Directors Guild of America (DGA) and the Writers Guild of America (WGA). This year, all of them gave their top prize to Everything Everywhere All at Once.
That sort of precursor haul has only been matched on four occasions since the SAG Award for Best Ensemble was first handed out in 1996. The only other movies to win all four of those awards are American Beauty, No Country for Old Men, Slumdog Millionaire and Argo. And the other thing those movies all have in common is that they all won the Best Picture Oscar as well.
The signs are good for Everything Everywhere All at Once. The PGA Awards alone have matched with Best Picture on 23 out of 33 occasions – a very good 70% hit rate. In comparison, the BAFTA for Best Film has only matched the Best Picture Oscar 13 times in that same period. That's only a 39% hit rate, so Everything Everywhere fans shouldn't worry too much about Netflix movie All Quiet on the Western Front's surprise BAFTA win.
We've established, then, that Everything Everywhere All at Once is pretty close to a dead cert on Sunday at the Academy Awards. So now we can start talking about how thrilling it is that a movie as singular, innovative and downright weird is set to win the film industry's biggest prize.
There have been signs in recent years that the increasingly diverse voting body of the Academy has been willing to recognise non-traditional Oscar winners. It's difficult to imagine that movies like Parasite or The Shape of Water could've won Best Picture even just a few decades ago. But even those brilliant and inventive movies are ultimately serious dramas, which wear their genre clothes lightly in service of a class war satire or a star-crossed lovers romance movie.
Everything Everywhere All at Once is something different. It's unashamedly a sci-fi fantasy movie with lashings of broad comedy and overt martial arts silliness, as well as a central conceit closer to a Marvel movie than a typical Oscars darling. It has a family drama at its heart, of course, but that stuff is buried beneath a rampaging torrent of hot dog fingers, talking raccoons and butt-plug fight scenes.
Everything Everywhere is, first and foremost, really silly. But the joy of the Daniels as filmmakers is their ability to locate dazzling profundity in the silliest places. The same applies to their previous movie Swiss Army Man, in which they took a concept that meant their work would forever be called "the farting corpse movie" and gave Daniel Radcliffe and Paul Dano enough material to turn it into a buddy story that mingled undeniable sweetness with darker edges.
While there was a roughness to Swiss Army Man, the duo are in full control with Everything Everywhere. It uses the prospect of an infinite multiverse to showcase the vast potential of even the most ordinary person, showing the endless possibilities presented by every fork in the road of life.
Michelle Yeoh's protagonist Evelyn is ordinary, yes, but that doesn't mean there isn't a world in which she's a movie star or a martial arts master or someone with hot dog fingers, or a rock with googly eyes.
It's in the latter of those realities that Everything Everywhere finds its most intriguing idea. The rock universe is one of quietness and simplicity, providing room for reflection and the chance to simply "be", without external pressures or stresses. "Just be a rock" is a motivational quote worth living by. The scene is a masterful oasis for the characters, and indeed for the audience amid the most fast-paced and bonkers segment of the movie.
The movie effectively uses the tranquillity of the rock world to lure Evelyn towards a nihilistic belief that, presented with all of this scope, nothing matters. But the genius of the movie is in the way it counters that idea with the opposite belief. If everything is so huge and incomprehensible, why not make your own little corner of it as kind and positive as possible? The chaos of life is worth embracing even if, occasionally, we should all find time to just be a rock.
And isn't that such a beautiful message for the Oscars to embrace? In a crisis-ridden world, the biggest and most important movie body will decide to honour a movie that is crowd-pleasing – it made more than $100m at the box office – and willing to be bombastically dumb, but also shot through with a message of simple positivity.
Everything Everywhere All at Once is deeply and undeniably human. That's worth its weight in Oscars gold. And of course, it also has a talking raccoon. And butt-plugs.
For more about multiverse chaos in our MCU movies guides, including the Ant-Man 3 ending explained and every universe we visit in Doctor Strange 2. And to find out more about one of next year's potential Oscars contenders, check out our guide to the Oppenheimer release date.